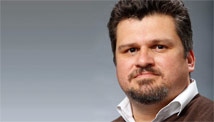 STORY HIGHLIGHTS
Ruben Navarrette: Poll says majority of voters lack faith in Obama to make right decisions
White House press secretary admits GOP could take control of Congress in midterms, he writes
Navarrette says it might help Obama if GOP took control of Congress
President could get more done without the obstacles, he says, of Reid and Pelosi
Editor's note: Ruben Navarrette Jr. is a nationally syndicated columnist, an NPR commentator, and a regular contributor to CNN.com.
San Diego, California (CNN) -- Can the leader of the free world get some love? Apparently not -- if your name is Barack Obama, if your popularity is fading and if you're four months away from midterm elections where the members of your party appear to be headed for what George W. Bush would call a thumpin'.
To the members of one party, Obama is increasingly out of favor. Some people think he's in over his head, and they've lost confidence in his ability to steer the economy away from the rocks. They're disappointed, angry and doubtful of his ability to make the right decisions in order to lead the country.
Then there's what the Republicans are saying. This is interesting. Obama never had much Republican support. Then he lost most of the independents who voted for him. Now he's fighting to hold on to his Democratic base, many of whom feel they got less than they bargained for.
According to a recent Washington Post-ABC News poll, nearly six in 10 voters say they lack faith in the president to make the right decisions for the country.

Video: 'I think we'll retain House'

Video: Obama's approval tanks

Video: Gulf spill and elections
That is especially true when it comes to dealing with what many Americans consider the most pressing issue of all. Just 43 percent of respondents say they approve of the job Obama is doing with the economy and 54 percent disapprove. The poll found that even a third of Democrats gave him negative marks in that area. And overall, twice as many people rated his performance strongly negative than did strongly positive.
Some of this seems to be spilling over to Congress, where a majority of likely voters say they want Republicans in control to act as a check on the White House. Fifty-six percent support the GOP, while just 41 percent want to keep the legislative branch under Democratic control. Other polls show the same thing.
In the Post poll, however, lawmakers on the whole didn't fare very well: Seven in 10 respondents said they have no confidence in Democrats and about the same number said they have no confidence in Republicans. Still, given the lack of voter confidence in Obama, this could be a particularly bad year for Democrats.
The White House is paying attention. On Sunday, press secretary Robert Gibbs acknowledged for the first time that Republicans could take control of Congress in November.
It's not just because, as Democratic strategists argue, the party in power traditionally loses seats in midterm elections. Much of it stems from voter dissatisfaction with Obama.
However, the silver lining for the White House is that, as some political observers have suggested, it might not be such a bad thing for Obama if Democrats lost control of Congress. It's true that, with Republicans in charge of the House and perhaps even the Senate, some agenda items that Obama intended to get to in 2011 might not materialize. There is likely to be more tension and maybe even the occasional round of bickering.
But that's only half the story. If Republicans assume control of Congress, they're going to quickly learn the lesson that Newt Gingrich and the new Republican majority learned after the 1994 election: It's more fun to be on the side throwing rocks than on the inside having to lead and be accountable to voters. The latter requires passing bills and pursuing policies that you believe will be in the best interests of the country, and that means getting the legislation past the threat of a presidential veto.
Republicans will have to put aside egos and hurt feelings and work with the White House on issues like education, job creation and even immigration. Complicating matters, GOP lawmakers also have to worry about not alienating supporters in the radical fringe of the Tea Party movement who don't want to see them compromising with the White House.
Meanwhile, Obama will have to work with Republicans to move his agenda and policies to the center. That can only benefit him, and it might actually allow him to reconnect with independents who deserted him because of his leftward drift on issues like health care. And that in turn could prevent him from becoming what he seems destined to become now: a one-term president.
Take the issue of immigration. One of the best things that can happen to Obama, assuming he is serious about pursuing comprehensive reform, is to be rid of a pair of obstacles: Senate Majority Leader Harry Reid, who sees his role as protecting organized labor from having to compete with foreign workers, and House Speaker Nancy Pelosi, who likewise protects Democratic members from having to take a vote on a controversial issue. With Reid and Pelosi gone, Obama can work with pro-business Republicans to find solutions to a problem that need not be as vexing as Washington makes it out to be.
Despite his surging unpopularity, Obama is likely to be out on the campaign trail this fall dutifully trying to re-elect Democratic congressional candidates. But if he is smart, and if he cares about his own political future, he won't try too hard.
The opinions expressed in this commentary are solely those of Ruben Navarrette Jr.
FOLLOW THIS TOPIC