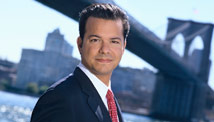 STORY HIGHLIGHTS
John Avlon says midterms this fall will have high stakes and high drama, lists his Top 10
Avlon: Midterms usually have little effect, but this time Congress hangs in the balance
More independents, Tea Party and libertarians add to the usual mix, he writes
Avlon details races that feature fierce rivalry, corruption, faux pas and grudge matches
Editor's note: John P. Avlon is a CNN contributor and senior political columnist for The Daily Beast. He is the author of "Wingnuts: How the Lunatic Fringe is Hijacking America."
(CNN) -- Not all midterm election years are created equal. They are, after all, typically low-turnout and high-intensity affairs, where little changes. But this fall is set to be high stakes and high drama, with great stories dotting the political landscape and control of Congress hanging in the balance.
Here is my list of the Top 10 races to watch in 2010.
1. Florida: Gov. Charlie Crist was getting shellacked in the closed partisan Republican primary against conservative Cuban-American phenom Marco Rubio. Then he opted out, choosing to compete on the more level playing field of the general election by running as an independent.
One oil spill later, and Crist is on top of the polls in a state where independent voters have increased from 425,000 to 2.5 million in the past 20 years.

Video: 'I think we'll retain House'

Video: Obama's approval tanks

Video: Gulf spill and elections
The Sunshine State's politics sometimes read like a Carl Hiassen novel. Crist's hand-picked GOP chairman is in the cooler on corruption charges that could end up exploding into a nasty October surprise.
But if Crist can pull this trick off, he'll be the third independent in the U.S. Senate and possibly in a place to tip control if the final tally is close enough.
2. Nevada: Democratic Majority Leader Harry Reid was looking like a dead man walking just a few months ago, with home state approval ratings in the 30s. It's no comfort that a trail of Democratic leaders' political carcasses is behind him, including Speaker Tom Foley and former Senate Majority Leader Tom Daschle.
But Reid got a reprieve of sorts in the form of Sharron Angle, a Tea Party favorite who defeated the GOP establishment candidate with far-out policies -- such as dismantling the Department of Education and EPA -- that have trouble translating to voters in the general election, let alone the U.S. Senate.
An epically callous audio clip in which she advises that a daughter raped by her father to make the best of a bad situation and turn lemons into lemonade doesn't help matters much. Angle, amazingly, is still a few points ahead, but Reid drew the best possible opponent in a timely reminder that extremes are always ultimately their own side's worst enemy.
3. California: The nation's largest state has been on budgetary life support for what feels like years, and the race is on to see who can save the patient -- a former hi-tech CEO or a durable wonk who knows the inner workings of government well, having served as governor when I was still in nursery school.
The race between Meg Whitman and Jerry Brown also embodies another trend -- the self-funded Republican first-time candidate vs. the career politician.
Whitman's campaign is important for the national GOP because she is defying gravity in a state that is trending left -- a centrist Republican heading up a ticket of female CEOs, along with Senate candidate Carly Fiorina.
It's a sign of what the GOP needs to stay relevant on the West Coast, even though the beautiful but troubled state might just need another Bear Flag Rebellion to solve its problems.
4. Maryland: The best gubernatorial combat in the nation is a grudge match four years in the making, pitting former Baltimore mayor and Democratic Gov. Martin O'Malley against the former Republican Gov. Bob Ehrlich, whom he defeated as part of the Democratic sweep of 2006.
Maryland isn't exactly red-state country, but Ehrlich was a popular and effective reform governor who was booted out of office despite a 60 percent approval rating. The man who tapped Michael Steele as his lieutenant governor deserved better than he got, and now the nationwide political tide is pulling in the opposite direction.
5. Kentucky: Rand Paul rode the Tea Party wave and his family name to a decisive upset victory over the hand-picked candidate of Senate Republican Leader Mitch McConnell.
The Blue Grass State has a Democratic registration advantage courtesy of the Old South associations, but it is decidedly conservative. Paul studied at his father's dinner table and is conversant in every strain of libertarianism, even those that left him struggling to explain how opposition to the Civil Rights Act was philosophically principled.
Paul's opponent is the vastly underestimated state Attorney General Jack Conway, and a recent poll found the two tied at 43 percent. Whoever wins this match will become a big draw on the national party-speaking circuit.
6. Ohio: The Buckeye State is the ultimate political bellwether, a Midwest swing state suffering through a rough economy. It went for Obama in 2008, but his approval ratings plummeted there during the summer of 2009 and haven't recovered.
Two statewide races here in the Rust Belt deserve attention. Democratic Gov. Ted Strickland is fending off a challenge from the popular former congressman and onetime TV host John Kasich. Meanwhile, an open Senate seat is in a dead heat between Lt. Gov. Lee Fisher and Republican Rob Portman, a former congressman and President George W. Bush's OMB director.
These seats should be attainable by Republicans in this economic and political environment, but their message has yet to break through, signaling surprising Democratic resilience in the heartland. Ohio has special resonance for 2012 -- no Republican in 150 years has won the White House without the home state of William McKinley and William Howard Taft.
7. Rhode Island: The smallest state in the union is home to one of the biggest test cases in the nation -- whether the former GOP Sen. Lincoln Chafee can win the governorship as an independent. From a liberal New England Republican lineage, Chafee's opposition to the Iraq war and his environmentalism made him an enemy of conservatives and vulnerable target for Democrats in 2006.
Figuring that he didn't leave the Republican Party as much as the Republican Party left him, Chafee is mounting a credible campaign to become the first independent governor of Rhode Island, where registered independent voters outnumber Democrats or Republicans.
8. South Carolina: Nikki Haley's GOP nomination for governor set up the 38-year-old Indian American state senator as a rising star on the national stage. She had to run a tough gauntlet to get there, sidestepping not one but two accusations of infidelity, something we've come to expect from male politicians but culturally undiscovered territory for women.
But Haley's decisive victory in a runoff against a sitting congressman signaled a shift in Southern politics that reflects the increasing diversity of the region. Haley's plenty conservative, but she still faces a tougher-than-might-be-expected general election contest against a 38-year-old state senator of Lebanese descent, Vincent Sheheen.
9. Pennsylvania: This was supposed to be a rematch between the Keystone State's longest-serving senator, Arlen Specter, and Pat Toomey, the conservative former congressman and Club for Growth president. But Specter defected to the Democrats and was defeated by former Navy Adm. Joe Sestak, thus skewing the script considerably. Pennsylvania is the consummate purple swing state, split between the liberal East and conservative West. Recent polls show Toomey and Sestak tied.
Toomey's stressing his longtime record of fiscal conservatism, which could appeal to swing voters, while downplaying his strident social conservatism. Sestak is more progressive than his military record might suggest, but he's busy invoking Bill Clinton rather than Barack Obama this election.
This election offers voters a choice, not an echo, and it will come down to a photo finish.
10. Illinois: The race to succeed Barack Obama as the elected senator from the land of Lincoln has become ugly in recent weeks, with both candidates fending off scandals. But the real news is that centrist GOP congressman Mark Kirk, onetime author of the "suburban manifesto," has a real shot at winning the president's old Senate seat, despite Democratic dominance of the state in recent years.
The Democrat's nominee, Alexi Giannoulias, has been facing questions about his family's failed bank, while Kirk has come under fire for exaggerating his military record.
Neither man had been helped by the clownish corruption that appears to have been business as usual for former Gov. Rod Blagojevich. One thing's for certain: Honest Abe would not be happy with his home state's politics these days.
The opinions expressed in this commentary are solely those of John Avlon.
FOLLOW THIS TOPIC