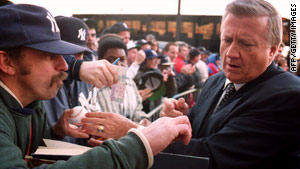 George Steinbrenner left an indelible mark on baseball say people who knew him.
STORY HIGHLIGHTS
People remember George Steinbrenner as complicated, controversial
Larry King says he was cantankerous and volatile, but generous and loyal to friends
Former Yankee DH Cliff Johnson says their first meeting showed why Steinbrenner was boss
Sportswriter Dave Zirin points out mixed legacy of man who started era of big-bucks baseball
(CNN) -- Depending on who you ask, George Steinbrenner was either a visionary, influential owner who changed the face of baseball, gave to charity and was generous to friends, or a bombastic bully, given to insults, meddling and feuds, voraciously assembling the best team money could buy, sometimes with the help of taxpayers.
Either way, few will argue with 11 pennants and the seven World Series Championship teams he fielded with the New York Yankees. Here are the reflections of some people who crossed paths with him.
Larry King is host of CNN's "Larry King Live" and was a longtime friend of Steinbrenner:
He'll be known as one of the greatest owners in all of sports. He brought his touch like no other owner in my memory. He was never afraid to spend money: If he wanted a player and the manager wanted a player, he went out and got the player. But he could be very volatile -- mostly professionally -- very difficult to work with; very, very demanding, but the fans benefited from that. What he required of his employees eventually brought victories. He could be cantankerous, but he could also be like a teddy bear.
Once I took my whole family -- the boys, my wife -- to a Yankee-Mets game. I had a field pass for myself, but I didn't have one for the family to go on the field before the game. We asked the security guard, and he said we had to have passes. But we were guests of Mr. Steinbrenner, so I thought we'd go up to his beautiful suite at the stadium and kill time. When he hears about the security guard, he gets on the phone and says "Fire that guy, he didn't let Larry King on the field."

Video: Baseball icon passes away

Video: Torre: Steinbrenner had 'soft side'

Video: Steinbrenner demanded excellence

Video: Steinbrenner: Psyche of an icon
My wife said, "No don't do that, he was just doing his job." He gets his binoculars to find out which guy it was and sends someone to give him a warning.
He'd fire you and rehire you. He was larger than life. It's a cliche now, but he was. He changed the room when he came in.
In the end, he was sick. He had dementia. The last time I spoke to him was in the lobby of the Regency Hotel in New York about a year and a half ago, and he greeted me: "Hey Larry, how are you?"
I said, "I'm going to the dining room," and he said, "I'll see you in there." And five minutes later, I saw him in the lobby and he said, "Hi, Larry, how are you?"
I threw out the first pitch at Yankee Stadium last year. George wasn't there, but his sons were. There's no owner in history that can match him. He'll be missed on the sporting scene. He made a big deal of life.
Cliff Johnson was designated hitter for the New York Yankees from 1977 to 1979.
I first met George June 16, 1977, after I got traded over to the Yankees from the Astros. My experience of the man was sometimes with mixed emotions, but bottom line was there were a lot of people who signed checks and there were a lot of people that sat at the head of the table, but George Steinbrenner was boss. He was Boss.
When I first walked into his office with Gabe Paul (our general manager at the time), we sat down and I was introduced to Billy Martin and George, because I didn't know these people, I had been in the National League. And George shook my hand and welcomed me aboard and immediately got into the meat and potatoes of the thing. He asked me about my bats, and I told him my bats were at Shea Stadium because I rode up with the ball club [the Astros] the night before.
He pushed a button, someone ran in and he immediately told him to go over to Shea Stadium to collect my bats. After he went to get my bats, George had someone else come into his office and had asked me what size shoes I wore. In Houston, we wore white shoes, and of course in New York we wore black. I told him size 12, and he had someone run up and get me size 12 baseball shoes. He had people running in there and running out of there like rats running from a burning barn to get me situated and ready to don the pinstripes. That was one meeting I will never, ever forget.
That was an early indication to me that the man not only sat at the head of the table, he was boss.
There were a lot of people who didn't care about George, but then if somebody's whipping your tail all the time you wouldn't like him much either. But he reinvested money back in the ball club. It opened things up among other owners.
George was the pioneer as far as investing in free agency the way he did. The players that George bought were quality players who were able to put it together and win championships. The players appreciated him, too: They appreciated what he was trying to accomplish.
Regis Philbin is a media personality,TV host and native New Yorker.
He was a good friend, and I will miss him very much. I will think about him every time the Yankees are mentioned and every time I drive by Yankee Stadium. He defined the Yankees and what they stood for ... winning.
Dave Zirin is a columnist at SI.com. Read his full column here.
He was a part of that last group of the paternalistic owners, the people who felt like it was their duty in ownership to plow profits back into the team, creating a brand that could change the way a city saw itself.
But before we wax nostalgic, we should remember that Steinbrenner, while being a bridge to the past with his larger-than-life personality, was also a bridge to the future. This was the kind of man who was the model for owners from coast to coast on how to hold cities hostage for an endless flow of municipal funds. He was the kind of man who demanded costly stadium renovations in the 1970s, when the city was already enduring a fiscal nightmare. He claimed that he needed just $48 million to bring the stadium up to code. It ended up, according to Baseball Statistics, costing $160 million.
He periodically threatened to move the Bronx Bombers to New Jersey, Connecticut and most jarringly, next to Manhattan's West Side highway. He hired a 21-year-old clubhouse gofer with gambling debts by the name of Howie Spira and paid him $40,000 to dig up dirt on Yankees star slugger Dave Winfield.
Steinbrenner justified all his misdeeds by saying, "The reason baseball has its problems is that owners weren't involved 20 years ago. ... I'm an involved owner. I'm like Archie Bunker. I get mad as hell when we blow one."
But Archie Bunker never was known as anyone's Boss. He never fired secretaries by the carload. He felt tossed around by a world changing too fast, in his mind, for its own good. George Steinbrenner created that world. Now, we live with the results. If anyone ever seemed too big for New York, for better and certainly for worse, it was this man. They will say that his death signals the end of an era. But his life signaled the beginning of one.
Brian Fisher pitched for the Yankees in 1985 and 1986.
I spent two years playing in New York, and I shook hands with the great owner once. But I felt his presence every day I wore the Yankee uniform. I was 23, and being a Yankee was my first experience in Major League Baseball. There can be no better experience than to be around a person like George Steinbrenner.
Whether it was patting you on the back or calling you out in the media, it was never -- and at the same time always -- personal. He was a man driven by one thing: Bringing a winner to the fans of New York. He didn't want to win, he needed to win and took every loss to heart.
Look at that roster, the players on that team and the manager and you can quickly see that the bar was set high. Pressure was a constant and mistakes were never tolerated.
Example: In 1985 in the pennant race with the Toronto Blue Jays, I was pitching with a lead and gave up a hit to Lloyd Moseby, the ball was hit right back at me on two hops and I missed it. After coming out of the game and heading toward the locker room, I was met by the eye in the sky (if you know the Yankees, you will know what I mean). He told me that George would like me to be at the stadium at 1 p.m. the next day to work on catching ground balls hit back [to] me. I was there for nearly two hours, not to get it right but to guarantee that I'd never get it wrong. That was George. Today we lost a true icon of the game.
Alec Baldwin is an actor and New Yorker.
I am saddened to see the passing of a true sports legend from the ranks of ownership. George Steinbrenner set the standard and will always be remembered with the Maras, the Tischs and the Wilpons as one of the great New York sports owners.
Alex Belth is a columnist for SI.com. Read his full column here.
"They say I'm tough to work for," Steinbrenner once said, "Well, I am, but I'm not trying to win any popularity contest. I know only one way and that is to work my butt off and demand everybody else do the same."
Steinbrenner had a penchant for calling out rookies -- "He spit the bit," he said of pitcher Jim Beattie once after a bad start. He also loved to embarrass his stars. He publicly feuded with Dave Winfield for years, calling him "Mr. May," in 1985. In 1999, Steinbrenner called pitcher Hideki Irabu a "fat p---- toad" for not covering first base properly in a spring training game.
One former employee of the Yankees told Steinbrenner biographer Dick Schaap, "George Steinbrenner doesn't want to be loved, and he doesn't want to be hated, George Steinbrenner wants to be feared."
"Sometimes," Steinbrenner once told a reporter, "as much as I don't want to -- I have to inflict pain. But I also inflict some joy." Steinbrenner would harass an employee to no end, humiliating and abusing them at his whim. Then he'd send their kids through college or hire them back with a bonus.
The opinions expressed in these commentaries are solely those of the writers.
FOLLOW THIS TOPIC