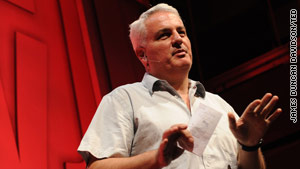 TED European director Bruno Giussani says notable progress is being made in technology, science, and other fields.
STORY HIGHLIGHTS
A conference in Oxford focuses this week on the world's "good news"
Organizer Bruno Giussani says TEDGlobal will explore progress in art, science, technology
Annie Lennox, Sheryl WuDunn, Joseph Nye among the speakers
Last year's conference hosted Bertrand Piccard, developer of the solar-powered plane
Oxford, England (CNN) -- War and terrorism besiege countries around the world. Infectious diseases kill millions. Environmental catastrophes threaten nature. Is this a time for a conference titled "And Now the Good News"?
Yes it is, according to Bruno Giussani, European director for TED, the nonprofit organization that on Tuesday is beginning TEDGlobal 2010, its third conference in Oxford.
"Someone has written, in presenting the conference, that good news is a species that is becoming extinct. If you look at any newspaper ... we are bombarded by bad news," he said as attendees chatted at a welcome party at Keble College on Monday. "But if you dig, if you look under the surface and search, you will find a lot of new technology, new science, new art, new ways of thinking, politically, socially, philosophically that may give you, when you string them all together, a more optimistic view of the future."
Giussani says it's not a naive approach that counts on technology to solve all problems but aims at making progress by bringing together people from all backgrounds to share ideas.
Singer-songwriter and activist Annie Lennox, diplomacy scholar Joseph Nye, blogger and tech expert Ethan Zuckerman, HIV/AIDS expert Mitchell Besser, plant neurobiologist Stefano Mancuso, game designer Peter Molyneux, women's right crusader Sheryl WuDunn and green chef Arthur Potts Dawson are among those due to speak to the 700 people attending TEDGlobal in the historic university city of Oxford.
Giussani said part of the goal of the conference is to "inspire them to open up to new ideas and points of view, to act on those ideas and to engage."
He also described the conference as a "platform for new ideas. Some of those have legs, and some don't. But those that have legs seem to have long legs and run very fast."
At last year's conference in Oxford, Swiss third-generation adventurer Bertrand Piccard presented his plan for a plane that could travel around the world powered only by the sun. It required a plane that could fly at high altitude and remain aloft at night relying on batteries that store solar power from the daytime.
The plane needed to be as big in its wingspan as an Airbus, as light as a car and have the power of a motorbike. Giussani said Piccard's idea went from a prototype to a fully functioning plane in the past year; last week the plane completed a 26-hour test flight, demonstrating its viability at night as well as in sunlight.
Watch Piccard's TEDTalk on the solar-powered plane
"So in one year we went from an object sitting there, a beautiful technological achievement, to a plane that flies," Giussani said.
TED began as a California-based conference in the 1980s named after its three initial subjects: technology, entertainment and design. It has expanded its subject matter and its geographical scope, holding conferences and making videos of its speakers, so far more than 700, freely available at http://www.ted.com/. Volunteers translate talks into more than 70 languages. [CNN partners with TED to present a TEDTalk every week, with added content, on CNN.com]
Among the themes to be explored this year at the Oxford conference are how the brain works, how people make decisions and the brainlike functions of neurons in control centers in plants that enable them to process information and communicate with other plants.
Giussani said speakers will also spotlight the role of women in societies torn by conflict and disease, the potential of sustainable practices and organic farming to change agriculture and the restaurant business and the ways corporations and nongovernmental organizations can collaborate to protect workers in global supply chains.
So there really is some good news, he believes.
"You can find solutions to complex problems," he said. "That's what we try to do here."
FOLLOW THIS TOPIC