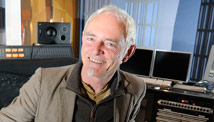 STORY HIGHLIGHTS
Mike Howlett: Prince dismissed selling to iTunes, calling the internet "dead"
Howlett says Prince's next album will be a giveaway with an issue of The Mirror newspaper
Howlett calls this a "loss-leader" marketing strategy that serves the paper and Prince
Internet not dead, Howlett says; it's just evolving away from illegal file exhanges
Editor's note: Mike Howlett received a Grammy award for his work producing Flock of Seagulls and ran the Mauve Records record label. He is credited with bringing together the The Police, continues to play bass guitar with experimental cult act Gong and has performed on 22 commercially released albums. He's now the head of music at Queensland University of Technology in Brisbane, Australia.
(CNN) -- In a curious, and, if you'll excuse my cynicism, rather well-publicized statement this week, Prince has announced the death of the internet.
"The internet's completely over," Prince said, quoted in the British tabloid newspaper The Daily Mirror. "I don't see why I should give my new music to iTunes or anyone else. They won't pay me an advance for it, and then they get angry when they can't get it."
Meanwhile, Prince has decided to repeat the practice he made in 2007 of releasing his new album, "20TEN," exclusively as a free giveaway with this Saturday's edition of the Mirror.
No doubt he is being paid a healthy sum, which brings up the question: Where does the term "free" fit in here?
Buyers of the newspaper are paying for it, albeit at much less than a standard CD retail price. The paper will have made its calculations on the value of increased circulation, and with it, increased advertising value.
Prince will benefit from the heightened publicity, both from the readers and from the wider news generated across the media, including the internet. And he will doubtless be making more money from ticket sales to his future concerts.
Prince said "The internet's completely over," as he talked about releasing his new album as a newspaper giveaway.
Really, this just adds up to a "loss-leader" strategy for marketing Prince as a commodity. Although we are not told the amount he got for giving the Mirror this exclusive, we can be sure his loss is slight, if any.
The Mirror has a circulation just under 1.5 million, and even if this is boosted to 2 million by "20TEN," Prince's equivalent royalty earnings from actual retail sales would have been around $5 million.
The interesting question is: How much was he asking from iTunes as an advance on sales? Evidently more than it was willing to pay.
But is the internet really dead? It will be interesting to see how long it will take before this album is freely available through BitTorrent or any of the lesser-known peer-to-peer filesharing websites. Far from being dead, the music industry is, if somewhat belatedly, coming to terms with the fact that the internet is very much alive.
The major markets in Europe and the U.S. have implemented strategies to bring pressure to bear on large-scale abuses, such as people running P2P websites offering thousands of tracks.
The age of illegal file exchange is gradually drawing to an end for a couple of reasons. There's the development of one-box packages -- one fee per month for films, music, internet and probably phone services. Improved encryption technology filtering into the mainstream from military research. It's not a death but more an evolution.
But well done, Prince. Your outburst has generated massive publicity, and got us talking yet again about the extraordinary changes the internet continues to bring to our lives.
The opinions expressed in this commentary are solely those of Mike Howlett.
FOLLOW THIS TOPIC