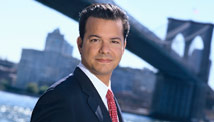 STORY HIGHLIGHTS
John Avlon: Independent voters largest and fastest-growing segment of electorate
Avlon says polls show independents are leaning toward the Republicans
They tend to be closer to GOP on economics, he writes, closer to Democrats on social issues
Revolt of the independents should be a wake-up call to both parties, Avlon says
Editor's note: John P. Avlon is a CNN contributor and senior political columnist for The Daily Beast. He is the author of "Wingnuts: How the Lunatic Fringe is Hijacking America."
(CNN) -- After an Independence Day holiday weekend, it's time to focus on another declaration of independence that is gaining converts across the country. Independent voters are the largest and fastest-growing segment of the electorate.
They determine who wins and loses elections, but independents too often get ignored in the narrow partisan analysis of American politics. It's time for that to change -- and in the run-up to the midterm elections I'll be writing regular columns for CNN.com on the state of independents.
The current snapshot has a clear message: Democrats should be afraid, very afraid.
A new Gallup Poll shows that independent voters are leaning decisively toward Republicans in this year's midterm elections by a 12-point margin. To put this shift in perspective, independents voted for Democrats by a 17-point margin in 2006, when they took control of both houses of Congress. President Obama won independents by 8 percent in 2008. In both cases, independents provided the margin of victory, repudiating play-to-the-base orthodoxy peddled by most political consultants.
Some Democrats may try to find comfort in the belief that national polls are lousy indicators of local races. But in the 60 most competitive House races analyzed by Greenberg Quinlan Rosner Research for NPR, independents are leaning toward the GOP by a tsunami-like 50 percent to 29 percent in Democratic swing districts.
There's just no way for liberals to spin this as good news, especially because liberals are outnumbered by both centrists and conservatives in these swing districts -- and perceptions of the Democrats as being "too liberal" is at the highest percent since their Waterloo year of 1994.
Independents have risen to record levels in reaction to the increased polarization of the two parties. But they do not represent a split-the-difference approach to politics: They tend to be closer to Republicans on economic issues and closer to Democrats on social issues. They've been deficit hawks since the days of Ross Perot. It's the unprecedented government spending amid unified control of Washington that has them swinging toward the GOP in search of checks and balances.
This continues a trend that has placed Republicans on the winning edge of statewide elections since Obama's election in 2008. Independent voters swung the election to Massachusetts Sen. Scott Brown and New Jersey Gov. Chris Christie -- both Republicans in states where independent voters outnumber Democrats or Republicans. Independent voters just became a majority in Phoenix, Arizona -- and they remain the majority in the pivotal presidential primary states of Iowa and New Hampshire, as well as swing states like Colorado.
This fall, an independent candidate for Senate -- Charlie Crist -- now leads the polls in Florida, where independent voters have increased from roughly 400,000 20 years ago to 2.5 million today. Four independent candidates for governor are making an impact along the East Coast -- Maine's Eliot Cutler, Massachusetts' Tim Cahill, Rhode Island's Lincoln Chafee and Florida's Bud Chiles. By the end of 2010, I'd predict that we'll have at least one new independent governor and a new independent in the U.S. Senate.
The revolt of the independents should be a wake-up call to both parties -- a new CNN poll shows that 59 percent of independent voters are angry at both parties. One glimmer of hope for Democrats comes from the same poll, in which more independents said Republicans were "responsible for the country's current economic problems" than Democrats. Nonetheless, the Gallup Poll shows that neither party fills the American people with confidence -- in fact, favorable views of Democrats and Republicans are near all-time lows.
Roadblocks are still regular features of life for most independents, however, especially on the local level. Colorado state Rep. Kathleen Curry is a case in point. She'd served four terms as a Democrat and earned enough respect to serve as speaker pro-tem. But at the end of 2009, Curry formally declared her independence, saying that neither party fit her beliefs: "I have to vote my conscience and for my district -- and that isn't always in step with party leadership," Curry said. "I'm really not a partisan person."
She figured that she'd provoke some opposition from the party establishment, but believed her reputation among her fellow citizens would carry the day. She didn't think that she'd be blocked from the ballot. But that's what happened.
A local judge declared that she hadn't been officially independent long enough to run free of party labels -- despite her supporters gathering enough qualifying signatures. Now, Curry's name won't appear on the ballot in November and she will have to get enough write-in votes for re-election. If that's not a high enough degree of difficulty, she also is limited by Colorado law from raising campaign contributions by half the amount allowed to partisan candidates running under the Republican or Democratic banner. It's a case of one woman challenging the partisan establishment.
The deck is stacked against independents and in favor of professional partisan politicians. But more and more candidates as well as voters are declaring their independence.
Our government seems to have forgotten that the parties are not the purpose of our politics, but middlemen. As George Washington himself once said, "I was no party man myself, and the first wish of my heart was, if parties did exist, to reconcile them."
The opinions expressed in this commentary are solely those of John Avlon.
FOLLOW THIS TOPIC