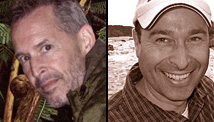 STORY HIGHLIGHTS
Congress is moving ahead on reforming financial regulation
Co-authors say changing rules after a crisis isn't enough
They argue for regular, built-in review of the rules to make sure they stay up-to-date
Gundersen, Prudhomme: Such review could prevent next financial crisis
Editor's note: Adolf Gundersen, Ph.D. ,and Jeff Prudhomme, Ph.D., are fellows of the Interactivity Foundation, a nonpartisan foundation that seeks to engage "citizens in the exploration and development of possibilities for public policy."
Parkersburg, West Virginia (CNN) -- Remember the early 1980s? Thanks to government credit policies, you paid 20 percent interest to buy a house. Back then, the longtime West Virginia banker Julius "Jay" Stern didn't need a foreclosure crisis to tell him there was a problem. A small-town banker of the George Bailey mold, Jay knew his customers and their parents and grandparents, too.
Privately, he called banking regulators at the Federal Reserve that set those high interest rates "morally evil." And eventually, in 1981, he'd had enough. Rather than give his customers loans they could not afford, he gave away his bank to the federal government.
That's right. He donated his $600,000 majority-stake in the Wood County Bank of Parkersburg to the U.S. Treasury.
As the new financial regulatory overhaul makes its way through Congress, we've been thinking a lot about Jay, our boss and mentor at the Interactivity Foundation, who passed away last year at 95. If he were alive, he no doubt would be disappointed in the reactionary approach to banking reform being debated today.

Video: U.S. deficit: Ticking time bomb

Video: 'Repairing the financial damage'

Video: Obama discusses fiscal health
The bill in Congress is a start. But now is the perfect time to think about truly lasting reform that anticipates and prevents the next crisis. Jay believed that economists, bankers and regulators will continue to fail until the entire framework of how they do business was subjected to a process of regular review and revision -- as opposed to being decided in the heat of the moment.
After leaving the banking business, Jay spent the last decades of his life developing the Interactivity Foundation, a nonprofit whose mission is to find a better way to explore public policy. One of foundation's ideas was for Congress to undertake what Jay called a "plenary review." That means Congress must make regular review and revision of the financial regulatory system part of its job. It should be up to Congress -- not the executive branch -- to shape the new regulations.
Congress spends most of its time passing laws and engaging in detailed oversight. It builds new buildings and then occasionally checks to see if all is well in the boiler room. Regular and comprehensive congressional review would add a new task: monitoring the entire regulatory architecture.
If Congress doesn't take on the job, you can bet that over time the executive branch will either modify it piecemeal or, even more likely, allow the regulatory edifice to crumble.
This "plenary review" process should include three basic components:
1. Review. A global progress check on relevant current regulatory efforts and their past consequences.
2. Revision. Changing regulations on a timetable determined by the review -- not as a reaction to an immediate "crisis."
3. Regularity. A prescheduled check-up to make sure regulations are not becoming stale in the current environment.
At least a half a dozen agencies are directly responsible for financial regulation. Small wonder that one hand doesn't know what the other is doing or that different hands so often work at cross-purposes. And small wonder that financial wizards end up taking advantages of cracks in the system. The new law aims to help by clarifying what turf belongs to the Federal Reserve, but it is still not fail-safe.
The way Jay saw it, most of the blunders that had been made in regulating economies, planning for war or managing private enterprise could be prevented with the benefit of knowledge gained from no-pressure, reasoned discussions by experts and average citizens. "Wouldn't it be better if there were mechanisms that allowed leaders to examine alternative approaches before decisions absolutely had to be made?" Jay would say.
"Wouldn't it be better if leaders had the advantage of deliberation on possibilities from both experts and those of practical bent? Wouldn't there be some benefit in combining the reflections of wise advisers with ideas that tapped citizen understandings of what choices should be made?"
Such a system of review might have served as an early-warning system that the use of credit default swaps was getting out of control and far outpacing any regulatory oversight, and so threatening the stability of the whole financial system.
Jay believed democracy could be improved through more concentrated efforts to look over the horizon and by hearing from a variety of experiences and expertise.
Before he left office, former British Prime Minister Gordon Brown called for a global financial warning and crisis prevention system. By instituting comprehensive regular review and revision, Congress can give the world an American prototype -- and American citizens the protection they deserve.
A congressional review system that includes these three simple elements would go a long way toward the slow, steady review process that Jay Stern devoted his life and personal wealth toward creating. Perhaps then our children will not be reacting to yet another financial crisis in 30 years.
The opinions expressed in this commentary are solely those of the authors.
FOLLOW THIS TOPIC