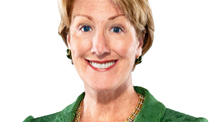 STORY HIGHLIGHTS
Anne M. Mulcahy says a turnaround plan brought Xerox back from the brink of ruin
G8 leaders could do same for women and children's health by adopting aid initiative, she says
She says $4 billion could save lives, help economies and head off security threats
Mulcahy: If G8 acts, it could spur similar initiatives at G-20 and September U.N. summit
Editor's note: Anne M. Mulcahy was CEO of Xerox Corp. from 2001-2009 and retired as its chairman of the board in May. In March, she became chairman of the board of trustees of Save the Children.
(CNN) -- When I became CEO of Xerox nine years ago, the stock had tumbled, debt was mounting, and people kept asking me to consider bankruptcy. I refused. I considered my professional home of 25 years a company worth saving, and I felt personally responsible for tens of thousands of employees depending on it.
Last year, I stepped down as CEO -- and last month as chairman -- from a transformed, revitalized and profitable company. There is no doubt that Xerox, its employees and shareholders have benefited from a strong turnaround plan and unwavering commitment of company leaders to see it through.
At the Group of Eight summit in Canada this week, leaders of major wealthy nations should offer as much to the world's most vulnerable children and mothers. They know that nearly 9 million children and 350,000 pregnant women and new mothers die each year despite the existence of the proven, low-cost, low-tech means to save most of them.
If G8 leaders don't feel personally responsible for saving these lives, they should. With a first-ever maternal and child health initiative on their agenda, President Obama and his counterparts have an unprecedented opportunity to lead the world in turning around the tragic circumstances surrounding birth and early life in much of the developing world. And they have more than enough reasons to do so.
As a businesswoman, I understand that economic conditions have tightened budgets. But doubling G8 support for maternal and child health to just $4 billion a year -- a tiny fraction of what wealthy nations have spent stabilizing banks -- could do even more than save an additional million children and 200,000 mothers annually.
The investment also would nurture long-term economic growth and stability. That's a valuable role for the G8 to play, and one leaders representing nearly one-half the world's wealth shouldn't forfeit in the rush to arrange shorter-term financial fixes with G-20 colleagues.
When mothers, newborns and young children have no access to basic health care -- such as prenatal and postnatal care, skilled attendance at birth, vaccines, breast-feeding counseling and inexpensive antibiotics and antimalarials -- millions die. The biggest killers are pneumonia, diarrhea, birth complications and malaria, with malnutrition often an underlying cause.
Many others survive these hardships but face physical or intellectual disabilities that last a lifetime. So society as a whole suffers huge productivity losses tied to the untended beginnings of life.
The research is clear that children who get a healthy start in life are more likely to reach their full potential and do better in school. Better educated adults, in turn, are more prosperous and have smaller, healthier families.
If G8 leaders want the poorest countries to develop, become more attractive for business investment and prevent wretched, hopeless conditions that extremists can exploit, they must exert powerful leadership on maternal and child health.
There is a direct connection here to national security, as U.S. intelligence officials have made clear. Consider this from the intelligence community's 2009 Annual Threat Assessment for the Senate Intelligence Committee:
"[T]he inability of the central government of Afghanistan to provide health-care and other services has helped to undermine its credibility while boosting support for a resurgent and increasingly sophisticated Taliban. Wide incidence of traumatic births, malnutrition, and disease put children there at high risk of impaired development, undermining their prospects of attending school, engaging more productively in critical labor such as agricultural production, and participating in other economic activity."
The good news is foreign assistance in support of well-conceived national health strategies can dramatically reduce child deaths -- and birthrates -- as we've seen in very poor, high-mortality countries such as Bangladesh and Nepal. After years of stagnancy, wider delivery of maternal care is reducing women's deaths, too. But progress is far too slow, and mothers, newborns and children continue to die needlessly of highly preventable causes.
This week's summit marks a critical moment to spur new action. If G8 leaders make specific, strong commitments to expand the global reach of very basic lifesaving care, they can immediately leverage that accountable plan with G-20 counterparts meeting the next day.
They could also move all nations toward bold action at a September U.N. summit on the Millennium Development Goals. Of the eight goals the world adopted in 2000, those related to maternal and child health have seen the least progress toward 2015 targets.
I left Xerox for the nonprofit sector because I believe governments, humanitarian organizations and the business community must work together to tackle the world's most daunting social problems. When it comes to saving the lives of children and mothers, the low-cost solutions are well-known. The only thing missing is the political will to get them to those in need. If G8 leaders can't summon that leadership, who will?
The opinions expressed in this commentary are solely those of Anne M. Mulcahy.
FOLLOW THIS TOPIC