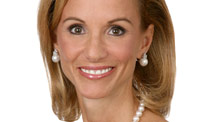 STORY HIGHLIGHTS
Frances Fragos Townsend: President should accept Gen. Stanley McChrystal's apology
She says real betrayal came from McChrystal's staff, who didn't protect their commander
McChrystal faces daily queries, orders from myriad quarters; he's impatient, human, she says
Flawed people in Washington, war zone; difference is warriors protect nation, she says
Editor's note: Frances Fragos Townsend, a CNN contributor on national security issues, was President George W. Bush's chief anti-terrorism and homeland security adviser. She is a partner in the law firm of Baker Botts LLP, a member of the Council on Foreign Relations and a consultant for Raytheon, a component manufacturer for drones used by the U.S. military in Afghanistan.
(CNN) -- Gen. Stanley McChrystal has issued an apology for a controversial Rolling Stone profile. President Obama needs to accept it and focus on winning the war in Afghanistan.
Over the last decade, I have had the privilege to work with McChrystal and found him to be, as his apology states, a man who lives by "the principles of personal honor and professional integrity." Nobody -- no man or woman, no general or soldier -- is perfect.
Obama 'angry after reading McChrystal's remarks
The remarks in the Rolling Stone article attributed to the general and his staff warrant the very apology that he has issued. Because McChrystal is a true leader, he shoulders the blame, not just for his comments but also for all those who spoke with the Rolling Stone reporter. Cooperating with profile pieces is always risky, and this one is a good example of why.
But let's be clear.
The real betrayal here is not of the president and those in Washington by McChrystal, but by the general's staff of their military commander. In the midst of battle, a military commander's staff becomes his war zone combat unit. Among them, he is in the one and only place where he should be able to speak his mind without fear of it being repeated. I, for one, have said things at home out of frustration and anger that I don't expect my family to repeat to The Washington Post.
Before Washington pundits work themselves into a lather calling for the head of this distinguished military commander, they need to spend a tour in the war zone and walk in the general's boots. Every day, McChrystal deals with a corrupt and inept Afghan government and watches those he leads get maimed and die.
McChrystal apologizes; media ask: Should he be axed?

Video: Gen. McChrystal at White House

Video: Obama on McChrystal controversy

Video: Does Pres. Obama trust McChrystal?

Video: Reporter: story 'speaks for itself'
Every day he is surrounded by an enemy plotting to kill Americans in Afghanistan and here at home. And every day McChrystal must answer the questions of countless policymakers in Washington and around the world -- from the State Department country desk, U.S. Ambassador Karl Eikenberry, Special Envoy Richard C. Holbrooke and Secretary of State Hillary Clinton; from Defense Secretary Robert Gates, Pentagon staff, NATO allies, European Command and Central Command; from the National Security Council, Vice President Joe Biden and the president.
And I haven't even mentioned the press.
Oversight from policymakers is important and necessary, but constant inquiries from multiple channels in Washington is an unfair and unnecessary distraction from the important task McChrystal and his soldiers have been given.
Before we are quick to judge the general for showing impatience with those who issue directives at a far distance from the daily tactical challenges he must overcome, we should remember that there are flawed people in both Washington and in war zones. But in war zones there are brave warriors who walk the battlefield to protect us and the nation. They are, in the words of President Theodore Roosevelt, our men in the arena "marred by dust and sweat and blood."
My advice to those in Washington, where McChrystal attends meetings Wednesday? Cut the general a little slack. And remember to thank him and his soldiers for their courage and commitment before you criticize their impatience with policy questions launched from thousands of miles from the battlefield where they fight.
The opinions expressed in this commentary are solely those of Frances Fragos Townsend.
FOLLOW THIS TOPIC