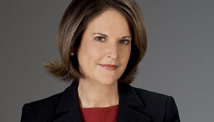 STORY HIGHLIGHTS
Gloria Borger says President Obama relied heavily on war rhetoric at first in speech on oil
Borger says he shifted into the mode of a manager giving a factual presentation
Obama points to BP as enemy but is yoked into uncomfortable partnership with company
Borger: Big problem for Obama is that 20 percent of public trusts government to do the right thing
Editor's note: Gloria Borger is a senior political analyst for CNN, appearing regularly on CNN's "The Situation Room," "AC360°" and "State of the Union" as well as participating in special event coverage.
Washington (CNN) -- We're not used to seeing President Obama in the Oval Office, and that's for a good reason: He's never spoken to us from there. Yet Tuesday night, he chose to address the nation from behind the desk on the stage that yells a few things before a word is even spoken -- importance of topic, urgency of task and, of course, commander in chief.
Trappings in place, Obama did sound like a president waging a fight, using the language of war to talk about the "battle" in the Gulf, one that is "assaulting" citizens; a "siege" for which he has a "battle plan."
But the warrior soon morphed into a company man with a PowerPoint presentation: an authorization to deploy 17,000 National Guard members, 5.5 million feet of boom laid across the water, the building of new islands in the barrier reef, more burning and skimming to collect the errant and ugly oil.
If you wanted to hear inspiration about the cleanup effort, it happened in the last paragraph of the speech when the president invoked the national "strength" and "resilience." But this was about a president asserting control on the ground, not soaring rhetoric.

Video: Obama lays out Gulf strategy

Video: Breaking down Obama's remarks

Video: Did Obama deliver?

Video: Pickens' prediction
What's more, the last third or so of the speech was devoted to the need for a new energy policy, something, he reminded us, that he talked about "when I was a candidate for this office."
At a time of national crisis, when the cleanup operations are disorganized and sketchy, when oil leak is not plugged -- and now spewing up to 60,000 barrels a day -- do Americans really want to hear an "I told you so" that "we need energy policy"? Probably not. As for Republicans, it gave them a grand opportunity to charge Obama with playing politics with this crisis (which shocks them, of course).
And, by the way, if you're going to talk about a big energy policy -- in the middle of a speech about an ongoing, frustrating, heartbreaking oil leak -- how about telling us exactly what you want rather than simply "I will not accept inaction." Echoes of health care anyone?
So two things come to mind: Plug the leak and lay down a plan.
Granted, this isn't easy. This president was handed a problem he didn't make and had no tools to solve. Yes, the regulators were asleep at the switch -- and that's something the administration needed to deal with before it called for more offshore drilling (a policy it has now temporarily rescinded). And granted, BP (at first) had to be a partner in solving the problem -- because that's who everyone assumed had the expertise to plug the leak.
As it turns out, BP was woefully unprepared -- and the White House was left without a reliable partner. So now BP is the enemy, which makes perfect sense. Except for one problem: The government is supposed to clean up the mess (with BP's money, of course). The president will hold BP accountable, but he will be calling the shots. They're still partners, yoked together, no matter how much they dislike one another.
Which brings us to another tricky area in this mess: government. At a time when about 20 percent of the American public trusts the government to do the right thing, it's back in charge. And that's a problem. But, as one senior White House aide told me, "sure, people are skeptical of government. But they trust President Obama will try to get it right. And he will."
If he doesn't, all the war metaphors will melt into something more palpable: an unnatural disaster in the Gulf that turns into a cleanup mess at the White House.
The opinions expressed in this commentary are solely those of Gloria Borger.
FOLLOW THIS TOPIC