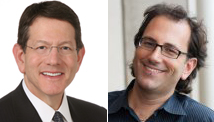 Christopher Wolf, left, and Jules Polonetsky
STORY HIGHLIGHTS
Polonetsky and Wolf say nearly half a billion people use Facebook
Recent complaints about new privacy settings made Facebook promise changes, they say
But users should realize many sites invade privacy, often with users passive consent, they say
Writers: Lax online privacy control has real world consequences; users should take heed
Jules Polonetsky and Christopher are co-chairmen of the Future of Privacy Forum, a think tank seeking to improve the state of online privacy by advancing responsible data practices.
Washington (CNN) -- Facebook has grown to almost half a billion members who use it numerous times every day. The social media site has for many become as much a part of their lives as the telephone or television, and for some, it is even more essential.
They use it to communicate and catch up with friends and family (bypassing regular e-mail), to promote businesses and political causes, or simply to pass the time: "planting" virtual farms and waging mock Mafia wars.
But recently, users had a real-world brush with the implications of their social networking. And in reaction to their complaints about privacy changes on the service, Facebook has announced plans to implement controls that are easier to use.
The fallout from the episode is likely to leave an impact that will echo beyond the world of social networks. But it also provides a teachable moment.

Video: Facebook's privacy changes
Facebook allows us to share information about ourselves that, in turn, creates an online identity. That identity affects how friends, family, schools and employers see us -- and also the content and the offers we get from businesses. So the decisions Facebook makes about privacy settings or features have a real impact on how we express ourselves and how others view us.
Indeed, our Facebook interactions can affect our careers. The average worker today is likely to hold more than a dozen jobs in a lifetime. That's a lot of job applications. People need to be careful about what they say and do online, because prospective employers may be watching.
Seventy percent of employers surveyed in a Microsoft study said they had rejected a prospective employee online because of the applicant's online reputation. This, apparently, is news to some. A just-issued Pew internet study found that only 4 percent of Americans are aware of being harmed by data about them online. Still, 71 percent of individuals 18 to 29 reported that they have taken the time to manage their online profiles by adjusting privacy settings. The word must be getting out that it matters who has access to our personal information.
That's why Facebook's recent changes to its privacy settings --among them a tool making user preferences and data easier for others to see -- caused a huge (and largely negative) reaction. Facebook and privacy were the focus of a recent Time magazine cover story and of U.S. Senate inquiries. Popular culture bloggers like Tina Brown and millions of Twitter users also have focused on what Facebook did to users' privacy controls.
Facebook changes privacy controls
The critical discussion led to a mea culpa from Facebook CEO Mark Zuckerberg this week and to the announcement Wednesday of a series of revised privacy settings designed to give users more control over the data they share. Most important, the controls are slated to get a redesign intended to make them more intuitive and easier to use.
Many users will be satisfied by Facebook's changes, and others will continue to object to Zuckerberg's overall view that more sharing is better for them and for society. But this isn't just about Facebook: The social networking site is far from the only one creating online identities.
Google and other search engines provide an indelible record of most of our online postings. They and hundreds of ad networks track the searches and websites that computer users visit in order to tailor the content and the ads that we see. There are companies that use the data they can gather from our social media postings to offer employers and marketers tools to assess web surfers' merits as an employee or a customer.
Facebook, MySpace, Google and social networks may have the most visible repositories of our reputation, but companies large and small are looking online to learn more about us. Soon, the "smart" power grid will add detailed information about our electricity usage, creating databases that can discern details about what devices we use in our homes.
The essential question that we face is whether all this information that is being collected and analyzed will be used to benefit individuals and society or whether it mostly will be used by others to make decisions about us that we cannot control and may not even know about.
Every time a decision about a default privacy setting is made, one more decision is made about our individual freedom to choose. Most of these small decisions pass quietly in the form of privacy policy updates or new terms of service. Unnoticed, our ability to choose is diminished both in the short term (with respect to what information is shared) and the long term (with respect to how that information in the hands of others may affect us).
Changes to privacy policies previously were the province of internet wonks and privacy advocates like us. Given the prominence of Facebook in the daily lives of so many people and the attention given its recent privacy misstep, ordinary online users are learning that privacy has real-world consequences. They know that privacy choices matter, and they will not permit changes that affect their online reputations without their knowledge or control.
That is the message not only for Facebook but for all online companies entrusted with personal information.
The opinions expressed in this commentary are solely those of Jules Polonetsky and Christopher Wolf.