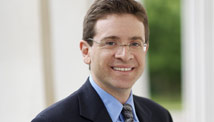 STORY HIGHLIGHTS
Julian Zelizer: Democrats came out of several key primary races with positive news
Zelizer: A Democrat picked for Murtha's seat rather than Tea Party candidate Burns
He writes: Sestak's win shows victory of solid Democratic credentials over ex-GOP centrist
Rand won, he says, but it will reveal Tea Party extremism and GOP rift on war
Editor's note: Julian E. Zelizer is a professor of history and public affairs at Princeton University's Woodrow Wilson School. His new book is "Arsenal of Democracy: The Politics of National Security: From World War II to the War on Terrorism," published by Basic Books. Zelizer writes widely about current events.
(CNN) -- For several weeks, Democrats have been feeling blue about the 2010 midterm elections. Many have been worried about the possibility of a precipitous decline in the size of their majority in the House and Senate, or even about Republicans retaking control of Congress.
The primaries and special elections turned into a litmus test on the condition of Democrats. If that assumption is true, then Tuesday produced some good news. Even with the alleged "anti-incumbent" fever that has spread through parts of the electorate, Democrats came out of several key races with positive news.
The first good sign came from a special election in western Pennsylvania to fill the seat of the late John Murtha. Democrat Mark Critz, a former staffer for Murtha, defeated the businessman and Tea Party candidate Tim Burns. In his campaign, Burns ran as an "outsider" and tied Critz to Washington Democrats. In response, Critz focused much of his campaign on how to create jobs for the middle class and Murtha's record of bringing government funds back to the district.
The district is the kind of electoral mix -- economically liberal and socially conservative -- where Republicans are hoping to make big gains in November. So Critz's victory is not good news for the GOP.
The second win for Democrats took place in Pennsylvania as well. Joe Sestak defeated Sen. Arlen Specter in the primaries. While many commentators have pointed to Specter's defeat as yet another sign of the instability facing incumbents, in fact, this should be seen as evidence of Democratic strength. With Sestak, activists lined up behind a candidate with solid Democratic credentials to defeat a Republican centrist who had just recently shifted parties to retain his seat.
Sestak's victory demonstrates that some of the grass-roots energy from the 2008 presidential election is still alive and kicking. Pennsylvania primary voters wanted to make certain their party stayed true to its principles and didn't settle for watered-down compromise.
With the right candidate, Democrats can bring out the vote and stimulate the enthusiasm that seemed to have faded over the course of the year. Although Sen. Blanche Lincoln was not defeated in the Arkansas primary, she too has been forced into a runoff with Lt. Gov. Bill Halter, who received the backing of organized labor.
The final source for Democratic hope comes from Kentucky, where Republican Rand Paul defeated the GOP establishment-backed Trey Grayson. Paul is the first major Tea Party candidate to actually win a contest, as opposed to an establishment Republican like Massachusetts Sen. Scott Brown, who won as a result of their support.
Paul presents a major challenge to the GOP. Some of the more extremist arguments of the Tea Party movement will now be front and center because of his candidacy. Paul has taken some very strong stands against any overseas intervention -- which clashes with the direction the GOP has taken on foreign policy since the Cold War, and especially since 9/11-- and he has made some controversial statements about domestic policy, including expressing doubts about certain parts of the Civil Rights Act of 1964.
In one interview with MSNBC's Rachel Maddow, Paul could not give an answer to the question: "Should Woolworth's lunch counter have been allowed to stay segregated? Sir, just yes or no." He then dismissed this as an "abstract, obscure" conversation. The right answer was no. But Paul refused to say that.
Paul could allow Democrats to paint Republicans as having become too extreme and untrustworthy of holding power. All of these factors should give Democrats reason to feel better about the midterms.
This does not mean that everything is rosy. With continued unemployment rates hovering near 10 percent and an unstable recovery, Democrats are still extremely vulnerable in the upcoming elections. But it is also clear that the party still has a lot of gas in the tank and that Republicans are not on the kind of stable ground they hoped for.
If Democrats can make more progress on improving economic conditions, they will be able to build on last Tuesday's news to diminish the damage that President Obama faces as a result of his first midterms, and just possibly make some gains of their own.
The opinions expressed in this commentary are solely those of Julian E. Zelizer.
FOLLOW THIS TOPIC