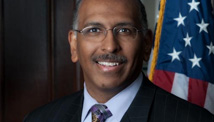 STORY HIGHLIGHTS
Michael Steele: It's 56 years since Brown v. Board of Education, but inequality remains
He says education is 21st century civil rights battle, with charter, private schools at front
Obama administration killed funds that let D.C. kids go to private school, he says
Steele: Voters should note that Republicans are on right side of history on education
Editor's note: Michael Steele is the chairman of the Republican National Committee.
Washington (CNN) -- Fifty-six years ago, the U.S. Supreme Court affirmed in Brown v. Board of Education what our founders declared self-evident -- that all men are created equal.
Until President Lincoln and the Republican Party abolished the horror of slavery, my ancestors were legally treated as mere chattel. Sadly, emancipation didn't translate to equality back then, especially in the Democratically controlled segregated states. And tragically, Brown v. Board of Education was not the end of the story.
Today, education has emerged as the civil rights battle for the 21st century. Access to a quality education is something all parents want for their children. In some communities, public schools are great. But in many, they are failing, and to that end parents should be empowered to put their children in charter, private or parochial schools no matter where they live.
President Obama had the freedom to attend private schools and is assured that same freedom for his two daughters. My wife and I made the same choice for our own children, in part because of the choice my parents were able to make for me, thanks to a scholarship program at Washington's Archbishop Carroll High School.
While some remarkable students manage to succeed within a public school that seems more like a war zone, expecting that heroic feat of most children is simply too great a burden. Indeed, a 2009 study by the Schott Foundation for Public Education found that only 16 percent of African-American students in Washington have "access to well-resourced, high-performing schools."
In 2003, I was proud when our Republican Congress provided hope to some of the remaining 84 percent by instituting a program permitting a small number of low-income, mostly African-American families in D.C. to send their children to private or parochial schools.
To quell howls of protest from defenders of the status quo, the program was funded by a new appropriation rather than shifting funds from the public school budget to the vouchers. In other words, for every child who entered the program, the public school system gained money they otherwise would have spent on that child.
Despite the modest amounts invested in the Opportunity Scholarship program, it has been an unqualified success.
It has boosted student achievement and provided hope to poor children who otherwise would have faced bleak futures. The program has earned the support of Democratic D.C. mayors as well as D.C.'s public school chancellor. Even the resolutely liberal editorial board of The Washington Post has strongly backed the program, stating:
"Democrats should spare us their phony concern about the children participating in the District's school voucher program. If they cared for the future of these students, they wouldn't be so quick as to try to kill the program that affords low income, minority children a chance at a better education. ... [T]he debate unfolding on Capitol Hill isn't about facts. It's about politics and the stranglehold the teachers unions have on the Democratic Party."
The special-interest government unions that fund Democratic campaigns insist that payback requires throwing poor minority students under a failing public school bus. Democrats have kept their end of the campaign-cash deal. In one of the earliest acts in Obama's term, Democrats enacted legislation that killed the Opportunity Scholarship program and abandoned struggling minority families who had the audacity to hope for a better life for their children.
It was a deeply cynical act Democrats did not even bother to try to justify. When the Senate held a hearing on the program, the administration did not send a single witness to defend the administration's position.
Obama, having made millions on two autobiographies with "Hope" and "Dreams" in their titles, has denied the hopes and dreams of poor, minority families who simply seek the opportunity that he and I and so many other Americans had -- quality education despite our families' income.
Fifty-six years after Brown v. Board of Education, Democrats are again standing in the schoolhouse door and on the wrong side of history. That's why it is critically important we stand on the right side of history and elect Republican candidates to office.
The opinions expressed in this commentary are solely those of Michael Steele.