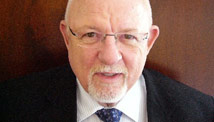 STORY HIGHLIGHTS
Ed Rollins: Bennett in Utah and Mollohan in West Virginia lost their parties' nominations
He says this signals bad news for the vulnerable congressional "old guard" in 2010 elections
In political climate, no one sure if Obama is help or hindrance in getting re-elected, he says
Rollins: Whoever's left after elections should see their close calls as wake-up calls
Editor's note: Ed Rollins, a senior political contributor for CNN, is senior presidential fellow at the Kalikow Center for the Study of the American Presidency at Hofstra University. He was White House political director for President Ronald Reagan and chairman of the National Republican Congressional Committee.
New York (CNN) -- There is a term used widely on Capitol Hill, and it needs no explanation to the tens of thousands who work there serving the House and Senate. The term is "old bulls," and it is used to describe the most senior members of Congress.
Unlike in the farm pasture, where younger and stronger bulls sometimes push the old guys off to the sidelines, the old bulls in Congress usually get stronger and seldom get challenged either for re-election or their chairmanships or ranking positions on committees.
All that is changing. The pending election of 2010 may be a doomsday election that already is causing a giant reshuffling of the old guard. In the last few days, one longtime respected senator, Robert Bennett, was denied renomination by Republican convention delegates in Utah. Yesterday in West Virginia, after 14 terms, Democratic Rep. Alan Mollohan was crushed by Democratic voters in his bid for renomination.
You add that to the 37 House members who are retiring or running for other office, and now 10 Senate seats where the incumbent is not running again, and there will be a lot of new faces roaming the Capitol after November.
And add to that the probable defeat of a 30-year veteran senator -- Republican turncoat and now Democrat Arlen Specter -- in the Democratic primary next Tuesday, and you can see that seniority means little to voters. Many formerly safe incumbents will be running for their lives.
The idea that Senate Majority Leader Harry Reid, now running behind three potential Republican opponents in Nevada (primary June 8) could be the second majority leader defeated in the last six years (the first was Tom Daschle) is unsettling to say the least.
Also in jeopardy: at least four of his Democratic colleagues; and certainly another four of the six Democratic "open" seats lean toward Republicans winning them in November. Those include the president's and vice president's old Senate seats. No Republican incumbent appears to be in jeopardy, and the five Republican open seats are all competitive.
Throw in 60 competitive House seats -- almost all Democratic -- and you can imagine that the temptation to end this congressional session soon and get home to start campaigning will only get stronger in the coming months.
The problem for the White House is that no one is sure whether the president is a help or a hindrance in campaigning for incumbents. They know he can raise money -- always helpful -- but they don't know whether he energizes the Democratic base or antagonizes and motivates the Republican, independent and Tea Party base.
The president still wants to push his agenda, but Democrats in tough races don't want to walk any more planks for President Obama if it puts them in jeopardy.
Unfortunately, the White House's troubles will only get worse after November. Even without Republicans taking over either the House or the Senate, a long-shot possibility at best, significant numbers of Republicans will be added to both bodies. A pickup of 30 or more House members and five to six Senate seats at least will make it impossible for the president or the Democrats to continue their go-it-alone policy.
With the president's re-election campaign looming in 2012, and 22 of the 33 Senate seats up in 2012 being Democrats (and the two independents who caucus with them, Sens. Joe Lieberman and Bernie Sanders), you can bet those members will be watching this November's voting results with great concern.
But with the defeat for renomination of Mr. Republican, Robert Bennett -- a senator with a near-perfect conservative voting record, in the most conservative state in the country -- every incumbent need be aware: The voters are not happy campers, and you better be listening to their concerns or start looking for another line of work.
And the "old bulls" better beware of the new young men and women coming in next January, because you can bet that those who win in November will have their ears to the ground and aren't going to sit around in awe of those who came before them.
The opinions expressed in this commentary are solely those of Ed Rollins.