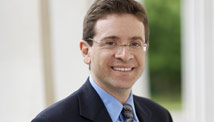 STORY HIGHLIGHTS
Julian Zelizer: Pundits see Indiana Gov. Mitch Daniels as GOP's best hope in 2012
Zelizer says Daniels reduced deficit; slashed budget; brought business, jobs to his state
Zelizer: Daniels not conservative enough for Tea Party; carries burden of Bush legacy
Daniels could help GOP win back voters who went blue in 2008, Zelizer says
Editor's note: Julian E. Zelizer is a professor of history and public affairs at Princeton University's Woodrow Wilson School. His new book is "Arsenal of Democracy: The Politics of National Security: From World War II to the War on Terrorism," published by Basic Books. Zelizer writes widely about current events.
(CNN) -- Conservative pundits are in love with a candidate for 2012, and it is not Sarah Palin. If you ask many top Republicans their favorite pick for the presidential campaign, they will answer Indiana Gov. Mitch Daniels.
Although many news junkies are left scratching their heads over this, the conservative intelligentsia see Daniels as the best possible path to challenging President Obama. As The New York Times columnist Ross Douthat wrote, "He'd be the best president of any of them."
Daniels has a distinguished history. He earned his bachelor's degree at Princeton and his law degree at Georgetown. Before he was elected governor of Indiana in 2004, Daniels worked as an adviser to President Reagan and as President George W. Bush's director of the Office of Management and Budget. He was also an executive at Eli Lilly and worked as the chief executive of the Hudson Institute, among other jobs.
Certain Republicans find Daniels attractive because they realize the 2012 campaign will not only be a mandate on President Obama; the GOP will undertake its campaign in the long shadow of President Bush, who ended his presidency with historically low approval ratings and a demoralized party.
Daniels could help Republicans reclaim the mantel of fiscal conservatism. The skyrocketing federal deficit has emerged as a significant political issue. Concerns about how European countries will handle their debt have amplified fears within the United States.
There are no signs that the deficit will diminish in importance over the next few years. Polls show that independent voters are especially concerned. The problem for Republicans is that it is difficult for them to talk tough, given that spending and deficits vastly increased under President George W. Bush, including the years when the party controlled Congress and the White House.
Daniels, who was known as "The Blade" when he worked at OMB, has worked to cut the deficit in Indiana. The governor has taken steps to turn the $800 million deficit that he inherited into a surplus by cutting the payroll, halting the rate of government spending and streamlining services. As a result, he has the record to show he takes this issue seriously.
His second potential virtue is executive competence. After Hurricane Katrina, Bush was never able to win back the kind of public perception that he enjoyed shortly after 9/11 -- that of an efficient leader who could bring the tools of the CEO to the executive branch.
The bungled handling of Katrina, as well as the mission failures in Iraq, raised questions about whether Republicans were up to the job of governance. Barack Obama's cool and tempered response during the financial meltdown in 2008 helped improve his standing as a leader, particularly in contrast to how GOP contender Sen. John McCain seemed to stumble.
Daniels has a strong record in the governor's mansion. In addition to slashing the budget, he has undertaken domestic initiatives such as health care. He has avoided any damaging missteps. He has successfully attracted jobs and business investment to the state. His approval ratings remain strong, about 70 percent, and he did extremely well in his re-election bid.
But Daniels still faces some major problems, which says a lot about the state of politics and the Republican Party. The first is whether the soft-spoken, wonkish Daniels could survive in a media environment that thrives on charisma and television appeal. In the 24-hour media age, Daniels' lack of television presence could be a major problem. His seriousness could be a vice instead of a virtue.
Daniels lags behind former Gov. Sarah Palin -- networks, left and right, like to devote air time to her -- and former Massachusetts Gov. Mitt Romney, who seems born to play the role of presidential candidate on TV. Daniels possibly could become the Michael Dukakis of 2012.
Another problem Daniels faces is the Tea Party movement. The movement wants to push the party toward the right and has little tolerance for appeals about incumbency and experience. This weekend's defeat of Sen. Robert Bennett of Utah in the primaries offers evidence that some conservatives are looking outside the box for their candidates.
Even while cutting spending, Daniels has taken steps that might not appeal to Tea Party activists. He pushed for a new health care plan that would expand coverage, backed off his own efforts to push welfare programs out of the public sector and strengthened child welfare services. Nor has he been especially interested in some of the social and cultural issues that animate segments of the movement.
Finally, there is a question as to whether Daniels could overcome the negative legacies of the Bush presidency. When Daniels was at OMB, the federal surplus available when Bush came into office turned into a huge deficit. Many observers believe that Daniels tried to prevent some of the policies that produced this outcome, but the Bush record will loom large if he tries to sell himself as a deficit hawk.
If Daniels decides to run, and he says he does not want to, his fate within the party would tell us a lot about the direction the Republican Party is heading. It is clear that there are other candidates, such as Palin or Romney or former Arkansas Gov. Mike Huckabee, who might be an easier and more predictable choice for the GOP.
Yet it is not clear whether any of them are candidates, as Daniels might be, who could help Republicans win back suburban and independent voters who went blue in 2008.
The opinions expressed in this commentary are solely those of Julian E. Zelizer.