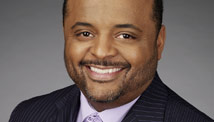 STORY HIGHLIGHTS
Charlie Crist was going to lose GOP Senate nomination, Roland Martin says
It makes sense to take his chances as an independent, Martin writes
Martin says Crist can focus on being moderate, hoping gamble works
Editor's note: Roland S. Martin, a CNN political analyst, is a nationally syndicated columnist and author of "Listening to the Spirit Within: 50 Perspectives on Faith" and the new book "The First: President Barack Obama's Road to the White House." He is a commentator for TV One Cable Network and host of a Sunday morning news show.
(CNN) -- Why do we bother with the notion that politicians today are great statesman or stateswomen who are willing to put their personal ambitions aside in pursuit of the greater good?
Pure and simple, today's politician is more concerned with winning a campaign. When Sen. Joe Lieberman lost to Ned Lamont in the Connecticut U.S. Senate Democratic primary in 2008, he ran as an independent in the general election and was re-elected.
Last year about this time, Pennsylvania Sen. Arlen Specter was facing the same kind of fight Florida Gov. Charlie Crist just abandoned, and instead of duking it out in the GOP primary, he switched parties to run as a Democrat.
With that said, it only makes sense for Crist to abandon his campaign for the Republican Party's nomination for the U.S. Senate seat.
It was clear to everyone that Crist was going to lose. Marco Rubio, who has built a significant lead by stressing his fiscal conservative credentials and Tea Party support, was beating the once-popular Crist by as many as 30 points in multiple polls. Crist was about to get his hat handed to him, and the $7 million he has in the bank was going to go to waste.
Elections are always tough, but when running in a party primary in an off-presidential year, it is difficult for moderate Republicans and conservative Democrats. Look at Arizona, where Sen. John McCain has even knocked the idea of being a maverick and is embracing a hard right position on immigration, which is a stark contrast from his presidential message of being a moderate with a long history of working with Democrats.
In Arkansas, conservative Democratic Sen. Blanche Lincoln is facing tremendous heat from the far left, especially over her vote on health care, and is locked in a tight battle to win the party nomination.
Many Republican strategists and conservative commentators kept saying that Crist should do the honorable thing and drop out of the race against Rubio, taking his chances in 2012 against U.S. Sen. Bill Nelson. But there was no guarantee that the GOP would back him then, so it makes sense to take his best shot now.
Thursday's announcement by Crist has upended the political landscape in Florida. He now gets to stop trying to sound like a right-wing candidate and instead focus on being the moderate he is, hoping that his positions will strike a chord with independents and Democrats in the populous state.
Clearly, his decision doesn't mean he's going to win in November. Both the Republicans (with Rubio as their candidate) and Democrats, represented by Rep. Kendrick Meek, are planning to pour vast resources into the state. Dems are taking no chances in trying to hold onto power in the U.S. Senate, and the November election is shaping up to be a battle royale for control of Congress.
Meek, looking to become the only African-American in the U.S. Senate in 2011, told me Friday during my daily segment on "the Tom Joyner Morning Show" that by having Crist in the race, the top candidate no longer has to win more than 50 percent of the vote to walk off with the senatorial prize. The freshman Florida senator could very well win the race by grabbing 40 percent of the vote.
That means Meek can let Rubio and Crist go after one another with gusto, slashing and burning each other over Republican votes, while he has a chance to mine the field of Democrats, who added 750,000 voters to the rolls in 2008.
But Meek isn't as well-known statewide, so he's going to have to raise lots more cash to build his name identification to effectively compete. Crist can ride the wave of free attention he receives daily as governor, but his independent run will be challenged by the need for more money. And there is no certainty that Republicans will be willing to give him campaign dough and not tick off the establishment and Tea Partiers.
And the issues that confronted Crist in his run against Rubio have not gone away. In a time when voters have been angered with bank bailouts and the billion-dollar stimulus plan, Crist has to accept the political baggage that goes with having been an ardent supporter of President Obama's early achievement. Also, expect to see the photo of Crist and Obama hugging replayed countless times in ads.
Crist's decision to veto an education bill that Republicans favored will also stir the pot. He will continuously be on the defense, but not having to worry about a primary gives him a lot of time to focus on turning his vote out.
Politics, like boxing, is all about surviving one round and making adjustments to stay in the fight. Crist was afraid of getting knocked out early. So now we wait to see whether his gamble will pay off in a late-round decision.
The opinions expressed in this commentary are solely those of Roland S. Martin.