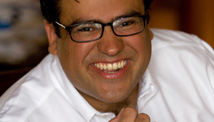 STORY HIGHLIGHTS
Gregory Rodriguez: Travels abroad offer taste of others' complex view of U.S. identity
Rodriguez says Europeans disputed his Americanness because of his Mexican roots
He says claiming Americanness is actually a subversive act of appropriation
Rodriguez: It's the nature of being American that allows pursuit of ambitions, identities
Editor's note: America's 300 million-plus people are declaring their identity in the 2010 census. This piece is part of a special series on CNN.com in which people describe how they see their identity. Gregory Rodriguez is a senior fellow at the New America Foundation, an op-ed columnist for the Los Angeles Times, author of "Mongrels, Bastards, Orphans, and Vagabonds: Mexican Immigration and the Future of Race in America" (Pantheon, 2007), and founder and executive director of the nonprofit group Zócalo Public Square.
Los Angeles, California (CNN) -- There's nothing like traveling abroad to learn what it means to be American and what being American means to everyone else who is not. I lived in Europe for a year when I was 14, and two unpleasant instances brought the complicated nature of our national identity into sharp relief.
The first happened at a party. After finding out I was American, a young Italian hipster suddenly started attacking me for my country's voracious, imperialist appetite. She cited chapter and verse: interventions in Chile, the Dominican Republic, Guatemala.
But the accusation that shook me most was when she questioned U.S. rights to the Hawaiian Islands. She left me speechless.
Having assumed the weight of the sins of the American Empire, I was then unprepared for an encounter a few months later with a middle-aged German woman who had firm ideas about who was and who wasn't American.
Unable to disentangle my ethnic and national identities, she insisted that I wasn't a real American. "You might live in Los Angeles," she said rather tartly. "But you're not American. You're Mexican."
Name: Gregory Rodriguez

Age: 43

Birthplace: Los Angeles, California

Home:
L.A.'s Koreatown

Identity:
"

Brown suburban SoCal native with a taste for martinis and the desert"
No, I replied. I'm Mexican-American, a U.S. citizen with Mexican roots. In the end, she walked away unconvinced of my citizenship. I, however, left that conversation more convinced than ever.
My father's grandfather first came to the United States to work in the mines of eastern Arizona in 1893. Both my grandmothers arrived here in the 1910s and became naturalized U.S. citizens late in life. My parents are both U.S.-born, middle-class, college-educated Americans. In most ways, I am your typical product of suburban Southern California. (I still say "dude" just before I'm about to say something even moderately important.)
But you'd be surprised how often my U.S. citizenship is questioned both abroad and at home, particularly by people who don't like the columns I write. I learned young that Americanness was something that's not simply granted to you, but rather a status you have to demand, sometimes over and over.
Back in my college days, lefty activists liked to portray assimilation as an act of weakness, betrayal or weak-kneed accommodationism. They had it all upside down.
On the contrary, claiming Americanness is actually a subversive act of appropriation. More often than not, it requires new Americans and their offspring -- even more generations if your skin is dark and your last name is, say, Rodriguez -- to assert their right to citizenship to those who would deny them.
So I assert my Americanness proudly -- sometimes even defiantly, and I find that any other identity I may embrace follows from that. This is not because being American is more primary than my being a male, or an asthmatic or even a native Angeleno. But because I know it's the high-minded and expansive nature of our patrimony -- what Crèvecoeur called the "broad lap of our great alma mater" -- that gives me the privilege and space to pursue my ambitions and embrace all sorts of new identities.
The opinions expressed in this commentary are solely those of Gregory Rodriguez.