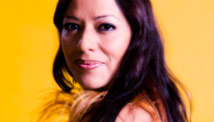 STORY HIGHLIGHTS
Lila Downs grew up in Oaxaca and Minnesota, child of Mixtec Indian, Scottish-American
She says the way she identifies herself and her ethnicity depends on who's asking
When her father died, she had identity crisis, she says, before embracing who she was
Downs: Best way for her to tell stories of mixed identities is singing about them
Editor's note: America's 300 million-plus people are declaring their identity in the 2010 census. This piece is part of a special series on CNN.com in which people describe how they see their own identity. Lila Downs is a Mexican/American singer, Latin Grammy Award winner and Academy Award nominee who lives in New York, Mexico City and Oaxaca. Her new live CD, "Lila Downs y la Misteriosa En Paris -- Live a FIP," will be released this week by World Village/ Harmonia Mundi.
(CNN) -- I grew up in Oaxaca, Mexico, and Minneapolis, Minnesota. My father was a university professor, and my mother is a beautiful Mixtec woman. (The Mixtec group is one of 16 indigenous groups in the State of Oaxaca, in the southeastern part of Mexico).
When I was a child, we would spend one year in Minnesota and the next in Oaxaca. It was confusing.
Still to this date, I have been conditioned to answer the question about where I "belong" based on the nationality of who is asking. I'm relieved when I find those who ask to be open-minded about mixed heritage.
At various times throughout the year, I live in New York, Mexico City, and Oaxaca. Sometimes I am very happy to belong to a Mexican state that is very proud of its diversity. When I am in Oaxaca, I define myself as Mixtec, then Oaxacan, then Mexican. When a Native-American person asks me, I am proud to say that I'm from a Native-American group from Southern Mexico.
In the Mexican-American community of the U.S., I can state freely I'm Oaxacan, but if I'm speaking to an Anglo-American, I will generally say that I am Mexican, and sometimes I get a disappointed look. And when I am talking with Mexican nationals, I find they are generally uncomfortable with ethnic specificity, especially relative to the indigenous population. It's confusing, isn't it?
I chose to deny my Mexican heritage at one point in my life, since I felt it made people uncomfortable. I didn't realize I was denying myself, but that I would at one point have to confront and accept who I really was. I believed hiding my Mexican heritage in the U.S. and my Indian heritage in Mexico gave me more possibilities in society, more power as a woman and would make other people more comfortable around me.

Name: Lila Downs
Age: 42
Birthplace: Oaxaca, Mexico
Home: New York, Mexico City, Oaxaca
Identity: "I am a proud Oaxacan, singer / songwriter, storyteller, weaver of North and South, and warrior of the woman's dream."
My father was an Anglo-American of Scottish background. He was a university professor of art and cinematography. My mother opened a small car-parts business during my early childhood and was often at her store, so my early education at home came mainly from my father, who always spoke to me in English, and my grandmother, who spoke Mixtec as her first language.
I would describe my childhood as mainly Americanized and Indian. When I turned 16, my father died. I was left with my mother, a very independent Indian woman who was also mestizo. The world changed for me. I was no longer protected by a white man. I sensed that in society, my mother did not command the same respect as a man. The first thing I wanted to do was run away.
Fortunately, my mother and I had it out. We spoke about her Indian-ness, about Mexican social ideals, about being a strong woman in spite of there being no man around, about beauty, strength and finally about love.
She held me so tight and from that moment on, my life changed its course. I was curious about this new self that had been buried in shame. I was hungry to learn more about why I was the way I was.
In college, at the University of Minnesota, anthropology seemed to be the window to understanding about myself and the stories of humanity. I became transformed when I studied Oaxacan weaving in a small community in the mountains of Oaxaca and became closer to my Native American identity. The women weave symbols that represent historical events or legendary characters from the pre-Colombian past to the present.
The notion of identity changed for me. It is about leaving a mark, a sign or a sound about our existence. Making that expression can legitimize us in our society, our nation and our world. I knew the best way for me to tell the stories about lost and found identities was to do what I thought I did best. I could sing them to my Indian group, my town and my nation.
I never imagined this way of life would take me to other countries to tell and sing these stories and poems. I am very grateful for this, and now I am more than willing to discuss my identity journey.
The opinions expressed in this commentary are solely those of Lila Downs.