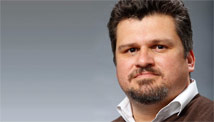 STORY HIGHLIGHTS
California has hotly contested races for governor and U.S. senator
Ruben Navarrette Jr. says the races will bring out the wacky side of California politics
Candidates include Jerry Brown, Meg Whitman and Carly Fiorina
He says candidates are raising irrelevant issues to appeal to more conservative voters
Editor's note: Ruben Navarrette Jr. is a nationally syndicated columnist and a member of the editorial board of the San Diego Union-Tribune.
San Diego, California (CNN) -- California is referred to as a bellwether, a state that produces social trends and political movements that spread throughout the country.
This time, you had better hope you're spared. When it comes to the wacky left coast politics on display in this year's elections in California, trust me: You don't want any of this.
There's an initiative on the ballot that would legalize marijuana and allow any California resident 21 years and older to possess 1 ounce for personal use.
I think some of our politicians are getting ahead of themselves. They're obviously under the influence of something.
There are two big races this year, for U.S. Senate and governor.
In the Senate race, Democratic incumbent Barbara Boxer is likely to face a tough challenge no matter which Republican hopeful wins the June 8 primary and runs against her -- former Rep. Tom Campbell, former Hewlett-Packard CEO Carly Fiorina or State Assemblyman Chuck DeVore. A recent survey by Rasmussen Reports finds Campbell in a virtual dead heat with Boxer -- 43 percent for Boxer, 41 percent for Campbell. Fiorina and DeVore both trail Boxer, 46 percent to 40 percent.
In the governor's race, on the Democratic side, there is an iconic figure so well-known that he might as well be an incumbent: Attorney General Jerry Brown. Yes, that Jerry Brown. The 71-year-old former governor, mayor of Oakland and presidential candidate last held the office for which he is now running in 1983, and so he's not barred from running for it again under a term limits law that didn't take effect until 1990.
What's more, over the years Brown has been on virtually every side of every issue. With other politicians, that sort of thing comes across as flip-flopping. Brown makes it look more like evolution.
Also, there are, at the moment, two strong winds blowing throughout California -- in opposite directions. It's a good year for Democrats, given widespread criticism of Republican Gov. Arnold Schwarzenegger. Yet, given an equally widespread anger at career politicians, it's also a good year for new faces and political novices such as eBay founder and former eBay CEO Meg Whitman, the odds-on favorite to win the Republican gubernatorial nomination.
Rasmussen Reports finds that Brown is in a dead heat with Whitman, each with 40 percent of the vote. Whitman's challenger, State Insurance Commissioner Steve Poizner, is trailing the eBay founder by as much as 40 points.
It's no wonder that Poizner has been trying to reinvent himself as a right-winger on abortion, taxes and illegal immigration.
That's not easy when you're essentially a political moderate. Then again, so is Whitman, who served as an adviser to Sen. John McCain's 2008 presidential campaign. She, too, has had to pretend she's more right-wing than she really is.
At a recent debate in Orange County, Poizner veered off into the absurd when he turned media critic. He was so intent on proving he isn't a liberal that he felt he had to make clear that he doesn't even listen to radio networks that cater to liberals. After Whitman referred to something she heard on National Public Radio, Poizner declared: "Another major difference between Meg and me -- I don't listen to NPR." (Disclosure: I'm a regular contributor to NPR.)
Nice. Anti-intellectualism. Better to know less than more? Just what you want to see in someone who is auditioning to lead the nation's most populated state and the world's 8th largest economy.
Meanwhile, Whitman seems to be under the impression that she's running for secretary of Homeland Security. That's how it seemed when, during the debate, she said that "we have to stop illegal immigration at the border."
I guess Whitman missed the NPR stories that explained how controlling immigration is the job of the federal government.
Whitman also declared herself "100 percent against amnesty. No exceptions."
She also missed the stories explaining how Congress hasn't discussed an amnesty since 1986 -- one ultimately signed into law by President Ronald Reagan, a Republican and former California governor. What is under consideration is earned legal status as part of comprehensive immigration reform.
Maybe Whitman should go on eBay and buy a copy of "Immigration Reform for Dummies."
You can't blame the Republican hopefuls for gorging on red meat, even as they audition to lead a blue state. Hovering in the background is former California Gov. Pete Wilson, the chairman of Whitman's campaign. Another person who started as a moderate and over the years morphed into a conservative, Wilson is still well regarded by many Republicans in the state.
But Wilson also single-handedly pushed Latino voters out of the GOP in 1994 with an ugly and racially laden re-election campaign that milked the immigration issue for all it was worth. With Latinos accounting for more than a third of Californians and about 20 percent of the electorate, do Whitman and Poizner really want to follow Wilson's example? I know one person who hopes they do: Jerry Brown.
Suit yourselves. The California Republican Party still has, as its symbol, an elephant. But, if it plays with fire, it'll go the way of the dinosaur.
The opinions expressed in this commentary are solely those of Ruben Navarrette.