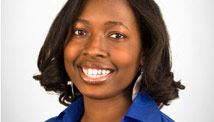 STORY HIGHLIGHTS
Erica Williams: Health care, student aid reform bill are huge benefits for young people
Williams: Millions more uninsured young people will be able to afford health care
Student aid reform helps students and families at no cost to the taxpayer, she writes
She says passage of bill helped restore young Americans' faith in political system
Editor's note: Erica Williams is deputy director of Progress 2050 and a senior adviser to Campus Progress, both projects of the Center for American Progress, a Washington-based organization that describes itself as dedicated to progressive causes. She can be found at on Twitter at @ericawilliamsdc.
(CNN) -- As President Obama signed the historic health reform bill into law Tuesday, little was said in the media about the people who stand to gain the most from the package: young Americans.
The passage of health care reform -- and the under-publicized but far-reaching student aid reform that passed along with it in reconciliation -- arguably constitutes the broadest, most meaningful and beneficial legislative victories for young people in recent history.
For the past year, youth activists, organizations and a handful of faithful congressional leaders have been talking about the health care needs of young people.
Adults from 19 to 29 -- although they tend to be healthier than older adults -- represent nearly a third of the uninsured population. Two-thirds of those uninsured young people reported going without necessary medical care in 2007 because of costs, according to research for the Commonwealth Fund.
More than half of all young adults have low incomes, below 200 percent of the federal poverty level, which was $21,660 a year in 2009. Low-income young adults are more than 2.5 times as likely to be uninsured as higher-income young adults, according to the Urban Institute.
Also, 56 percent of uninsured people from 19 to 29 are full-time workers who are half as likely to be covered by their employer as older workers.
The need for reform was dire for young Americans. Because of the bill, according to the Young Invincibles campaign, the expansion of Medicaid means 9 million young adults will have access to care and more than 2 million more will be able to get health insurance through their parents' plans because the cut-off age was extended to 26.
Millions more will benefit from tax credits that help them afford insurance. They will no longer be denied because of a pre-existing condition. This is a big deal. When all is said and done, this legislation will provide an as-yet untold number of young Americans access to affordable health care and the security and peace of mind that comes along with it. That alone would be cause for celebration for this generation.
But quietly and without much fanfare, an education package -- previously passed in the House as a standalone Student Aid and Fiscal Responsibility Act -- also passed in reconciliation.
This student aid reform victory was no less monumental in its direct impact on young people's economic well-being. It is the largest investment in aid to help students and families pay for college in history -- and at no cost to the taxpayer.
The move ends a wasteful subsidy program that for decades has put money in the pockets of banks and institutions for servicing government student loans. It moves the college financial aid offices from the federal Family Education Loan program, where private banks serviced the loan at a cost, to a program where the government lends its money directly to students.
From the money saved, $36 billion will be invested over 10 years in the Pell Grant program, which provides money for low-income students to attend college.
Without it, existing shortfalls in Pell funding would mean 500,000 students losing their Pell grants. Everyone else, roughly 7.5 million students, would see their grants cut by 60 percent.
In addition, the program also invests billions of dollars in community colleges, minority-serving institutions and college completion programs. Just as important as the immediate impacts of the bill itself are the long-term impacts of the momentous grassroots efforts to pass it.
After Sunday's vote, young people around the country tweeted "Yes we did!" That's an updated version of Obama's campaign slogan "Yes we can!" They understood the connection between their vote in November 2008, their continued activism and legislative change.

Video: Big changes for student loans
The more than 1.1 million young people around the nation signed petitions, called their representatives, uploaded videos on YouTube, blogged, rallied, organized neighbors and friends around health care and student aid reform. They were reaffirmed at Tuesday's bill signing by an administration that in the broadest possible sense, kept its promise.
The law certainly has its flaws. Both pieces were watered down from their earlier, bolder versions that had wide-ranging support among youth advocates.
The health insurance reform is a mere step on the path to full universal health care that fully respects women's rights to reproductive freedom, and the student aid package dramatically decreased the amount of savings directed toward the Pell program.
The work isn't over. On Tuesday, 500 young people from the United States Student Association are hitting Capitol Hill and lobbying their senators to follow suit and pass the student aid amendments.
Nevertheless, Sunday night's vote sent an important signal to the voting bloc that many worry won't show up at the polls in November: Your concerns and your future matter.
By addressing these two issues in the face of epic political opposition, Congress and the Obama administration did a great deal to restore young Americans' faith in a system that many considered irreversibly broken.
The opinions in this commentary are solely those of Erica Williams.