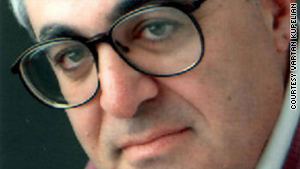 STORY HIGHLIGHTS
Vartan Kupelian: Tiger Woods to play at the Masters, a tournament about renewal
Kupelian: Masters is natural place for Woods to come back with a well-behaved crowd
He says Woods won't talk his way out of scandal, he will play to overshadow it
Author says playing well is both Woods' repentance and a step toward forgiveness
Editor's note: Sports writer and author Vartan Kupelian is president of the Golf Writers Association of America and spent 40 years covering sports for daily newspapers. He covered the Red Wings, five Olympic Games, the Stanley Cup Finals, World Series, Super Bowl, NBA Finals, Rose Bowl and Orange Bowl, horse racing's Triple Crown and many other events. From 1994 until leaving The Detroit News in 2008, he covered golf and the PGA Tour.
(CNN) -- Golf's prodigal son is about to return. The question, as it has been since the beginning of time, is whether the parable is more about repentance or forgiveness.
Tiger Woods is coming back. He will play again at Augusta National Golf Club in the Masters Tournament, golf's rite of spring. The Masters is to golf what spring training is to America's pastime, baseball. It is all about eternal hope and renewal.
The Masters is a new beginning for golfers everywhere. How strange, then, to think of Tiger Woods as just another golfer in search of a new start. But that's what he faces when he tees it up April 8 at Augusta National, the course that Bobby Jones built to celebrate golf.
Woods' fall from grace has been precipitous. The cliff he threw himself over was steep. On Thanksgiving Day last year, his life changed forever.
After crashing his luxury SUV into a hydrant and tree outside his home in an exclusive Orlando, Florida, neighborhood, a stream of women came forward alleging affairs with the married Woods. He wound up seeking professional help and at least twice entering private facilities to deal with addictions.
With a golf club in his hand, Woods can change what people think of him as a golfer. But he won't be able to change what people think of him as a human being, no matter how many clubs he carries in his bag.
Woods claimed his repentance, at least the early stages of it, a few weeks ago at PGA Tour headquarters in Ponte Vedra Beach, Florida, when he made his first public appearance and statement after the sex scandal story broke.

Video: Peers react to Tiger's return
It comes as no surprise that Woods selected the Masters for his return. In 1997, he shocked the world of sports by winning his first Green Jacket just a few months after turning professional. He has won the Masters on three more occasions.
But the decision wasn't based entirely on Woods' affection for the course and his comfort there. What makes Augusta National a natural venue for his return is the tournament's ability to control how it is conducted and the conduct of fans.
The fan base at Augusta National is unlike any other. This is a golf crowd steeped in tradition. This is a kinder, gentler crowd, less likely to indulge in unbecoming behavior. That sort of thing simply is not tolerated at Augusta National.
Tickets aren't purchased for the Masters; they are family heirlooms, passed down from generation to generation, except for the few lucky enough to win a lottery.
There isn't a tournament in golf or an organization in sports that is better at controlling its environment. Martha Burke made that discovery a few years ago when she demanded the club admit a female member or face her wrath and boycotts. It was a futile attempt.
Woods will be as free from a hostile environment as is possible given his situation, and that takes us to the question of exactly how he will handle his return.
In all likelihood, Woods will be asked by Augusta National to hold a news conference, probably on Tuesday of Masters week, in the interview room of the club's Media Center. It will begin with another statement from Woods and, most likely, this time it he won't be reading it.
He will look out into the room of credentialed golf journalists. He will repeat what he said a few weeks ago, how he let so many people down, how he was selfish and thoughtless and how his behavior was hurtful to many people. He will say sorry, especially to his wife, Elin. And then I expect that he will say he's not going to answer any more questions about the sex scandal, that it is a private and personal matter.
That will rile some people who believe Woods owes a public explanation. Of course, he doesn't. He is correct on that score. His life is private and not convertible to public fodder because of his celebrity.
Those who expect details of his indiscretions don't know Tiger Woods. His game plan isn't to talk his way out of the mess he created. His plan is to play his way out.
It is both his repentance and, in his mind, a beginning toward forgiveness. I'm guessing his game plan is to play so well and win so often, including the major championships that he covets, that it overshadows what he has become and what everybody is talking about.
The opinions expressed in this commentary are solely those of Vartan Kupelian.