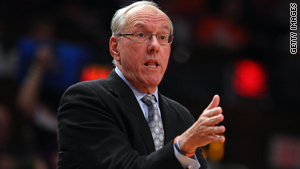 Syracuse Orangemen coach Jim Boeheim favors an increase in the number of March Madness participants.
STORY HIGHLIGHTS
Syracuse coach Jim Boeheim favors NCAA tournament team expansion

64 teams now take part; new proposal could expand that to 96 teams

Opponents say having more teams will make getting into the tournament easier

(CNN) -- The NCAA men's basketball tournament starts this month, and millions of people will be filling out their brackets, trying to pick the winner from the 65-team field.
The look of those brackets could soon be changing, though. Reports say discussions are underway to increase the number of teams taking part in "March Madness," and by 2011, there could be 96 teams in the tournament.
Jim Boeheim is in his 34th year as coach of the Syracuse University Orangemen. He's won more than 800 games and is a member of the Basketball Hall of Fame. His men's basketball team -- the top-ranked in the country -- has made the NCAA tournament 26 times and won the championship in 2003. He spoke to CNN about why he favors an expansion of the NCAA tournament field.
CNN: What's the right amount of teams for the NCAA tournament?
Jim Boeheim: I don't know if there is right amount. My issue is the last eight teams selected for the tournament by the committee are going to look just like the eight that are left out, and those are going to be teams that win 22-23 games.
CNN: Do you think 96 teams would be too many?
Boeheim: I'm not as concerned with the number, just that we need expansion. Even if we expand to 96 teams, if 32 teams get byes and the other 64 played, after one weekend you'd be down to 64, and they'd be the 64 best.
CNN: Do you think more teams would reduce the importance of regular-season games and conference tournaments?
Boeheim: No. You are still going to have to be pretty good to get in, even if we go to 96 teams. There are 350 teams overall, so 96 is only a little over 25 percent. The players would still play very hard all season.
CNN: North Carolina coach Roy Williams says making the tournament should be hard. What's the reason for making it easier?
Boeheim: With all respect to coach Williams, how hard should it be? If you just want the "best," take the top eight teams and go play. Right now, with the 34 at-large bids to the tournament, the last eight, 10, 12 teams left out are equal to those that were picked. And all of them are good teams.
CNN: Wouldn't you have the same issue if you expand to 96 teams?
Boeheim: I wouldn't be as concerned because the 97th and below teams would be 16- or 17-win teams. This year, 22-win teams won't go to the tournament.
CNN: What do you say to opponents who think the current field with 65 teams (with one play-in game) is the "perfect" amount?
Boeheim: We've expanded many times over the years. We could have stopped at 16, 32, or 48 teams; all those were good tournaments
The only reason we are at 65 now is because it fits into three weekends. We had 250 teams when we expanded to 64. Now we have over 350 and more teams that are competitive than ever before.
CNN: Is this just a way to make more money from the TV networks?
Boeheim: Any expansion has to be financially viable, otherwise we'll stick with the 65. It's not going to expand if it doesn't make sense financially.
CNN: What about the millions of fans who would have to learn how to fill out the bigger brackets in their pools?
Boeheim: If we're going to do something based on the sheet, we're the most ignorant culture on the face of the Earth.
FOLLOW THIS TOPIC