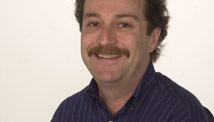 STORY HIGHLIGHTS
The idea that John Mellencamp might run for Senate is "pure folly," author Mike Leonard says

He asks: Why would a rock star take such a huge pay cut?

Mellencamp, a smoker, wouldn't be allowed to smoke on Senate floor, Leonard says

If Mellencamp runs for Senate, he "has lost his mind," Leonard concludes

Editor's note: Mike Leonard is a longtime columnist and reporter for The Herald-Times newspaper in Bloomington, Indiana. He's covered John Mellencamp and his music for more than 25 years. Leonard also has written for Rolling Stone magazine and other publications and has served as president of the National Society of Newspaper Columnists.
Bloomington, Indiana (CNN) -- The notion that Rock and Roll Hall of Famer John Mellencamp could run to replace retiring Indiana Democrat Evan Bayh in the U.S. Senate has tremendous grass-roots appeal.
Katrina vanden Heuvel, editor of The Nation, and movie reviewer and pundit, Roger Ebert, say Mellencamp, D-Indiana, has a nice ring to it. Facebook groups are forming and the Midwestern media are foaming at the mouth over the prospect of covering a candidate with a roomful of gold records and a penchant for talking off-script.
Mellencamp is a native son who has all of the options in the world, but has decided to live his life and rear his children near the place where he was born.
He's chosen his band members and filmed many of his videos close to home, and he continues to give back to his home state in various ways.
Mellencamp has been outspoken about many of the political issues of the day, including the plight of the family farmer, the moral decisions made in waging war in Iraq and the health care of our veterans.
He's even taken on initiatives made by a national GOP darling, Republican Gov. Mitch Daniels, such as leasing the Indiana Toll Road for short-term gain, to a foreign consortium, for a fraction of what the road will earn over the life of the 75-year contract.

Video: Democratic dropouts

Video: Bayh: 'Culture has changed'

Video: Senator's frustration = no run
Where, and how often, could [John Mellencamp] smoke? ... There's no way those stuffy senators are going to allow a Mellencamp exemption on the Senate floor.
--Mike Leonard
Those are principled and not always popular stances to take.
But they are true to the honest, defiant and plain-spoken troubadour Mellencamp always has aspired to be.
And that's just part of the 'Draft Mellencamp' movement to which the rock star has thus far addressed with a cryptic "no comment."
He performed on the steps of the Lincoln Memorial for President Obama's inaugural "We Are One" concert and again at the White House this month for the celebration of the music from the civil rights movement.
The Seymour native and longtime Bloomington resident may prefer to play an acoustic guitar, but the man is plugged in. He was even a schoolmate of sitting U.S. Rep. Baron Hill, a Democrat from the 9th District. So he understands that world.
And all of this leads to the inescapable conclusion that any suggestion that he might run for the U.S. Senate is pure folly.
The man's a rock star. And the life of a rock star is far superior to the life of a U.S. senator.
Let's talk about income. The base pay for a U.S. senator is $174,000 a year. Mellencamp makes at least 10 times that annually and, in a good year, multiples more. So he'd take a huge pay cut for what?
The joys of listening to Orrin Hatch pontificate on the evils of liberalism?
Interminable committee hearings on the minutiae of the bond-trading market, capitalist initiatives in Estonia or the climate implications of the methane emitted by flatulent cattle in Texas?
As Indiana's junior senator, it's not like Mellencamp would be getting the choice committee assignments, either. The Senate bows to no man, nor does it recognize the resonance of rock 'n' roll.
Where, and how often, could he smoke? As it stands now, Mellencamp takes the last drag off a cigarette right before he goes on stage, and you can watch the blue smoke wrap around the first lyrics out of his mouth. There's no way those stuffy senators are going to allow a Mellencamp exemption on the Senate floor.
What about his social life? Mellencamp is neither a drinker nor a nightclubber, but still, he hangs with people including Bob Dylan, producer extraordinaire T-Bone Burnett and writer Stephen King.
The Democratic caucus would only be marginally more attractive than the creepy dudes in the house on C Street. Although they might be fodder for the next Mellencamp-King of Horror collaboration.
Add in the torture of campaigning, of fundraising soirees, of constant media scrutiny (you wonder why Indiana hurts so good?) and the only conclusion you can come to is that John Mellencamp will run for Senate when John Mellencamp has lost his mind.
The president should have as good a life as Mellencamp's. "Hail to the Chief" just doesn't get the masses up and fist-pumping like "Pink Houses."
But if Hoosiers really wanted a fresh and out-of-the mold candidate, they should consider the rock star's wife of more than 17 years, Elaine Irwin Mellencamp.
She grew up in small town Pennsylvania, became worldly at a young age as a Ford model in Paris and has endeared herself to Hoosiers for her beauty, poise and intelligence.
She's driven the pace car at the Indianapolis 500 and helped create an impressive children's museum for a city as small as Bloomington.
She sits on the board of Bloomington's unique Tibetan Cultural Center and introduced her husband to the Dalai Lama (who will visit the center for the sixth time in May).
Elaine Mellencamp has been an Indiana delegate to the Democratic National Convention as well.
Hoosiers should seriously consider a Mellencamp to represent them in the Senate. While John would fight authority, as he always has, Elaine might guide fellow senators through the sure grip of her velvet gloves.

The opinions expressed in this commentary are solely those of Mike Leonard.