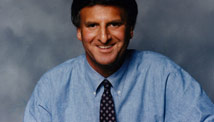 STORY HIGHLIGHTS
Bob Greene talked to former presidents about how lives changed out of spotlight
Greene says technically, they are everyday citizens, but they never can truly be
Carter told Greene he never did like pomp and circumstance anyway
Elder Bush talked about relief of seeing ballgame without hearing jeers
Editor's note: CNN Contributor Bob Greene is a best-selling author whose new book is "Late Edition: A Love Story."
(CNN) -- A president's days, after he no longer is president, are of his own devising. The world no longer watches his every movement, a notion that can take some getting used to.
"Now, I wear a coat and tie all the time," Richard Nixon said. "It isn't a case of trying to be formal, but I'm more comfortable that way. I've done it all my life."
Nixon was talking about his daily routine in the years after he left the White House. We were sitting in his study, in a federal government building in Lower Manhattan.
"I don't mind people around here in the office, particularly younger people, they usually take their coats off," he said. "But I just never have. It's just the way I am. I work in a coat and tie, and believe me, believe it or not, it's hard for people to realize, but when I'm writing a speech or working on a book or dictating or so forth, I'm always wearing a coat and tie. Even when I'm alone. If I were to take it off, probably I would catch cold. That's the way it is."
Monday is Presidents Day in the United States. When a president is in office, he is the subject of constant international attention, even obsession. He is attacked by his enemies, praised to the rafters by his supporters, analyzed syllable by syllable with every sentence he speaks. And when a president, after leaving office, eventually dies, he enters that hazy pantheon of history, chiseled in marble in the nation's collective memory.
But there is always, for some of our presidents, that odd in-between time after they have departed the White House but before they have departed this earth. Technically, they have rejoined the rest of us; purportedly, they are everyday citizens again, although it can never truly be so.
It is such a strange period for them: They have achieved their goal, overcoming all reasonable odds. Fewer than four dozen people have become president, out of all the Americans who have ever lived. Now it is over, and they are back among us.
It is always just a handful of them: today, the two George Bushes, Jimmy Carter and Bill Clinton, whose recent time in the hospital refocused attention on former presidents.
For 15 years, beginning in 1980, I set out to spend time with the men who had once been president and then no longer were. I hoped to visit with them, not to talk about public policy or banner-headline decisions but to find out what it was like to live in the White House and then go back to the day-to-dayness of a regular house. What it was like not just for them but for the people they encountered.
"I think when folks get to know me, they can talk to me easily and relate to me as a human being," Jimmy Carter said. "But at the beginning, when I go into a crowd or meet a stranger -- you know, obviously, they look at me as kind of a unique creature. 'This man has lived in the White House. This man has been the highest elected official, officeholder, in the world.'
"But I try to overcome that. I consider it to be a handicap. Even when I was president, I was always uncomfortable with it. The fanfare and 'Hail to the Chief' and all, it made me very uncomfortable."
Once a person is no longer president, he can, if he so chooses, fill his time up, do important work and travel the globe. But no matter how busy or how light he elects to make his schedule, it can't compare to the way things were when the weight of the world was on his shoulders.
And sometimes, that turns out to be all right.
"I went out to see a minor-league baseball game the other night," the first President Bush told me about two years after Bill Clinton had defeated him for a second term. "The Portland [Maine] Sea Dogs. In the Eastern League. This beautiful stadium, it only holds about 6,000 people. So everyone feels real close to the game. We sat right down next to the field. ... I just felt like seeing a ballgame."
He was warmed by the friendly reaction from the other fans, he said:
"It's not that bad back in real life. ... Not only are people not uncivil to us, it's the other way around. I can actually go to Fenway Park [in Boston] for a ballgame and not get booed."
He said that after hearing jeers at public events for so long -- "any politician does" -- it was a revelation to discover how things change after the White House years.
"I went to a game at Texas Rangers stadium the other day. ... There were about 40,000 people in the stands, and they all cheered. It was a beautiful warm day, and I felt all wonderful inside about how the people were greeting me, and I thought: 'Hell, if I had done this when I was president, no way.' "
The men who once were president soon find that their names are no longer in the newspapers or on TV newscasts every day; the phone doesn't ring as often, and when it does, it usually doesn't mean there's a crisis to deal with.
"I don't worry about that," Gerald Ford said as we talked in his home on the California desert almost 20 years after he departed the Oval Office. "I don't have to make critical decisions. I've done my share.
"When I was in the White House, I used to get up around 5:30 and read the [Washington] Post, The New York Times, and once a week a newsmagazine. I was curious how they were analyzing my performance. [Today] I have a different involvement with the newspapers I read, because I don't make the decisions anymore."
I asked him if there were times when he woke up in the middle of the night, groggy, and for a half-second still thought that the world was waiting for him to make one of those judgments.
"Not anymore," he said. "Once we left the White House, the cord was cut."
Whether it's ever really that simple, the rest of us will never know. The men who have been president and who live on among us reside in a symbolic waiting room, knowing that somewhere, not so far down the line, upper-case History is waiting to welcome them and to claim them forever.
But in the meantime, as Presidents Day rolls around each year. ...
"I don't go to bed as late as I used to," Nixon said. "Unless the ballgame is on, I'll stay up and listen to that, but I go to bed early, around 10:30.
"We never go to a cocktail party. Just don't like it. A cocktail party is the invention of the devil. The talk -- it's so loud, and people drink too much and talk too much and think too little. It's a bore. I just don't go. We say, 'Sorry, got another engagement.' "
He said that living in New York, as he was at the time, suited him just fine:
"You can come here and get lost, if you want."
The opinions expressed in this commentary are solely those of Bob Greene.