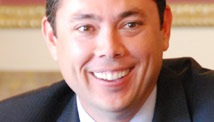 STORY HIGHLIGHTS
President and House Republicans discussed issues in unscripted way
Rep. Jason Chaffetz questioned president on unfulfilled campaign promises
Chaffetz says there's room for agreement on many issues
He says Republicans can't abandon core principles but "we are here to get things done"
Editor's Note: Rep. Jason Chaffetz, a Republican from Utah who appears in CNN.com's "Freshman Year" series, questioned President Obama in Friday's session with the House Republican conference. For a transcript of the discussion, click here
(CNN) -- The open, honest, and unscripted exchange between President Obama and House Republicans on Friday was a promising step in what I hope will be a more collaborative relationship between the president and the GOP conference.
Regardless of which party holds power, we all lose when government cannot move public policy forward. Gridlock only exacerbates the "deficit of trust" President Obama referenced in his State of the Union address. As much as I'd like to be in the majority, my first obligation is to the people who elected me. And they deserve a government that can get things done.
I am and have been willing to work with this president. But like my Republican colleagues, I must do so within the boundaries of the principles I promised voters to uphold.
I can't help President Obama expand government entitlements and still keep my promise to limit the size and scope of government. But he and I both promised voters we would address the abusive use of earmarks. On that count, I am behind him 100 percent. Unfortunately, he hasn't picked that battle yet.
I'm proud of the fact that the Republican leadership invited the president to address our conference on Friday, and I applaud the president for accepting. This was a forum in which even the rank-and-file members could pose serious questions and receive serious answers. We were able to have a candid dialogue with the president -- without the teleprompter. Even the questions were unscripted and unscreened.
As I expressed to the president my disappointment in some of his unmet campaign promises, he humbly acknowledged that he had failed to televise key health care deliberations and to fight the earmark battle. I admire his willingness to take responsibility for those shortfalls. Ultimately, I believe we can help him keep those promises yet.

Video: Reaching out to the GOP
On the issues of transparency, ethics and earmark reform, I support the president's campaign promises. I would proudly stand with him to fight these particular battles.
Earmark reform is not a partisan issue. There are people in both parties who defend and even abuse the status quo. But there are also plenty of us on both sides of the aisle who are willing to go to bat for reform. We are already working on bipartisan reform proposals that we hope the President will support. This is a battle he can win.
Even on the most controversial initiatives, on everything from health care to energy, there is middle ground. You wouldn't know it because the Democrat leadership has refused to even explore it.
Contrary to popular Democrat rhetoric, Republicans are not here simply to obstruct the President. There are people suffering in this country because of Congress's inaction. I believe Republicans and Democrats both have a responsibility to help move public policy forward, regardless of the political calculations.
But bridging the gap between our very legitimate and substantive differences is not easy. The mistake of the 111th Congress has been to start deliberations at opposite poles. Instead of joining together where we share common ground, Republicans have been presented with legislation that violates our most core principles, and then we have been called obstructionists when we refuse to repudiate those principles.
Each party has to respect the core principles of the other. We can compromise to move legislation forward, but to the extent we are expected to abandon those principles, people of integrity will have no choice but to obstruct.
Based on Friday's exchange, I am hopeful that bipartisanship between the president and House Republicans is possible. We will never agree on everything. There will be differences of opinion -- and I think the expression of those differences is healthy for the country. My job, role and responsibility is not to be a cheerleader for the president. Congress is the check and the balance. We are here to be a watchdog, not a lapdog.
But we are also here to get things done. If Democrats are pushing legislation to advance principles I support, I don't care who gets the credit.
After Friday's exchange, I hope the president and the American people can see that we can have a symbiotic relationship that moves public policy forward. We can have substantive discussions. We can talk about differences and go beyond sound bites.
The opinions expressed in this commentary are solely those of Jason Chaffetz.