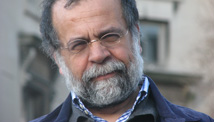 STORY HIGHLIGHTS
Two giants of American thought and literature died this week, Hamid Dabashi says
He says J.D. Salinger and Howard Zinn inspired people beyond America's borders
Salinger resonated with a generation of Iranian youth, Dabashi says
Editor's note: Hamid Dabashi is the author of "Iran: A People Interrupted." He is Hagop Kevorkian Professor of Iranian Studies and Comparative Literature at Columbia University in New York.
New York (CNN) -- On January 27, 2010, as our attention was distracted by the news of horrors from Haiti to Iraq, the quiet passing of two giant Americans in a single day was barely noticed around the globe. J.D. Salinger (1919-2010) and Howard Zinn (1922-2010) passed away at the ages of 91 and 87, respectively.
It was not just in the United States that Salinger's "The Catcher in the Rye," his signature novel, became the cultic rite of passage for an entire generation. "Catcher" was published in 1951, the year of my birth in southern Iran, and soon after its Persian translation it became a definitive literary experience for high school and college students of the late period of the Pahlavi family's rule over Iran.
While Russian literature was a major staple of the Iranian literary scene since the early 20th century, it was not until the aftermath of World War II that an interest in American writers took hold.
When American GIs left their paperback novels behind as they left Iran, a massive wave of translation of American literature began in earnest, with Mark Twain, William Faulkner, Ernest Hemingway and John Steinbeck as the leading representatives of a literary humanism that for us knew no country or boundary.
For us, these authors were the hallmarks of a literary cosmopolitanism in which we were born and raised. We read them all in exquisite Persian translation, and whatever we lost in translation, which was not much, we gained by reading them as integral to a world literary heritage that was open and welcoming to all.
To this day the Persian title of J.D. Salinger's novel, "Natur-e Dasht," sounds infinitely dearer and more intimate to me than its original "Catcher in the Rye."
The novel's protagonist, Holden Caulfield, was central to my generation of Iranian youth, always dangerously on the verge of social apathy, and precociously over-politicized for fear of transforming either into a vermin like Kafka's Gregor Samsa in "Metamorphosis," or else a pathetic criminal like Dostoyevsky's Rodion Raskolnikov in "Crime and Punishment."
Holden Caulfield would of course age beyond his adolescence in "Catcher in the Rye" and soon be transmuted into Marlon Brando of "The Wild One" (1953), James Dean of "Rebel Without a Cause" (1955) and even later Robert DeNiro of "Taxi Driver" (1976).
But the Iranian love affair with Salinger would also continue with one of the masterpieces of modern Iranian cinema, Dariush Mehrjui's "Pari" (1995) being based, much to Salinger's chagrin when it was premiered in New York, on his "Franny and Zooey" (1961). After the writer's lawyers objected, a New York showing of the film was cancelled.
Howard Zinn first became known to me once I was in the United States as a fresh graduate student at the University of Pennsylvania, when my reading of his "A People's History of the United States" (1980) forever marked my understanding of American history. To this day, I have tried to do in my own way for Iranian history what Howard Zinn did for American history, with a tinge of Steinbeck written into my narrative.
Over the last few months, as I have followed the Green Movement in Iran closely, I have been reminded of Howard Zinn's role during the Civil Rights Movement in the United States and particularly of his years at Spelman College, to me an exemplary model of responsible citizenship in a flawed and unjust republic.
The literary cosmopolitanism in which I grew up, and in which Salinger was a seminal figure, died with the ascendancy of a militant Islamism that imposed an orthodox and closed worldview.
It was not just in the United States that Salinger became a recluse and Howard Zinn became an exemplary dissident public intellectual and the moral conscience of his generation.
In Iran, a fearful Islamism took over not too dissimilar to the militant nativism of the post-Reagan era, alien to, and at odds with, the worldliness and historical imagination that Salinger and Zinn so eloquently represented.
The opinions expressed in this commentary are solely those of Hamid Dabashi.