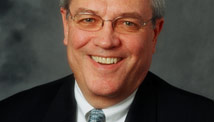 STORY HIGHLIGHTS
Leo Hindery: A tax on Wall St. trades would have many benefits
He says it would provide $150 billion a year to pay for job creation
It would discourage excessive speculation on the markets, he says
Hindery says other nations have benefited from such a tax
Editor's note: Leo Hindery, Jr. is chair of the US Economy/Smart Globalization Initiative at the New America Foundation. He is the former chief executive of AT&T Broadband and other major media and telecom companies.
New York (CNN) -- What if, at once, we could create millions of new jobs, greatly reduce the federal deficit and dampen the financial speculation that almost destroyed our economy?
Well, we can. And to do so, all we need is more political resolve from President Obama plus some actions by Congress.
The economic recovery that some in the administration allege to be underway is not really much underway at all.
The reality is that we are stuck in a jobless recovery, one in which real unemployment is mired at around 19 percent. That's nearly twice the 10 percent official unemployment rate reported by the Bureau of Labor Statistics. The economy is short a staggering 22.4 million jobs. That's more than twice the 9 million figure the administration is using in order to generally be considered at full employment.
It's probably a political impossibility to label new economic initiatives aimed at job creation a "second stimulus," given the skepticism about how effective last year's stimulus efforts have really been. But we can't run away from the major fiscal outlays that are going to be needed, efforts that are likely to cost up to $200 billion annually into the medium term.
The first and best place we could start to find these funds is with the "Wall Street Fair Share Act" that's been introduced in the Senate by Tom Harkin, D-Iowa. A related bill is pending in the House from Peter DeFazio, D-Oregon.
This act would raise up to $150 billion annually of much-needed new revenue for job creation and deficit reduction. It provides for financial transaction taxes (or FTTs) of 0.25 percent on most stock purchases, options and nonissuance long-term corporate debt, derivatives and futures and of 0.02 percent on hedging transactions used for direct business purposes and short-term corporate debt. It effectively exempts most stock transactions undertaken by the middle class, including their IRAs and mutual funds.
Notably, beyond raising needed revenues, the act would also significantly reduce the rampant financial speculation that continues to plague our economy and that has cost every man, woman and child in America thousands of dollars and our nation millions of jobs.
Speculators and high-frequency traders execute a staggering 70 percent of all equity market trades and an even higher percentage of all trades of options, futures and other hedging transactions. Yet there is absolutely no economic justification for any of this -- in fact, it eats away at the very foundation of our desire for a balanced and stable economy.
Had these FTTs in fact been in place during the past decade, they would have gone a long way to helping prevent the financial crisis we are now struggling through.
Critics of the FTTs say that FTTs will immediately cause trading volumes to collapse and tax revenues to plummet. Yet in Great Britain, financial transactions have been taxed for decades at roughly twice the rates proposed by the Wall Street Fair Share Act. The London Stock Exchange remains just as strong as our own stock exchanges. Many other European governments very successfully have their own FTTs as well.
In arguing for only their versions of markets and in turn of market efficiency, the critics of FTTs ignore market equity and fairness, just as they ignored the massive damage which they must have known their financial speculation would cause.
It is past time for Wall Street and its financiers and bankers to think beyond their parochial personal interests and to help re-employ Main Street and balance our broken federal budget. Enacting the Wall Street Fair Share Act of 2010 would be a powerful and exceedingly fair way for them to start.
It has to be strongly pointed out that the financial crisis responsibility fee, or so-called bank tax that President Obama just asked Congress to levy on the country's largest 50 banks, is absolutely not an alternative to the FTTs.
The bank tax has only one stated objective, which is to recoup around $90 billion of the estimated $120 billion of TARP funds that the nation is forecasted to lose. While in principle this is desirable, the bank tax doesn't begin to get at the heart of the financial industry's errant ways, which are rampant speculation, ill-conceived lending and destructive compensation and bonus practices at institutions that have foolishly been deemed too big to fail.
The administration should be directly going after excessive compensation everywhere it exists in the economy -- at banks and corporations alike -- as the British, French and Germans are already doing very well.
And once the Treasury gets its hands on new revenues, from the FTTs and otherwise, we should start creating those millions of new jobs we need by investing them in the two areas that we know would most immediately create lots of them.
First, we need a very large-scale infrastructure investment program built around the government procurement principal of "buy-domestic," which should include a new National Infrastructure Bank, incentives for private funding of public infrastructure, a multiyear green transportation program funded through an increase in gasoline taxes and targeted federal government spending in improving energy efficiency, especially building retrofits.
And second, we need youth employment programs of the sort President Roosevelt had in his New Deal, for the estimated 3 to 5 million out-of-school youths who already can't find work and for the 6.4 million young people who will graduate from high school or college in just four or five months.
The opinions expressed in this commentary are solely those of Leo Hindery.