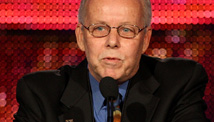 STORY HIGHLIGHTS
Ed Bark: Conan O'Brien wisely left NBC by the high road, with big payoff
Bark: Question remains: Where will O'Brien go? Will Fox affiliates be willing to give up shows?
Letterman and Leno will be competing; but each are getting long in the tooth, he writes
He says late-night terrain crowded with cable shows competing with networks
Editor's note: Ed Bark, former longtime TV critic of The Dallas Morning News, launched the TV Web site unclebarky.com in September 2006.
(CNN) -- Magnanimous in defeat, which could turn into victory, Conan O'Brien bequeathed "The Tonight Show" back to Jay Leno Friday after first thanking NBC for at least putting him on the map.
"This company has been my home for most of my adult life," he told viewers. "I am enormously proud of the work we've done together. I want to thank NBC for making it all possible. I really do."
Such sentiments are predictable when push finally comes to shove. O'Brien's "Tonight" ratings had swelled of late, in no small part because of his unbridled bashing of NBC after he adamantly refused to take another back seat to Leno in the Peacock's pecking order.
On Tuesday's "Tonight," O'Brien cut loose in Spanish, with the English subtitles reading, "NBC is run by brainless sons of goats who eat money and crap trouble."
In the end, though, O'Brien walked away with a lot of money, reportedly in excess of $32 million, as part of a deal that will prohibit him from mounting another talk show until at least September 1, 2010.
Looking and sounding bitter on one's last show would be unseemly under those circumstances. And prospective future employers also might take note. So, O'Brien wisely exited via a high road, throwing a bouquet NBC's way and thanking the legions who had rallied behind him for making "a sad situation joyous and inspirational."
The late-night cacophony will be stilled now, at least for a brief spell.
NBC is airing reruns of O'Brien's "Tonight Show" until its Winter Olympics telecasts begin on February 12. CBS' "Late Show with David Letterman" also is scheduled to be in reruns this week after the host mounted a full fontal assault on both Leno and NBC brass.
Meanwhile, Leno's lame duck prime time show will peter out this week and next before its host re-takes "The Tonight Show" on March 1.
All of this foreshadows even more drama on the late-night front, which is more populated and perhaps more viable than ever.
The time-honored host-desk, guest-couch routine has taken something of a back seat in recent years to expanded comedy bits augmenting the standard opening monologue. But the overall format and cost-efficiency remain a powerful lure. And the built-in storylines just keep on coming.
Tongues will be wagging in upcoming months on several fronts.
Principally, where will O'Brien go? His most likely destination appears to be Fox, whose executives have openly expressed an interest in him.
But can the network persuade its affiliates to give up their local late night newscasts and syndicated fare such as "TMZ" to accommodate a likely 11 p.m. ET start time for O'Brien? If so, that would give him a half-hour head start on Leno and Letterman. For the first time in his adult life, O'Brien would be a table-setter.
Back in the here and now, Letterman's real-life acknowledged affairs with his show's employees could reach another boil in a still looming court case. Of equal concern to CBS is whether his "Late Show" can remain No. 1 after Leno returns to the saddle.
Letterman enjoyed wide margins over O'Brien in the total viewer Nielsen ratings. But Leno previously dominated him for well over a decade.
The lantern-jawed NBC mainstay took a bruising in prime time, though. Can he go home again? Or has Leno become "damaged goods"?
CBS continues to bet long-term on Letterman, recently inking him to a new contract that entertainment president Nina Tassler says runs "deep into 2012." But even as the late-night terrain returns to normal, it shakes with the realization that neither of its prime movers is a young man anymore.
Letterman turns 63 on April 12 and Leno will be 60 on April 28. Even O'Brien is skirting the outer edges of the advertiser-preferred 18-to-49 demographic. He'll be 47 by the time he can return to the air again.
In what now seems like prehistoric times, Johnny Carson retired from show business at age 66, leaving "The Tonight Show" after the May 22, 1992, telecast.
He had an unprecedented and likely unbeatable 30-year run, with Leno winning NBC's in-house battle to succeed him while a seemingly still embittered Letterman jumped to CBS and Fox took an ill-fated flyer with Chevy Chase.
Carson was never toppled from his No. 1 perch, although the likes of Merv Griffin, Joey Bishop, Joan Rivers, Arsenio Hall, Pat Sajak and Les Crane with his "Shotgun Mike" were sent to battle him.
Now the late-night terrain is far more teeming with activity, not only on the longstanding broadcast networks but on cable channels, with shows hosted by Jon Stewart, Stephen Colbert, George Lopez and Chelsea Handler.
The cessation of the O'Brien/NBC soap opera by no means tempers the growing interest in mounting and sustaining a late-night franchise. Where else can you find more inherent, sustained drama? And who really knows what might happen next?
The opinions expressed in this commentary are solely those of Ed Bark.