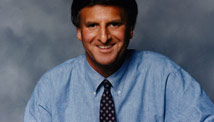 STORY HIGHLIGHTS
When disaster strikes, the natural human instinct is to help those in need
Bob Greene says there are also a few people who try to take advantage through fraud
The FBI and Better Business Bureau have issued warnings
It's inspiring to see people giving generously at a time of economic woes, Greene says
Editor's note: CNN Contributor Bob Greene is a best-selling author whose new book is "Late Edition: A Love Story."
(CNN) -- In houses of worship all across the United States on Sunday, Americans are offering prayers for the people of Haiti, and making donations in the hopes of healing some of the hurt.
Over the weekend, President Barack Obama stood shoulder to shoulder with former presidents George W. Bush and Bill Clinton at the White House, the three of them asking their fellow citizens to join together in benevolence and kindness in the face of wrenching grief.
That's what Americans do in times of anguish: make an effort to help. We have seen heartening examples of this since the day the earthquake hit.
Yet there are some who see human suffering only as an opportunity -- as a potential payday.
There are some who look at the faces of the dying and envision people to rob.
"Absolutely," said Jason Pack, a special agent at the headquarters of the Federal Bureau of Investigation in Washington. "When a tragedy like this begins to take place, we know there are already people who are registering Internet domain names in anticipation of defrauding those who want to help."
Pack and I were talking in the wake of an advisory the FBI issued as soon as the extent of the despair in Haiti became evident. As the pictures of the people in Haiti -- especially the pictures of the children -- were broadcast back to the United States, law enforcement officials understood that precisely because so many Americans would want to help, their compassion itself would become a target for those cold-eyed enough to want to take cynical advantage of it.
The FBI advisory read:
"Past tragedies and natural disasters have prompted individuals with criminal intent to solicit contributions purportedly for charitable organizations and/or a good cause."
There was a list of precautions to take to lessen the chances of being robbed by fraudulent Internet charities: Do not respond to unsolicited e-mails asking for donations; be skeptical of individuals identifying themselves as surviving victims; do not give personal or financial information to anyone who solicits contributions.
The maddening thing about the necessity of issuing the warning -- law enforcement officials know this, and regret it deeply -- is that the possibility exists that it will discourage people from giving. And the desperation in Haiti is so great that every dollar is needed.
(A good resource for finding legitimate organizations providing relief in Haiti can be found at CNN.com/Impact.)
We have come, over the years, to sadly realize: When a natural disaster hits, it reveals both the most noble side of human nature and the most venal.
The first thing that most people think when seeing the agony in Haiti is: How can I help? But for others, the first thing they think is: How can I take advantage of those who want to help? For those who would steal, the agony is merely an opening -- an invitation.
The Better Business Bureau's Wise Giving Alliance issued a warning at about the same time the FBI did: "Whenever there is a major natural disaster, be it home or abroad, there are two things you can count on. The first is the generosity of Americans to donate time and money to help victims, and the second is the appearance of poorly run and in some cases fraudulent charities."
Art Taylor, the president and CEO of that organization, told me that expert Internet criminals know how to quickly set up phony Web sites that sound and look like the Web sites of reputable charitable groups.
"The television pictures that are being transmitted from Haiti are devastating," Taylor said. "They rock your soul. And for the people who are intent on using fraud to steal, that's just what they're looking for."
Taylor said he hopes the warning will enable goodhearted Americans to find a balance between caution and compassion. "I just hope we're getting the tone correct in what we advise," he said. "It's basically: 'Be careful. Before you donate, check to be certain you know who you're donating to.' We just want people to know that there are those out there who would take advantage of their generosity. We hope that what we're saying doesn't dampen that generosity."
It is awful that such advice is even necessary. But it is. All through human history there have been those who would rob the most vulnerable among us; the Internet has only made it seemingly simpler to do. You may find it unfathomable that anyone would regard the anguish in Haiti as easy money. It's like shooting at lifeboats.
"You're always going to have people looking to make a quick buck," said the FBI's Pack. "But to do it in a situation like this? Don't ask me why someone would do it, because I don't know."
Both the law enforcement and the business communities hope that by getting the word out, they not only will help Americans donate their money carefully and make certain the money goes to where it's intended, but will also discourage online thieves from trying to get away with the theft.
These are rough economic times in the United States. People who are digging into their pockets to help the wounded and the ill in Haiti are making a sacrifice that is inspiring and worthy of praise.
Which is the worst thing about those who would rob from them.
It is not only a crime against the poor victims in Haiti, and against those who want to ease their pain.
It is a crime against mercy itself.
The opinions expressed in this commentary are solely those of Bob Greene.