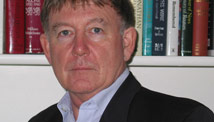 STORY HIGHLIGHTS
In 2009, 132 journalists and other news professionals were killed in 35 countries
In almost 90 per cent of journalist murders, no one is ever brought to justice
One of the few weapons journalists have to protect themselves is publicity
Comment: Let's repeatedly, name and shame nations where journalists are killed
Editor's note: Rodney Pinder is the director of the International News Safety Institute, a coalition of news organizations, journalist support groups and individuals dedicated to the safety of news media staff working in dangerous environments.
London, England (CNN) -- The Afghan war claimed the lives of two more international news correspondents in the past two weeks.
In separate incidents, Rupert Hamer of Britain's Sunday Mirror and Michelle Lang of Canada's Calgary Herald were killed by roadside bombs as they accompanied soldiers on their missions.
Their tragic deaths and their bravery in going into extreme danger to bring us the story deservedly attracted much attention in the Western media. As director of the International News Safety Institute, the premier journalist organization concerned with safety, my phone rang off the hook with requests for comment when the news came through.
A few weeks earlier, Monday, 23 November 2009, became the day that will live forever in news infamy. Thirty-one journalists were massacred by gunmen in the Philippines in the bloodiest single attack in the history of journalism.
No one called me. The story, it seems, was low on the global news agenda.
Of 132 journalists and other news professionals killed in 35 countries in 2009, three were international correspondents. The others were local journalists covering the news in their own countries, mostly in peacetime. The great majority -- 98 -- were murdered for trying to shine a light on the darkest corners of crime and corruption.
The Philippines, one of the world's great democracies with a vibrant free press, was by far the most dangerous country for journalists with 37 dead over the year. If not for the 23 November massacre, the deadliest nation would have been Mexico with 11 killed, usually by drug traffickers. Russia, lawless Somalia and Pakistan followed closely.
Of the 257 news media who have died since 2003 covering Iraq -- the bloodiest war of modern times for journalists -- 231 were Iraqis, working for international and local media outlets.
Most journalists, never mind their readers, are surprised when they hear this. Mention a journalist killed on a story and we all think automatically of war correspondents who criss-cross the world in search of danger and big stories.
The reality is quite the opposite. Most names on international memorials to the journalist fallen are of ordinary folk, known only to their colleagues, families and friends, doing their workaday jobs and being killed for it.
Why is this news to us?
Far too many governments simply shrug and look the other way when another journalist dies
--Rodney Pinder
When I began my career as an international journalist with The Associated Press in London a generation ago, a veteran editor provided me with two rules of thumb for the worth of a story: 1. "If it bleeds, it leads" and, 2. "One British tourist on a motorcycle equals 50 foreigners in a bus". Crudely put, but we knew what he meant: all news is local. Readers relate best and want to know most about someone of our own town, country, region.
But here's today's shock update.
In a globalized world where more journalists are being targeted for death than ever before, the old rules not only no longer apply, they hurt. To ignore or downplay the majority of deaths covers them with a shroud of ignorance, and the lack of attention emboldens killers who fear coming out into the light. We Western journalists in our relatively safe homes and workplaces must pay attention.
Time and again I have been told by journalists working in high-risk countries that one big story or editorial about their plight in a major international newspaper would have more effect on their government than a dozen headlines in the local press. Governments, after all, are responsible for the safety and security of all of their citizens, including journalists.
In almost 90 per cent of cases of journalist murder around the world, no one is ever brought to justice. Far too many governments simply shrug and look the other way when another journalist dies because they are troubled by few expressions of outside concern.
The impunity records of the Philippines, Mexico and Russia, for example, are shameful and it surely is no coincidence that these countries rank so high in the league of the most murderous.
In a landmark recognition of the growing problem of news media killings, the U.N. Security Council in December 2006 passed Resolution 1738 on the safety of journalists in conflict, and called for an end to impunity for their killers.
Four hundred more news media have died since then and impunity stubbornly persists.
One of the few weapons journalists have in their hands to protect themselves is publicity. We must shout to the world whenever a journalist is killed and demand justice -- and not rest until we get it.
And publicly and repeatedly name and shame the nations where journalists die just for doing their job.
This is the least we can do in the name of the 1,000 dead of the past decade -- and for the thousands more who will go daily into danger on behalf of us all in the decade to come.
If the news industry doesn't attend to the killing of its own, then who will, and how will the flow of blood be cauterized?