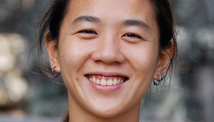 STORY HIGHLIGHTS
Gillian Yeoh says donors should target immediate, short-term or long-term relief
She urges caution in donating to politically bound local groups, favors proven organizations
Avoid in-kind donations, support efforts that engage population in recovery, she says
Yeoh: Giving to long-term recovery helps build sustainable communities
Editor's note: Gillian Yeoh is the lead program officer for disaster response at Give2Asia, a San Francisco-based public charity directing private philanthropy resources to their targets in the Asia-Pacific region. The organization was the second largest U.S. contributor (after the Red Cross) to relief and recovery after the 2008 China earthquake, raising $15.8 million. More information is available at http://www.give2asia.org/.
San Francisco, California (CNN) -- On January 13, a 7.0-magnitude earthquake hit Haiti and devastated thousands of lives. The panic, the sorrow -- and the desire to help -- are all too familiar, given the many disasters that have occurred in recent years all over the world. But we can draw on lessons from each of these catastrophes as we plunge into the recovery phase.
My organization, Give2Asia, has served as a leader in U.S. philanthropy for short-term and long-term recovery in times of disaster. Our recent work has supported survivors of the 2008 China earthquake, Cyclone Nargis in Myanmar in 2008 and typhoons Ketsana and Parma in Southeast Asia this past year.
These experiences have taught us a lot.
If you are interested in supporting the disaster relief and recovery efforts and helping the survivors in Haiti, I would like to share some tips and advice based on our experiences.
There are three phases of disaster response. Understanding these phases is important, because it can help you decide when and how you can assist.
Immediate relief: This phase often includes providing survivors with immediate needs such as medical assistance, food, clean water and shelter. Other necessities, such as heavy equipment to remove rubble in the search-and-rescue operations, are also needed.
Short-term recovery: This phase comes during the weeks and months after the immediate relief effort. It includes providing temporary housing, temporary schools, the initial rebuilding of infrastructure and services for displaced children and families, such as psychosocial services. During this time, most families and parents are busy cleaning up their damaged homes or retrieving their belongings while leaving their children at temporary shelters, which often exacerbates the trauma that children have experienced.
Long-term recovery: The long-term recovery period is measured in years. This includes livelihood restoration and training; educational support for disaster-affected students; permanent rebuilding of homes, schools and infrastructure; and psychosocial support.
Impact Your World: How you can help
Disaster preparedness is also part of the long-term recovery phase, especially for places that are prone to disasters. For instance, training teachers in earthquake preparedness could save hundreds of lives if an earthquake hits again.
Based upon our experiences, we recommend the following guidelines for donors:
1. Donate wisely. Specifically for institutional and corporate donors, it is important to think about the timing of your support. For instance, if it will take you four months to make a donation, you may wish to give to short-term or long-term recovery instead of relief operations.
If you are not familiar with the region or are not sure where to direct funds, contact organizations that have expertise or presence in that country to learn about the groups that are on the front lines of relief and recovery efforts. For example, the Resource Foundation is a U.S.-based charity responding to the disaster in Haiti; it also supports local groups across Latin America.
Such reliable groups can help identify proven and responsible organizations within the country. In some cases, there are large, politically connected organizations operating within an affected country, and giving to these local groups simply because of their size does not necessarily mean you've given to an organization that will use the donation responsibly.
2. Be flexible and mindful. Nonprofit organizations are fighting against time to implement relief and short-term recovery efforts. Encourage accountability, but give the organization space to use the funds as needed in a rapidly changing environment. If you are making a sizeable donation, this is not the best time to ask an organization to develop a program specifically for you or to request special meetings or site visits.
3. Avoid in-kind donations. Although in-kind gifts (non-monetary donations such as blankets, clothes and food) are very generous gestures, donors should avoid making in-kind donations for international relief, because transportation and distribution are very expensive and time-consuming. In-kind donations may not match the real needs of survivors. For example, they may be inappropriate from a cultural, climate or religious perspective. Providing cash to local groups for purchasing relief supplies locally may also help support the local economy, contributing to the recovery process.
4. Support programs that involve the survivors. Their participation is vital to ensuring that assistance addresses the diverse needs within the community. This is important because, all too often, resources have gone toward wasteful and inappropriate projects. For instance, after the 2004 tsunami in Indonesia, some foreign organizations rushed in and built houses for fishing communities. However, the houses were built too far inland, and it was inconvenient for the fishermen to travel to the ocean daily. As a result, many of these houses remain abandoned.
Engaging local stakeholders lays the foundation for continued recovery and development in the community. For example, several years ago, community action in response to flooding in the Philippines resulted in the formation of the Visayan Forum Foundation, which has won international awards for its work fighting human trafficking.
5. Consider supporting long-term recovery. Although the majority of donations for a disaster typically go to short-term assistance, affected communities need support for multiple years. Sustained involvement helps them rebuild the lives they had before the disaster so that they do not become reliant on handouts. Long-term recovery also offers an opportunity to rebuild safer, healthier and more sustainable communities. For instance, in the aftermath of the 2008 China earthquake, ongoing programs by Global Village of Beijing are providing survivors with the skills to build environmentally friendly and earthquake resistant homes.
The outpouring of aid by Americans during times of disaster has been generous in the past. I am certain the response to the recent earthquake in Haiti will be no different.
The opinions expressed in this commentary are solely those of Gillian Yeoh.