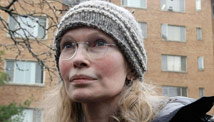 STORY HIGHLIGHTS
Mia Farrow is a UNICEF goodwill ambassador who visited Haiti after 2008 hurricanes
She says children are the most vulnerable in a natural disaster
Haiti's children confront adversity with optimism and spirit, Farrow says
She says now is the time to give to help children of Haiti
Editor's note: Actress Mia Farrow has traveled extensively as an ambassador for UNICEF, including trips to Haiti, Darfur and Angola, and has been active in the organization for more than 10 years. Farrow starred in the film "Rosemary's Baby" and has appeared in many other films, including "The Great Gatsby," "Death on the Nile" and "Hannah and Her Sisters."
(CNN) -- In September 2008, in my capacity as a UNICEF ambassador, I visited Haiti shortly after the country had been struck by four successive hurricanes.
The level of destruction then was massive. Entire cities and villages were wiped out; roads and bridges washed away; mountains had slid down, drowning cities in a terrible soup of mud, debris and humanity.
In the midst of this disaster, in a place already so destitute and lacking in opportunities, I remember thinking: How could life possibly be any more dire for Haiti's people?
Yet on Tuesday, astoundingly, Haiti suffered an even more vicious blow. The capital city of Port-au-Prince was struck by an earthquake with a magnitude of 7.0. The devastation, by all accounts, is widespread and shocking. Some 3 million people are affected, and half of those are children. Officials estimate the death toll could be in the hundreds of thousands.
Haiti, just one hour from the U.S. by plane, is the poorest country in the Western Hemisphere. More than 80 percent of Haiti's people live in abject poverty. In recent years, it has been battered by hurricanes, wracked by political violence, food insecurity and neglect. Even before the earthquake, many of Haiti's children lived without the most basic necessities: clean water, adequate food, health care and the opportunity for an education.
But when I was there, I met wonderful children who confronted the great adversity in their lives with indomitable optimism and spirit. Today I can see their faces and hear their voices. It is difficult to think of what they're facing now.
In any disaster, children are the most vulnerable. They are in danger of being separated from their families, and they are at increased risk of injury, disease, malnutrition and every form of exploitation and abuse. Undoubtedly, with a disaster of this magnitude, these threats will be particularly grave for Haiti's children.
We have the power to ensure that this particularly merciless act of nature does not steal any more than it already has from children whose lives were so precarious to begin with.
During my tour of Haiti, it was obvious and encouraging to see that aid workers in Haiti were making a tremendous impact. Their commitment was absolute. Although the challenges are even greater now, I know they are doing everything possible to save the lives of children and families, and they will continue to do so in the months and years ahead. But they cannot do it alone.
After the tsunami of 2004, American generosity was outstanding, and many lives were saved. Now we are facing a similar situation. This time we are being called upon to help the people of Haiti in their darkest hours. Please give whatever you can to help Haiti's children.
The opinions expressed in this commentary are solely those of Mia Farrow.