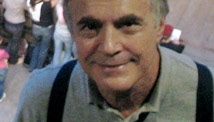 STORY HIGHLIGHTS
Robert Leiken: Would-be Christmas Day suicide bomber was radicalized in London
Leiken says London is haven for foreign jihadi preachers, organizers, agitators
He says British security said AbdulMutallab communicated with extremists in London
Leiken says British turn blind eye; "once-glorious culture of tolerance lost its bearings"
Editor's note: Robert S. Leiken in the director of National Security and Immigration Programs at The Nixon Center and writes for The National Interest. He is the author of the forthcoming "Europe's Angry Muslims: The Revolt of the Second Generation" (Oxford University Press).
(CNN) -- In assessing blame for the Christmas Day terror scare, we point fingers at Yemen, at the Amsterdam airport, even at corruption in African airports. But no one mentions where the would-be suicide bomber was radicalized: London, the capital of the ally we take for granted.
Last weekend, British security agency MI5 revealed that Umar Farouk AbdulMutallab had "multiple communications" with Islamic extremists in London, that the Nigerian reached out from London to a worldwide network of jihadi contacts and that he was "on the periphery of a past incident."
Why was this 3-year-old information apparently not shared with U.S. authorities until more than a week after the near-fatal flight?
Probably the reason is that UK security agencies are overwhelmed by the dimensions of the terrorist threat in Britain. Two years ago, MI5's director revealed that there were 4,000 people known to be "involved in terrorist-related activity in the UK" in more than 200 terrorist networks. A year later, authorities said the threat was growing "increasingly complex" and the numbers "even higher."
Since the mid-90s, London has been a haven for foreign jihadi preachers, organizers, agitators and propagandists, many of them recipients of generous welfare benefits.
"Londonistan" attracted second-generation British Muslims who spurned the folk Islam and customs of their immigrant parents but were repelled by a British culture they regarded as decadent and racist.
London has become a fertile field in the jihadi playground, along with Yemen, Pakistan and Somalia.
--Robert Leiken, national security director at Nixon Center
With the exception of the 2005 London bombings, the terrorist plots they organized were disrupted. However, permissive British judges and juries failed to convict many of the plotters, including those who scouted the London bombing.
Anwar al-Awlaki, who inspired the Fort Hood massacre and conspired with AbdulMutallab in Yemen, reportedly has also inspired several terrorist cells in Britain. He is heard on British-based Web sites and via video links at conferences hosted by university Islamic Societies such as the one AbdulMutallab led at University College London.
The Nigerian is the fourth president of a London Islamic Society to face terrorist charges in three years. One of them is awaiting retrial, having escaped conviction for involvement in the 2006 liquid bomb plot to blow up airliners bound for the U.S., a precursor to the Christmas plot.
In November, the University College Islamic Society canceled, at the last minute, an appearance by a firebrand imam who preached at other London universities that women are mentally deficient and that critics of Islam and homosexuals should be assassinated.
After the Christmas scare, videos of UCL Islamic Society gatherings were removed from YouTube, and its Web site was taken down. An Islamic Society video allowed to remain online, presumably regarded by UCL authorities as not so embarrassing, boasted of "the collapse of evolution in the very building dedicated to Charles Darwin. In the spot he once lived."
What was hidden in the other videos? Why can't scholars view them? Malcolm Grant, UCL's provost, professes to being "completely shocked" by the Christmas news.
He says AbdulMutallab's tutors "found it impossible to tell the difference between him and any other student." Are we supposed to be reassured? According to The Observer newspaper, Britain's official "Joint Terrorism Analysis Center is believed to have cited UCL in 2008 as one of up to 12 universities that might have a problem with 'extremism.' "
About 100,000 British university students are Muslims. About a quarter of them belong to Islamic Societies, and half of those are active members.
With the ascendancy of identity politics in Britain, Islamic Societies, rather like African-American student associations of yore, have become the hub of students professing to seek "social justice." But their idea of justice is to indict as the world's real terrorists the U.S. and Israel, as in "The War on Terror Week" that AbdulMutallab hosted at UCL's Islamic Society.
Islamic Society members vary widely. They may be moderate Sufis, apolitical pietists, democratic Islamists, windy radicals or extremists like AbdulMutallab. Many of them believe that violence is acceptable if their religion is under attack, which is little comfort, because the central plank of radical Islam is that their religion is under attack worldwide.
Terror experts believe AbdulMutallab, 23, was targeted by al Qaeda as a suicide bomber because he had previously flown to the United States, had a valid visa and had lived in the UK. More than a dozen British radicals reportedly are being trained in Yemen today, not to mention scores training in Pakistan.
But if we begin to point fingers at Britain, we will need two hands. The danger from Britain has its source in nearly every institution in British society: a Parliament that cannot pass counterterrorism legislation, police that do not arrest because evidence is not strong enough to convince a British court, security agencies that do not disclose to the media information about suspects, Islamic organizations that tell Muslims that such silence proves that the suspects have been falsely accused, a press that allows the public to believe such claims, jurors who then hold prosecutors to impossible standards and a once-glorious culture of tolerance that has lost its bearings.
London has become a fertile field in the jihadi playground, along with Yemen, Pakistan and Somalia.
Our great friend has allowed herself to become a strategic resource to our common enemies and a liability in the struggle against terrorism.
The opinions expressed in this commentary are solely those of Robert S. Leiken.