For job seekers, top five cities for the next decade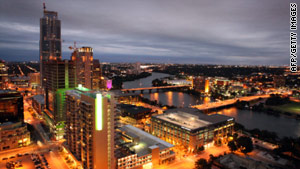 Austin, Texas, is ranked as the No. 1 city for jobs for the next decade, according a Kiplinger list released Tuesday.
STORY HIGHLIGHTS
Austin, Texas, lands the No. 1 spot as the best city for the next decade, according to Kiplinger

Seattle, Washington, makes the list because of successful companies

Nation's capital is a job hot spot after companies recently moved there

Salt Lake City has emerged as one of the best cities for the next decade
(CNN) -- Looking for a job?
With America's economy still shaky, Kiplinger's Personal Finance Magazine released the best cities for the next decade on Tuesday. These cities, which offer promising job prospects, were selected based on population growth, unemployment rate, income growth and cost of living. And, the winner is?
Austin, Texas.
That's a ranking Bijoy Goswami of Austin is excited the city has earned. Attracted by the city's booming technology sector, Goswami moved to Austin in 1995 after college. Since then, his career has flourished, he says, thanks to the city's supportive business climate. At 37, he's managed to run a start-up, write a book and produce a short film.
"Because entrepreneurship is the ethos of Austin, it's part of what makes it so special here," Goswami said.
In the past decade, Austin has attracted major companies such as Facebook, Apple and Samsung, but the city is also an incubator for small businesses. While the recession hit many cities hard, Austin's economy and housing market was relatively untouched, according to a spokesperson from the Austin Chamber of Commerce.
Here are the top five cities for the next decade, according to Kiplinger. More rankings are available from Kiplinger's Personal Finance Magazine.

Video: Tough job market
1. Austin, Texas: Come to Austin with an idea and you could make it big in a city that fosters entrepreneurship and is a magnet for small business start-ups. Dell and Whole Foods Market are two examples of giant companies that started in the Austin area and exploded nationwide. The city also boasts great live music and pristine lakes and parks.
2. Washington: More businesses and people are calling the nation's capital home. Major companies like Computer Sciences, Hilton Worldwide, Northrop Grumman, SAIC and Volkswagen North America have recently moved to the Washington metropolitan area, Kiplinger reports. You also could search for work with the federal government, the nation's largest employer.
3. Seattle, Washington: If the lush greenery isn't enough to make you move to the Seattle area, then innovative companies such as Amazon, Microsoft and Boeing are also a career draw. Seattle "crackles with creative energy," Kiplinger reports. The University of Washington also offers a range of research opportunities in the areas of medicine and bioscience.
4. Boulder, Colorado: Kiplinger calls Boulder "an intellectual hot spot where environmental and scientific ideas blossom into businesses." The city has more than 6,600 small businesses and corporations, Kiplinger reports. The University of Colorado and federal research laboratories also provide jobs. Another perk: If you have an active lifestyle, there are ample ski slopes and hiking trails to keep you busy.
5. Salt Lake City, Utah: Cheaper taxes and operating costs make Utah a fertile place for businesses. Kiplinger describes Salt Lake City as "a hotbed of new business creation." While Salt Lake City has experienced some job losses from the recession, the local economy has encountered fewer problems than other cities. Health care remains a major industry in Salt Lake City.
FOLLOW THIS TOPIC