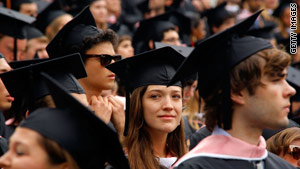 One-third of employers plan to offer new grads salaries of less than $30,000, according to a survey.
STORY HIGHLIGHTS
Survey: 44 percent of employers intend to hire recent college graduates
33 percent will offer salaries of less than $30,000; 30 percent between $30,000 and $40,000
62 percent employers want internships on resumes; half want to see part-time jobs
(CareerBuilder.com) -- Between May and June, on college campuses throughout the country, you can sense a level of excitement that is usually reserved for $1 beer night or when parents finally drive away after a weekend visit.
That excitement comes from graduation and the fact that students (at least for a few months) are done with exams, papers, lectures and studying. Perhaps forever or at least until grad school, these students are rid of the pesky academic portion of college and can now embrace the freedom of adulthood, also referred to as the "Real World."
Because life is cruel, reality sometimes smacks students across the face with the reality that freedom, glorious freedom is filled with annoyances. Namely, the competition to land a job after graduation.
Some students have jobs lined up during their senior year so graduation is one last stop before getting bigger, better paychecks.
However, many students are faced with a competitive job market. They've spent years learning their crafts and now they have a diploma -- they just need the paycheck. Who's going to hire them?

Video: Students choosing price over prestige?

Video: More kids leaving college in big debt
According to a recent CareerBuilder survey, 44 percent of employers intend to hire recent college graduates. Last year 43 percent of employers said the same thing, so at least the number didn't decrease.
However, just a few years ago in 2007, a record high of 79 percent of employers said so.
That said, of the employers who will be hiring new graduates, 21 percent intend to hire more students than they did last year. Plus, 16 percent will offer higher starting salaries than they did in 2009.
This year's grads will definitely compete for jobs in a way that previous classes didn't, but employers are at least approaching the hiring season with more attractive intentions than they did last year.
Speaking of salary, money matters. Doesn't it always? Here's what employers have said about salaries:
• 33 percent will offer less than $30,000
• 30 percent will offer salaries between $30,000 and $40,000
• 19 percent will offer salaries between $40,000 and $50,000
If you're a recent graduate, you're probably wondering what will help you land the job. Luckily, the survey asked such questions. According to employers, these items count as relevant work experience you should list on your résumé, ranked by popularity:
• Internships -- 62 percent
• Part-time jobs in another area or field -- 50 percent
• Volunteer work -- 40 percent
• Class work -- 31 percent
• Involvement in school organizations -- 23 percent
• Involvement in managing activities for sororities and fraternities -- 21 percent
• Participation in sports -- 13 percent
As you'll discover through most of your career, employers consider experience one of the leading qualifications for a job, but they also look at a variety of factors. Employers cited the following qualities as important factors in hiring an employee:
• Good fit with company culture
• Comes in with good ideas and asks good questions
• Educational background
• Level of enthusiasm
• Comes to interview prepared, is knowledgeable about company
And according to NACE, the National Association of Colleges and Employers, for the first time in this academic year, college hiring is up. The bottom line? Celebrate, graduates! You've worked hard AND your chances of landing a job are better than they've been for years.
The survey was conducted from February 10 to March 2, 2010, among 2,778 hiring managers and human resource professionals.
&copy CareerBuilder.com 2011. All rights reserved. The information contained in this article may not be published, broadcast or otherwise distributed without the prior written authority.