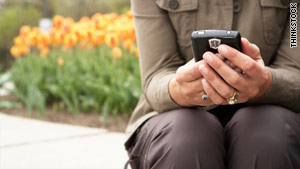 Those personal or private messages sent using your company-owned mobile device may not be as private as you think.
STORY HIGHLIGHTS
High court looking at case on privacy rights over texts exchanged on a work phone

Labor experts say personal information on a company device is subject to monitoring

Boundary between using phone for work and personal use is blurring, experts say

Outcome of high court case may cause some companies to rewrite e-mail, texting policies
(CNN) -- We've all probably done it -- whether it was texting about dinner plans on a company cell phone or updating friends about a vacation via company e-mail.
But can a company look at your personal exchanges on its electronic devices?
On Monday, the U.S. Supreme Court heard arguments in a case that questions whether a California city violated a public employee's rights by reading sexually explicit text messages on an electronic device owned by the Police Department. A decision has not been made.
Although the case involved a police officer, some legal experts said the ruling could have broad implications on how public and private employees can be monitored.
"What makes this case so interesting and important is that it involves the way many employees communicate, which is on work e-mail and work phones," said Suzanne Goldberg, a law professor at Columbia University who specializes in employment and privacy issues.
In the digital era, employees often are expected to be in constant contact with their managers. The use of cell phones and mobile internet service has skyrocketed over the last decade, and some of the growth can be attributed to companies giving cell phones and smartphones to their employees, said Lee Rainie, director of the Pew Internet & American Life Project.
A Pew study found in January that 80 percent of American adults have cell phones and 30 percent of them access the internet on their phones. In 2000, 50 percent of American adults used cell phones, according to a Gallup Poll, and phones rarely supported access to the web.
As the electronic leash grows tighter on employees, it is becoming increasingly difficult to separate home and work communications, Rainie said. Employees may overlook the fact that shopping for personal items on a work computer or perusing Facebook on a company mobile phone could be subject to scrutiny, especially by private companies.
"In a boundary-less environment, when workers are toggling back and forth between work and personal use, they don't realize their boss has the right to go back through their browser or their text messaging trail," Rainie said.
In the case before the Supreme Court, lawyers for Sgt. Jeff Quon argue he had a "reasonable expectation" of privacy on his official wireless two-way text-messaging pager. The texting device was owned by the Ontario, California, Police Department.
Quon's supervisors examined his private text messages with his wife and girlfriend without his permission in 2002, according to court documents. His supervisors said they looked at his text messages after noticing he was going over the monthly allotted limit.
They discovered racy text messages on Quon's pager.
Quon said he believed he was allowed to use the device for personal use because company policy was unclear.
Six years later, the case made its way into the 9th U.S. Circuit Court of Appeals in San Francisco, California, which ruled Quon's constitutional rights had been violated. A panel of judges ruled that he was protected from illegal searches and seizures under the Fourth Amendment.
Gregory T. Nojeim, senior council for the Center for Democracy & Technology, said he believes the Supreme Court will rule narrowly on the specifics of the Quon case. He doesn't think the court will issue a wide ruling that will affect all employees. Still, he warned private employees to be wary of posting private information on company-owned electronic devices.
While the Fourth Amendment may arguably protect Quon, a public employee, the situation is different in the private sector. A handful of human resource experts said private employees have less protection. More than 28 percent of employers fired a worker for e-mail misuse in 2007, compared to 14 percent in 2001, according to the American Management Association.
Many private companies have explicit polices that deal with how employees can use company computers, phones and other electronic devices, said Bill Anthony, a human resources professor at Florida State University. Companies began issuing such policies in the late 1990s when internet use became widespread in the workplace, Anthony said.
The Ontario Police Department has a "Computer Usage, Internet and E-mail Policy" that gives workers only limited use for personal communication. Quon signed a statement acknowledging that "use of these tools for personal benefit is a significant violation of city of Ontario Policy" and that "users should have no expectation of privacy or confidentiality when using these resources."
But attorneys for Quon, a SWAT team sergeant, said the rules did not pertain specifically to text messages. Quon said he was unaware the city's overall policy applied to the department.
Also, Quon said there was an "informal policy [that] allowed officers to maintain their privacy in their text messages as long as they paid the overage charges." Quon had been paying the overage charges under an informal agreement with one of his managers.
Legal experts said the Supreme Court case will push some companies to write clearer policies about the use of technology. The case could also spur more efforts to educate employees about the consequences of sharing personal information on work e-mail or phones.
"I also think this case says to employers, regardless of how it comes down, it is very important when you have a policy to keep that policy updated and make sure the policy is applied consistently," said Patricia Trainor, an employment attorney and legal editor at Business and Legal Resources, a human resources consulting company in Connecticut.
Employers should protect themselves by keeping their personal life out of work communication, said several attorneys and human resource experts.
"If your employer has anything to do with giving [you] your phone, whether it's paying for it or not, you're safe to assume that the text on it is not private," said Jeffrey Toobin, CNN's senior legal analyst.
"If you want privacy, buy your own phone."