STORY HIGHLIGHTS
A new breed of worker prefers working in limbo

These solitary workers say they can't work at home or the office

They find public places that offer Wi-Fi and company

Co-working centers now cater to these new workers


(CNN) -- If you ask Adrian Miller where she works, her answer may depend on where she happens to be standing.
Miller calls her messenger bag "global headquarters." She calls a New York City lobby her "satellite office."
"My office is my briefcase," says Miller, who offers sales training to companies and networking advice to individuals.
Miller is a member of a new breed of worker who doesn't work at home or an office. They work in limbo, somewhere in between. They are the urban nomads who drift from one Wi-Fi watering hole to another with their laptops -- working alone while surrounded by people.

Video: Mobile office gadget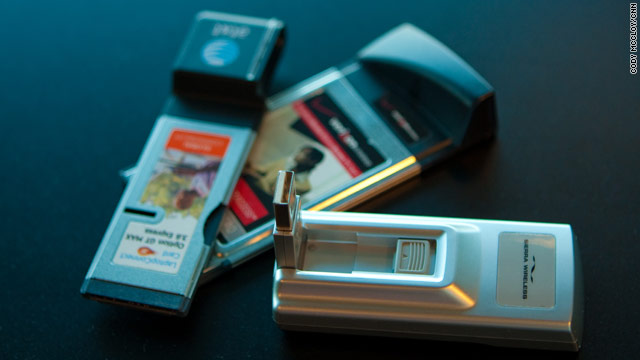 Gallery: Tools for on-the-go office
"It gets lonely," says Miller about working at home. "There's no water cooler -- that social interaction which most of us crave."
Christine Durst, author of "Work at Home Now," says people who decided to work at home often experience an initial sense of euphoria: no boss looking over my shoulder; I can wear pajamas all day; no rush hour commute.
Why some prefer working in limbo
But some discover that solitude can be stifling.
"Like it or not, humans are inherently pack or herd animals -- with even the most self-sufficient among us needing the assistance or nearness of others to occasionally keep us on course," she says.
I often work from Starbucks or other cafes. Having people around provides me with energy.
--Thom Singer, author
So some workers hit the road. They need the background noise of people. They say the buzz of a crowd picks them up as much as the caffeine from the coffee they drink.
"Working from home is impossible with my wife and kids around the house," says Thom Singer, author of "Some Assembly Required: How to Make, Grow and Keep Your Business Relationships."
"I often work from Starbucks or other cafes," Singer says. "Having people around provides me with energy. The downside: I spend too much money on specialty coffee."
There's no official tally for these new breed of limbo workers, but there is evidence that their numbers are growing. The proof: a collection of companies nationwide have sprung up to cater to their needs.
These companies offer limbo workers a place to pitch their laptops, hold meetings -- even day care in some cases. There is even a name for these limbo pit-stops: "Co-working Centers."
These centers include "Office Nomads," in Seattle, Washington, and "Beehive Baltimore," in Maryland. They offer office space for people such as telecommuters, planners, consultants and students.
Another is Sandbox Suites in San Francisco, California, which offers space for networking events, lunches and outings. Their tag line: "We know from experience that it's hard to keep a professional profile when working from your couch."
Cubes&Crayons in San Francisco is a co-working center that offers an additional wrinkle: office space with onsite child care.
"This center is a great example of how some groups are taking on a community center model that reaches beyond shared office space," says Durst, author of "Work at Home Now," about Cubes&Crayons.
Even a fast-food giant is trying to get a piece of the limbo market. McDonald's recently announced that it will offer free wireless Internet access.
The drawbacks of working solo on the road
Those who work in limbo say the adjustment isn't easy.
Cindy Carrasquilla lives in Charlotte, North Carolina, where she freelances for a New York advertising agency. She works out of coffee shops in Charlotte, where she's better able to control her time, she says.
"This holiday season, I got all of my shopping done and shocked my friends and family by getting my cards mailed out by the first week of December," she says.
But then some cities don't know quite know how to take people who sit all day in a coffee shop with a laptop, she says.
"In New York City, there are a million cafes that other people are working from, and you don't feel like a weirdo sitting there with your laptop for four-plus hours," Carrasquilla says.
One way limbo workers say they avoid being defined as "the strange person in the corner with the laptop" is by carving out a little community at the places they frequent.
Miller, the New York-based sales trainer, says she goes to an office space at a hotel so often that she has gotten to know other regulars.
"You see the same people all the time," Miller says. "Someone came over and dropped me a Christmas basket of chocolate chip cookies."
Yet there are drawbacks from working outside of home and office. Some say they can feel out of the loop; they don't know the latest office gossip; people seem to forget them.
"I'm in limbo when I go up the New York City office because I haven't really gotten to know the co-workers there so they don't include me in their Starbucks run or their happy hours," says Carrasquilla, the North Carolina-based advertising agency freelancer.
Some suggest that a younger generation may be more conditioned to working in limbo places.
"Working in location limbo without being distracted seems to be especially comfortable for the under-30 set because they're closer to their college days, when they studied in bookstores, coffee shops and libraries," says Paula Caligiuri, a human resource management professor at Rutgers University in New Jersey.
Those workers on the road who feel too adrift may also take advantage of another feature of the under-30 set: social media.
When she misses the office water cooler chats, Miller, the New York-based sales trainer, says she has a simple solution for escaping work in limbo.
"There's a virtual water cooler," Miller says. "I'll go on Facebook or I'll check Twitter. I get my little fix of humanity and, hopefully, I go back to work."