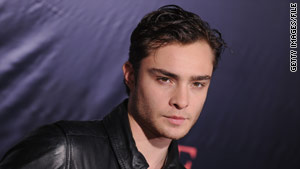 "Gossip Girl" star Ed Westwick reportedly doesn't like being photographed while he's dining out.
STORY HIGHLIGHTS
Some celebrities reportedly do not tip very well
They've reportedly left $18 tip on $400 bill, a DVD, or an autograph for tips
TMZ reported Dennis Rodman escorted out of restaurant
(The Frisky) -- For top-notch restaurants, there's no worse nightmare than having rude celebrities waltz in for dinner. The combination of big egos and big wallets can be a big to-do for the staff.
Just because you're rich and famous doesn't mean that you can ditch your table manners and avoid having your food spit in. If you see these celebs' reservations on the books, brace yourself for a dinner you'll never forget.
Jeremy Piven was banned from Matsuhisa sushi restaurant in Aspen after he and his entourage behaved like fish out of water. He left an "Entourage" DVD as a tip and said, "Thanks for nothing," on the way out, according to New York Daily News.
The Frisky: Top 10 lies men tell women
If the material girl, Madonna, is headed toward your serving section, don't expect any material gain. According to the British Mirror, the singer and then-husband Guy Ritchie once left an $18 tip on a $400 bill.
Britney Spears was asked to leave Los Angeles' exclusive Chateau Marmont when she allegedly smeared food all over her face. A source told The Sun, "The diners were disgusted. You wouldn't expect that from a teenager in a fast-food joint. Royalty have dined in this restaurant. Her behaviour was totally unacceptable." Maybe she mistook the restaurant for her own circus?
Spoiler alert: Dennis Rodman is drinking again, even after "Dr. Drew's Celebrity Rehab." He was kicked out of the Waterfalls Restaurant in Orange County because he was hitting the vodka bottle a little bit too hard, revealed celebrity news site TMZ. The restaurant called a foul on the cross-dressing basketball player by calling in the cops to escort Rodman out of the establishment.
The Frisky: 17 bizarre celeb face tattoos on people
Singer Usher believes in tipping really well, just not with money. According to the U.K.'s The Sun, he allegedly once left his autograph in lieu of a tip. Egomaniacal much?
What's that smell? That's what some other customers were asking when Keanu Reeves took off his shoes while dining at a fancy restaurant in Vancouver, according to a story in The National Enquirer. Rank foot odor is not generally considered appetizing.
According to New York waitress Katherine Taylor, who wrote a novel ("Rules for Saying Goodbye") which exposes bad celebrity tippers, you may want to give Gwyneth Paltrow a tip calculator if she comes into your restaurant. She has a rep for leaving poor tips because she's er ... bad at math.
Don't even think about taking out your camera if "Gossip Girl" star Ed Westwick is dining anywhere near your vicinity. People were gossiping about his recent freak-out at Los Feliz restaurant in New York, where he accused a fellow diner of taking photos of him. The unnamed diner told the New York Daily News he was innocently snapping photos of his own night out -- not stalking the star.
The Frisky: What men think is "beautiful" in women
You'd better get ready to serve John Travolta a perfect dish. The actor has been known to send back a dish several times until the "freaked-out" staff gets it right, according to a chef who spilled the beans to the New York Post.
Are we really surprised that Barbra Streisand is a high-maintenance dinner guest? The word in the restaurant world, according to RottenTipper.com, is that Babs is demanding ... and cheap. She once reportedly left a $10 tip for a $450 meal. That's not funny, girl.
TM & © 2010 TMV, Inc. | All Rights Reserved
FOLLOW THIS TOPIC