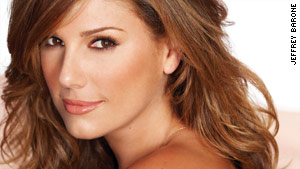 Daisy Fuentes has a new book with tips on everything from style to spirituality.
STORY HIGHLIGHTS
Daisy Fuentes' book focuses on elements of style, spirituality and what she says is true beauty
Fuentes: "I do believe that if I knew then what I know now, I could have been dangerous"
Ex-MTV VJ says women should have sex, just not with everyone
She says young girls should focus on more than hairstyles and clothes
(CNN) -- She started out as a teenager with big hair in New Jersey, broke barriers as MTV's first Latina VJ and went on to become a sleek TV personality.
But now at 43, Daisy Fuentes says, "I do believe that if I knew then what I know now, I could have been dangerous."
Fuentes is sharing what she knows about everything from forks and knives to sex to how to make fashion your friend -- not your boss -- in her new book, "Unforgettable You: Master the Elements of Style, Spirituality, and True Beauty" (Atria).
"The whole purpose of this book is help other women kind of do a quick study on what has taken me 20 years to learn," Fuentes says.
And she is blunt.
"Sex is great. You should have it. Just not with everyone," Fuentes writes in a chapter on the subject.
She shares her opinion on casual sex and adds that while she's not judging someone who's promiscuous, she believes behavior exposes character and level of self-esteem.
She says she wants her readers to be just as honest with themselves, offering pages of questions for them to answer, too.
"I think we all need to do a little work, and I think the sooner we get on that work, the sooner we can get on to being happy and unforgettable," Fuentes said.
And some of that work is about how women present themselves -- from manners, to behavior and of course, appearance.
"There are a lot of people who really don't pay attention about what they're putting out there, what they're saying about themselves," she says about the fashion disasters she's seen. "It takes as much effort to say I don't care what I look like as it does to say this is who I am."
Her book offers tips on personal grooming and how to look stylish without becoming a fashion victim.
Fuentes says the topics in her book come from conversations with friends, some of whom contributed to it.
Actor Michael Rapaport shares that he's teaching his sons to tell their girlfriends, "You're right, sweetheart, you're totally right."
Model and businesswoman Cindy Crawford wishes she had paid more attention to what was "right" about herself than what wasn't when she was younger, according to the book.
Fuentes says Crawford turns heads when she walks into a room, not just because she is beautiful but also because "she acts beautiful, too."
Fuentes says rudeness is so common and manners are fading away, but she says she feels that how you think, what you say and how you behave helps determine your attractiveness.
"I've met many beautiful people that turned out to be pretty ugly the minute you start talking to them," she says. "So I'm really saying, 'Don't be that girl.' It's very easy to get caught up and to start acting like everybody else does."
The former model says she started to explore spirituality in her 30s and over the years has developed her own personalized faith. And she says she believes that there is a link between spirituality and beauty that should not be ignored.
"I don't believe you can be pretty or attractive and have ugly thoughts. So I think your soul, your heart -- what you think about -- all that really shows as far as beauty goes"
The TV personality is working to develop a program that would put her back in broadcasting. But it won't be acting. She says she tried that and didn't like the auditioning process.
"So I'm going to do something where I love all of it. Reality TV is what I've been doing all the time," she says.
And although she's originally a Jersey girl, she says she has not had a chance to watch "The Real Housewives of New Jersey."
Daisy Fuentes will be promoting her book at the Los Angeles Times Festival of books.