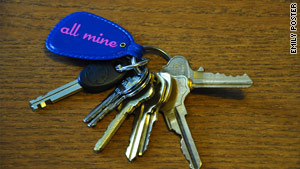 Writer fears that although she wants a relationship and kids, she doesn't want to live with a man.
STORY HIGHLIGHTS
Single woman relishes the joys of living alone with her dog
Eventually she wants a long-term, committed relationship and kids
But she doesn't want to share her living space with a man
(The Frisky) -- I've made no secret of the fact that I eventually want a long-term, committed relationship and kids.
But I've recently come to the realization that I also don't think I ever want to share my living space with another adult.
For the first time in my life, I live alone and I love it. These two desires -- to have kids with someone and to live alone -- do not really go hand in hand. Bummer.
An obligatory roommate phase
Like a lot of people, I've always had roommates. I went from living with my parents and my younger brother to sharing a dorm room with a girl who read my diary. I lived with my three besties for the rest of college, learning everything I ever needed to know about barbecuing and cleaning up after people as a result.
When I moved to New York, I first shared an apartment in Harlem with two roommates, then a 250-square-foot "two-bedroom" with a friend in the East Village, before finally moving in with my boyfriend for the next four years.
After living with roommates, moving in with a boyfriend (and splitting the rent!) was awesome. Yet, when we got engaged, I somewhat wistfully thought, Well, I guess this means I'll never live alone. Oh well. But we know how that ended up.
The Frisky: 5 people who married objects
Solitary -- and loving it
At 29, I stopped cohabiting. After the initial unpleasant discoveries -- there was no one else to take the dog out on a snowy Saturday morning, nor an extra hand to pass a fresh roll of TP through the bathroom door -- I fell in love with living alone. Like, head-over-heels in love. I adore coming home to my empty (well, except for my dog Lucca) apartment after work.
In truth, I always knew I would love living solo. I've always been a bit of a solitary person, having come from a long line of people who enjoyed having lots of peace and quiet. I don't mind making conversation with just my dog. I love making big pots of chili and not having to adjust the spiciness to another person's weak palate. I love having 100 percent control of the DVR list and being able to save every issue of Lucky without someone complaining about the unnecessary clutter.
The Frisky: Marc Jacobs and Louis Vuitton's "real women" models
Most of all, I love having a space that is completely and totally mine. For years I would pour over interior designs magazines and think about what I would do if I had a space of my own, where I didn't have to consider another person's "taste" or lack thereof.
This weekend I bought a new duvet cover with a decidedly girly print on it. This is a duvet cover that would not fly if a man had a say. The same goes for my bright pink "For Like Ever" framed print, swirly shower curtain, and huge vase filled with tree branches on my dining table. (The latter is something a dude just would not "get," unless he was hip accessories and furniture designer Jonathan Adler.)
I dread living with someone again
When you move in with someone and start building a life with them, you have to compromise on a lot of things, which I am usually pretty good at. In fact, I really did love living with my ex. But seriously? I love living alone so much more. There's no one to pick up after, to keep me up while they read in bed while I try to sleep, and no one else's laundry to do.
As much as I want a big adult life with a man and kids some day, and truly have no illusions that my neat and orderly existence won't be impacted by the latter especially (bring on the dirty diapers and markers on the wall), I just can't wrap my brain around the former.
Living with a dude again, sharing my most comfortable and relaxing of places with another person who will have opinions on how it should look, feel, and be run, gives me the dreads.
Have any of you gone from loving living alone to cohabiting with a significant other? Did you settle in with ease or were there hurdles to overcome? Share your stories in the comments!
TM & © 2010 TMV, Inc. | All Rights Reserved
FOLLOW THIS TOPIC