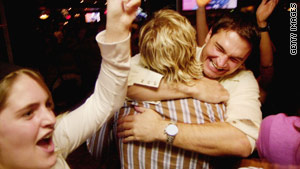 Watching the Super Bowl with friends and family is the right way to experience the game, author says.
STORY HIGHLIGHTS
Columnist is not big football fan, but will be watching Super bowl this Sunday
He usually inhales junk food, then naps on couch -- with eyes open
Writer wishes he'd watched more games with his father, a huge football fan
He will watch this championship with girlfriend's family
(The Frisky) -- This Sunday is the Academy Awards of Football and, believe it or not, there are a lot of people who couldn't care less about this High Holy Day.
But if you're dating a pigskin junkie, you have very little choice: You're going to be dragged to a get-together where jerseys and body paint are the fashion.
Normally, I don't get wildly excited about football, but this year is a little different for me. I usually just inhale nachos until the Halftime Show, then return to carbo-grazing. Occasionally, I'll look at the score, or ask if anything is broken.
But for those women (and men) who dread an entire day dedicated to cheering human freight trucks slathered in spandex, please consider that the Super Bowl is a day when you are allowed to eat with your fingers, wear fat pants out, and not actually have to talk to anyone. Just grunt. These are positives. Just show up and do your best dinosaur impersonation.
Don't be fooled by all the flags and swirling graphics crammed with statistics. Watching football is easy: It's like taking a nap with your eyes open. All you have to do is sit on a pillow, find a Zen-like happy place, and try not to snore.
Every so often, something exciting will happen. How will you know if something exciting is happening? Because everyone at the bar, or the party, or next to you on the couch, will either start clapping or booing. Take a moment to perfect your sports clap. It's sort of a cross between a big opera clap and a polite golf clap. Loud, but slow.
If everybody is booing, scrunch up your face like you were just kicked in the ribs. Remember that the only things that matter in football are touchdowns and injuries. Everything else is just pointless math, dancing cartoon robots, and serious men with thick necks in shiny suits barking.
Other than that, just think of the game as that thing that gets in the way of the commercials. Not everybody is a football fan, but it's not hard to pretend you're one. It's practically your patriotic duty to endure this national ritual. Americans love the sport, and that's because it involves three things we love: real estate, beer, and fighting. No need to act like you're better than everyone else.
The Frisky: What woman are really saying with their clothes
I like to think of Super Bowl Sunday as a bonus Thanksgiving -- a day when I can eat whatever I want. Nacho cheese on my pyramid of onion rings? Don't mind if I do. Slice of pizza with a hot dog chaser? Well, if you insist. Does this fire hose shoot beer? Because if it does, I'm going to just go ahead and affix my face to the nozzle while you turn it on.
Rumor has it, I will be watching the New Orleans Saints beat the Indianapolis Colts while inhaling suckling pig tacos this year. What? I have to root for the underdog. In fact, normally, I'm not even really "for" any team. My football tastes are all about who I'm "against."
But it's hard not to throw a few positive vibes at a team representing a city that needs all the love it can get. Otherwise, the Super Bowl is about cramming as much gluten, protein, and booze into my empty space as possible. And yelling.
In my experience, most of my girlfriends have been more comfortable watching ice skating than football. And over the years, I've been forced to watch a lot of ice skating, which has far too much sequins, glittery eye shadow, and Andrew Lloyd Webber to actually be a sport.
I dated a die-hard Patriots fan once and came to realize that I was just the third wheel in her relationship with Tom Brady.
I'd say 60 percent of the women in my life have never watched a full game before, with 40 percent of them being devout-to-rabid football fans. Of course, I'm fine either way. I'm equally comfortable watching a playoff game or the Westminster Dog Show. So long as there are brews.
The Frisky: Women's groups protest Tebow's anti-abortion Super Bowl ad
It's not that I'm not a fan; it's just that I've always had a complicated relationship with football. My Texan dad had two great passions: politics and football. I was destined to only inherit one of those obsessions, and it wasn't the Dallas Cowboys. His passion for politics is why I spent my formative years as a Beltway brat.
But even though I spent my adolescence in the Washington, DC area, he raised me to regard Texas the way I imagine some Jews are taught to regard Israel -- as the promised land. And football is to a Texan what space battles are to a Klingon. It's just what we do.
Growing up in my house, the three greatest Americans, in order of importance, were Tom Landry, Lyndon Johnson, and Patsy Cline ... who was technically born in Virginia, but no one is perfect.
My old man loved football. He worshiped the Cowboys. During the height of the Cowboys/Redskins rivalry in the early '80s, he sent me to school wearing a silver and blue Cowboys hat. All of my friends proudly wore their home team's red and gold colors. My dad used me to make a statement: Texans root for their own. Maybe that's why, to this day, I don't really give a hoot who wins, so long as Dallas loses.
The Frisky: 8 signs you should unfriend someone on Facebook
But this year feels different. My girlfriend's dad is a football nut. A New York Jets fan, to be more specific, which is a special, hangdog breed. They're like characters out of Greek mythology -- doomed to an afterlife where their hearts are broken every winter, only to have them fully grow back come fall, for eternity.
The morning of their unexpected AFC championship game against the Colts, she showed me a picture of her father getting ready for the game. He wore a Jets hat, jersey, and had laid out a team blanket on the couch. His smile was unsure, but he held up his finger. Win or lose, number one.
So she and I watched the game. The Jets came out of the gate strong and seemed to have a victorious wind at their backs. But by halftime, Colts quarterback Peyton Manning had figured out the Jet's defense and proceeded to dismantle New York. I think Manning is half-robot. But for the brief moments it looked like the Jets could pull off the impossible, we were already making plans to visit her family in New Jersey to watch the Super Bowl, where I would eat, clap, and, you know, nap.
The Frisky: 10 young celebs with great style
I have few regrets about my dad. He was proud of me. We made each other laugh. He was always open to gamely debate me about the important issues of the day. He knew how much I loved him, and vice versa. When he died, I felt I had said everything that I needed to say.
But watching the Jets game and my girlfriend texting her dad in between plays, I felt a twang of regret. My dad loved football -- professional, college, and especially high school. Once we moved to Virginia, on Friday nights he would take me to our local high school's home and away games.
Sometimes at these away games, the only person in the bleachers rooting for our local team was a cigar-chomping Texan, mad, mad, mad for football. Of course, his young son couldn't be bothered to sit still and share in his father's excitement. He had to duck under the bleachers and look for "treasure."
Whenever this would happen, my dad would sigh. Then chuckle. I'd present to him my plunder. Usually, it was just a grungy nickel, earring, or ballpoint pen, but he'd act like it was worth the drive just so his fruitcake son could sift through garbage in search of valuable baubles.
I should have returned the favor more often. I should have sat there with him in the cold on splintery seats more, and cheered on a team of teenagers who never won. I regret not having just a couple extra mental snapshots of him beaming because he loved a game that is graceful, brutal, cerebral, and visceral all at the same time.
Here's the best way to watch football: with a whole bunch of people you love to be around. And who'll nudge you if you snore.
TM & © 2010 TMV, Inc. | All Rights Reserved