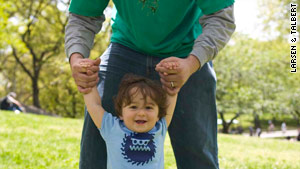 One dad says doing parenting right means he has a lot less time to play with the big boys.
STORY HIGHLIGHTS
He went from playmate to mate to daddy -- and his life changed
James Glave notes how he has less times for single friends since parenthood
Says both his wife and his responsibilities come before drinking or sports
Since having two kids, he's learning how to make friends with other dads
(Parenting.com) -- Here's one thing they don't teach dads in prenatal class: Once a baby's in the picture, you're going to be shopping for more than just diapers. You're also going to be scoping out some new friends.
Moms go through this friend turnover as well, but I'd argue that we have a tougher time with the transition than our wives do.
Why? Because men and women interact very differently with their same-sex pals. Sure, women do stuff together, but they're also happy to convene over coffee -- a date often planned well in advance -- or call each other up just to chat.
Guys aren't quite so down with the whole heart-to-heart thing. We tend to connect by doing something active, such as a hike or a round of golf, typically arranged the night before.
Parenting.com: What he wants you to know, but won't tell you
We all know what happens next. When baby makes three, the abrupt lifestyle change spells an end to these spontaneous expeditions. Forget about spending Saturday afternoon with Mike and Dave at the climbing gym -- unless you want to unleash the wrath of your exhausted wife. You need to be physically present, grabbing the burp cloth, emptying that Diaper Genie, and covering for your beloved while she sneaks out for a desperately needed salt glow treatment, whatever that is.
Parenting.com: Keeping score in the chore wars
By practical necessity, new dads retreat from what you might call the "dudescape" -- the geographical common ground over which men keep up connections and seek support and advice. Unlike Mom, Dad isn't going to check in with you over a glass of wine at the kitchen table while the little one snoozes in the next room. Sure would be nice, but it just doesn't work that way.
That was my experience with a close friend we shall call Steve. We met at work and fast became good buddies; we shared many road trips, powder days on the local ski slope, and long weekends mountaineering in Colorado and California. Then little Sabrina came along.
My abrupt loss of spontaneity clearly befuddled Steve, who was single. Our phone would ring around dinnertime, and there he was on the line, wondering if I could join him and the rest of the gang for a round of margaritas. Eventually, these calls tapered off when it sunk in that I couldn't bail on my wife at a moment's notice.
Steve and I managed to stay close through Sabrina's first year or so -- now and then, I sheepishly checked into the dudescape.
But by the time Duncan arrived 20 months later, I'd fully traded out brews for more elemental human matters: puke, gruel, drool, and stool. My connection to Steve started to fade. It wasn't just that we didn't have that much to talk about, though that was a big part of it. It was also that we didn't have a place to do so. Eventually, the phone stopped ringing.
For a couple of years, I found it pretty tough going -- until my wife and I moved to a new city and met new friends going through the same stuff. My new buds and I bonded with the implicit understanding that our wives' needs came first.
Parenting.com: Why sometimes moms want dads to screw up
We joked about the recreational balance sheet but knew it was stacked against us. And so we created our own, limited version of the dude- scape. Call it the "dadscape."
I have fewer guy friends now than I used to, and we're not yet booking road-trip weekends together. Instead, we'll head out for a brisk hike around the lake. It's all stuff in the neighborhood; we're still within cell-phone "recall" range.
Do I miss the dudescape? Sure, sometimes, especially when I spy a version of my younger, carefree self loading the roof box for the weekend.
But the good news is, I'm spending more time in the dadscape these days without so much as a hint of dagger eyes on the way out the door. My kids have reached the age where they don't need to be constantly monitored -- they'll play restaurant or space station together for hours on end. The Diaper Genie is gone for good; the really grueling early years of parenthood are behind us.
Give me a couple of years. I may just return to the dudescape yet.
Get 2 FREE YEARS of Parenting magazine - Subscribe Now!!
Copyright 2011 The Parenting Group. All rights reserved. Reproduction in whole or in part without permission is prohibited.
FOLLOW THIS TOPIC