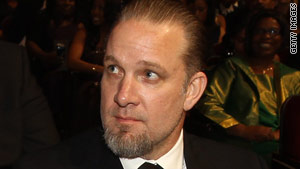 Jesse James is too flawed to be a romantic hero, says romance writer Teresa Medeiros.
STORY HIGHLIGHTS
Heroes in romance novels can be flawed, but not serial cheaters, writer says
Heroines would never put up with men who remain beasts, Teresa Medeiros says
She says it's not too late for women to find a happy ending with hero worthy of their love
Editor's note: Teresa Medeiros is a New York Times and USA Today best-selling author of 19 romance novels. Her latest novel, "The Devil Wears Plaid," will be out this September from Pocket Books.
(CNN) -- Romance writers and readers have one thing in common: We love men.
We love men in kilts. We love men in faded Levis and black leather jackets. We even love men in skin-tight riding breeches and puffy shirts.
But it takes more than just a puffy shirt or a sardonic quirk of the lip to make a man a romance hero.
Which is exactly why it makes us a little crazy when people compare the drama unfolding in the lives of wronged wives Elin Nordegren and Sandra Bullock to the conflict you'd find between the pages of a best-selling romance novel.
I've always said a romance hero can be deeply flawed ... as long as he's willing to rush into a burning building to rescue a basket of kittens.
He might be a haughty Brit looking down his nose from the lofty edifice of his pride, like Mr. Darcy. He might be a brawny Scot so blinded by hatred for his enemy that he nearly misses the chance for love standing right in front of him. These days, he might even be a werewolf or a vampire, sparkly or not.
But the one thing he will never be is a serial cheater who repeatedly betrays the woman he claims to love.
I'm not here to kick a man while he's down. (Although hitting his SUV with a golf club always remains a viable option.) But once a romance hero meets his true love's gaze for the first time across a crowded ballroom or at his kid's kindergarten picnic, he only has eyes for her.
You won't catch him hanging out down at the strip club with a wannabe porn star or a chick sporting a neo-Nazi tattoo. His unofficial last name is, after all, "Hero," which implies a certain degree of core integrity. In fiction as in real life, whether you're a sports star, a rock star or a politician, if you'll lie to your wife, then you'll lie to me.
There's another reason Tiger Woods and Jesse James wouldn't survive for more than a paragraph in one of our novels. Our heroines would never put up with them. We write about strong women with strong self-esteem. Our Beauties have too much self-respect to put up with a man who insists on remaining a Beast instead of allowing the power of true love to transform him into a Prince. As Tim McGraw might say, our heroes may start out as bad boys, but they always end up as real good men.
So what does all of this have to do with real life and real men, you might ask?
Don't romance novels simply cater to the twin female fantasies of lifelong monogamy and happily ever after?
The most ridiculous question I ever heard came from a female journalist when I was serving on a panel at the annual Romance Writers of America conference: "Now that the life span of human beings has been extended, do you think it's realistic to commit your life to one person for the duration?"
The implication is simple -- once the first spark of infatuation begins to dim, be it in six months or 10 years, shouldn't you be prepared to trade in your partner for a newer model? (Or in Tiger's case, a lingerie model?)
It's true that romance novels do detail the courtship phase of a relationship. We usually write "And they lived happily ever after" before our heroine starts snoring or our hero starts tossing his socks over the hamper. But with genuine commitment and tender nurturing, it's possible for that initial spark of infatuation to deepen into a glowing ember hot and steady enough to last a lifetime.
I've been married for over 20 years, and my heart still lights up every time my husband walks in the room. My parents have been married for 51 years. Their marriage has survived two years of separation while my dad was fighting in Vietnam, my mom's lifelong struggle with bipolar disease and her current battle with early onset dementia. Even now, when my dad visits her in the nursing home, he still sees the beautiful, brilliant girl he fell in love with all those years ago.
Both my husband and my father are true heroes in every sense of the word. That's exactly why I have to believe in my own heart that it's not too late for Elin and Sandra Bullock to find their own happy endings with heroes worthy of their love... and a romance novel.