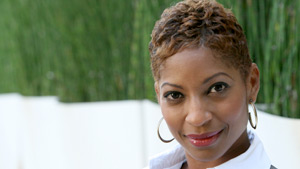 Audrey Irvine ponders why so many daughters of single women are also single.
STORY HIGHLIGHTS
Audrey Irvine's father died when she was 3, leaving her mom to raise three kids
Mom struggled and made sure her daughters knew how to support themselves
Irvine wonders whether single moms unwittingly raise their daughters to be single
Editor's note: Audrey Irvine is a senior assignment manager for CNN. Her experiences in the dating world inspire her "Relationship Rant" column. Check back every week for her take on dating and relationships.
Atlanta, Georgia (CNN) -- As a single black woman, I am tired of people and the media moaning about why black women can't find successful black men willing to marry them.
"Nightline" dedicated a show recently to this situation, offering the explanation that the available pool of successful black men is rather slim. The 2000 U.S. Census also found 1.8 million more African-American women than black men. A recent Yale study found that 42 percent of African-American women are unmarried, compared with 23 percent of white women.
I know the numbers don't lie, but after talking with friends, I realized there is another factor that has nothing to do with race. As the daughter of a single parent, I wonder whether we are raising our daughters to be single as well.
My father died when I was 3, leaving my mother to raise three kids on her own. My mother was adamant about raising her kids to be independent, self-sufficient members of society. I remember while growing up always hearing "find a way to take care of yourself and have your own."
My mother would punctuate each comment with the reminder that she had to figure it out after my father died. She did not want to see her children face the same fate.
Parents instill their unrealized hopes and dreams into their children's future. But it is also possible to fill us with their fears. I didn't realize that I was the byproduct of my mother's obvious fear that her kids would somehow be unprepared for the struggles and heartache that she had faced.
Years later, I recall having a great conversation with my mother on how she met my father. I always cherished those moments when she would share any detail about him. While telling this story, my mother's face lit up and she was laughing, then she started to cry. I realized that 30 years later, she still missed him.
She felt cheated because he had left so soon. I knew at that moment that my mother had filled me with her anger and sadness over losing my father. I realized I had never been told by my mother what to expect from a man, so all this time I had been flying blind.
What about those women who had to grow up hearing complaints that their father was never around. What about those mothers who have faced a bitter divorce? Are they projecting all their drama on their kids as well? Has this created a generation of hurt, angry women who only know how to be single?
One of my girlfriends is the product of divorce. She lived with mother, who took every opportunity to talk badly about her father. When her father remarried, her mother became bitter.
She would make disparaging comments about the new wife, calling their marriage a sham. At no point did my girlfriend receive any positive feedback about her father. She has since spent the longest time avoiding any man that reminds her of her father.
I won't say that my childhood experience is the sole reason for all the other unmarried successful women. However, it does provide some potential insight as to what may be holding women back from finding that potential mate.
Before my mother died three years ago, we were able to have the conversation I wished I had had as a teenager. I got to hear that my father was a humble, hardworking man with an incredible sense of humor.
She was finally able to hang up her fears and let me know that the man I am looking for is still out there. Despite the statistics that are thrown in our faces daily, I remain hopeful knowing that my parents will be proud when that choice is made.