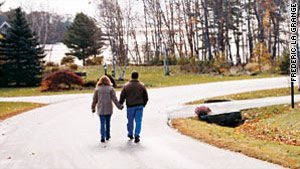 Woman likes time with strangers so she can share stories with her husband.
STORY HIGHLIGHTS
After being a stay-at-home mom, woman changes roles with husband
She enjoys meeting and talking with strangers on her business trips
She writes a love letter for a stranger to his girlfriend who's engaged to another
When writer gets home, she feels like she and husband have lots more to talk about
(RealSimple.com) -- I've been married for about as long as the average life expectancy of a hearty Labrador retriever, and the thing I miss most of all about being single is meeting strangers.
I love strangers the way Byrd must have loved Antarctica -- because they're uncharted. I don't linger in bars anymore or linger in general the way I did when single, and so I don't meet many strangers. Without going on dates, I don't get to hear strangers tell their life stories over artichoke-cheese--dip appetizers.
When I was dating, there were too many stories and too much artichoke-cheese dip. But now I'm wistful for those times. I've even heard that retired coal miners miss the claustrophobic feel of a mine shaft from time to time. (I guess everyone misses their youth.)
RealSimple.com: Small, helpful gestures with big impact
I got married young and had children immediately. My husband was the breadwinner. I was at home with the kids, running a boarding house for foreigners out of spare upstairs bedrooms. I was so desperate for strangers that I imported them: Koreans, Brazilians, a few Germans.
I barely ventured out of the house for years, except to playgrounds with other mothers I knew from the neighborhood. We wore denim overalls and compared teething remedies -- inhabitants of a baby-centric world.
RealSimple.com: Make positive changes in your life
Then my husband and I ended up swapping roles. He quit his job to become a stay-at-home dad. I had written a book and suddenly had to occupy the role of a professional out in the world. My book-tour itinerary took me to a dozen cities over the course of two weeks. I was obliged to follow it.
I dressed in the manner of a professional: black boots, a suede skirt, makeup, a bona fide hairstyle. In the Philadelphia airport, a man sitting off the main thoroughfare looked at me. I tried to place him but couldn't. Another man, sitting nearby, looked at me, too -- equally unfamiliar. And then another.
Too late, I realized that the men I was looking at were sitting in an airport bar. They were strangers -- the creepy, ogling variety -- but strangers nonetheless. The entire airport was filled with strangers! Oh, how I'd missed them so!
RealSimple.com: Ways to make someone's day
Over the next 14 days, I made the acquaintance of countless people. In Birmingham, Alabama, an older southern woman told me her father had been one of the ministers whom Martin Luther King Jr. had addressed in his "Letter From Birmingham Jail."
On a cross-country flight, a World War II vet, while recounting the war, started to cry. I cried, too. He said, "It's hell to get old and cry like this when you don't want to."
By the end of the trip, I was weary. On the flight back home, I decided to rest. But the stranger next me, a 20-year-old named Brian, wanted to talk. He had one subject: Amy.
Brian and Amy had been best friends. They knew each other as babies and dated in high school. She was studying to become a nurse. Brian had left Amy in Massachusetts two years earlier to install car windows in Seattle, escaping difficult parents. He expected Amy to follow. She didn't.
When he heard she was engaged, he bought a ticket. He was flying home to tell her he loved her, to win her back. His story was so compelling it had gotten the attention of two flight attendants --a man who looked like a soap star and a stunning African-American woman who seemed to be six feet tall. Both had old-world flight-attendant glamour.
The male flight attendant, Chad, had firm ideas about women. He also seemed to have firm ideas about hair products, tanning beds, and many other things that didn't fit into Brian's world. Chad said, "I'll tell you how to win her back, if you want to know."
"You don't want to know," the other flight attendant said. Her name was something like Gazelle.
Chad was undeterred. "You get a box of rose petals, furry handcuffs, chocolate-covered strawberries, chocolate syrup. And you get a hotel room, a nice one..."
"Amy isn't going to fall for rose petals and furry handcuffs," I said.
"Women always fall for it," Chad said.
Gazelle interrupted. "But Amy may not want to be swept off her feet. She's getting married to someone else."
"What if she's not even happy to see me?" Brian said.
"Do you love her?" I asked. He nodded.
"You've got to give it all you've got," I said. "You have to be honest with her. You need the right words. And I can help."
I'm no good at math. I have no spatial aptitude. But I'm good with words, and in that moment, I felt like a doctor on a cruise ship volunteering to deliver a baby on the lido deck.
For the next hour, I wrote Amy a love letter. I thought about Amy and Brian and their future kids. (Brian wanted three.) I thought about my husband and how much I missed him, and about our own love story. I wondered, if he had left me to go to Seattle to install windows, would he have rushed back once he heard I was engaged? I thought about all we'd been through together -- a Labrador retriever's lifetime.
I wrote to Amy and to myself. I wrote from Brian's heart and my own. I wrote down what I'd always thought marriage should be: a conversation that lasts a lifetime.
I handed him the letter. "You'll have to put it in your own handwriting," I said. He read it slowly, sat back in his seat, and closed his eyes. "It's just what I wanted to say." At the end of the flight, I told Brian I wanted to know how it went and gave him my phone number. He promised to call.
That night my husband picked me up and we talked all the way home. For the first time in a long time, we had so much to say. When I'd left for the trip, we'd been the ultra-comfortable couple who finished each other's sentences. But now we were both telling stories -- me about the strangers I'd met, the experiences I'd had; him about his adventures in parenting -- and neither of us knew how the other's stories would end.
It was as if one inch of each of us had become strangers again. I loved that one newly mysterious inch.
When I told him the story about Brian and Amy, I felt lucky, though, too. My husband and I had found each other and stuck together. We were deep into our lifelong conversation. For the first time in a long time, I truly appreciated all that was known and charted between us.
At the end of the Brian and Amy story, I told my husband, "If Brian calls and I'm not home, take a message. A yes or a no -- that's all I need to know." I wanted to find out if my love letter had worked. The first few days after the trip, I jumped every time the phone rang. It was never him.
Time trudged on. I still think of Brian and Amy every once in a while -- and whether they had three kids or if they even got back together at all. I wonder if they were lucky enough to start their lifelong conversation and, luckier still, to find ways to keep it going.
Get a FREE TRIAL issue of Real Simple - CLICK HERE!
Copyright © 2011 Time Inc. All rights reserved.