Tips for avoiding an IRS audit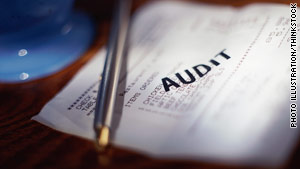 Making sure your math is correct is one way to try to avoid an IRS audit.
STORY HIGHLIGHTS
Tax audits expected to rise; they increased 2.5 percent last year
Triggers include incorrect info, deductions that are large compared with income
If audited, bring tax preparer, consider hiring CPA or tax attorney
Never ignore IRS letter; agency doesn't go away and forget about you
New York (CNN) -- Worried about an audit this tax season? They're on the rise, according to the IRS. But here are some ways you can avoid IRS scrutiny.
First of all, keep in mind that only a little over 1 percent of individual tax returns are audited, according to the IRS. But last year, audits increased by 2.5 percent.
Although the IRS won't comment on what can trigger an audit, there are some things that may increase the scrutiny of your return, including:
• Deductions that are very large compared with your income.
• Rounded numbers or incorrect math.
• Any incorrect information.
One of the best ways to avoid an audit is to keep precise records. E-filing is a way to cut down on math errors, since software programs can do the math for you.
Most audits are initiated through letters or, sometimes, a phone call. Make sure you keep all of this correspondence, and never ignore a letter from the IRS. Answer the letter before the due date. The IRS won't go away.
If you had taxes prepared by a firm or accountant, sit down and talk to them and have them forward the requested information to the IRS. If you did them yourself, make sure you provide the necessary information.
If this isn't sufficient, you may be called in for a face-to-face audit. If that happens, consider hiring a professional like a CPA or a tax attorney to go with you. If you used a paid tax preparer, bring them along.
For more information on audits, read IRS publication 556 at IRS.gov.
If you have an issue with the IRS, there is help available. Check out the Taxpayer Advocate Service. This is an organization within the agency that helps taxpayers solve problems.
If you face a delay of more than 30 days to resolve a tax-related problem or you are not receiving a response from the IRS by the date promised, you can get free help from the Advocate Service. The toll free number is 1-877-777-4778.