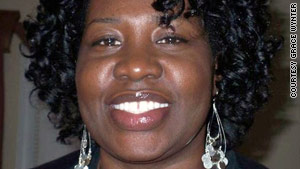 Grace Wynter launched her own Web site -- WomenatForty.com.
STORY HIGHLIGHTS
Unemployed and discouraged, Grace Wynter created her own job

Wynter asks how women are feeling on the edge of, or after, turning 40

Phase two of her project will incorporate women who don't have Internet access

(CNN) -- Grace Wynter, a bright and bubbly young woman with piercing brown eyes, was among the "jobless and discouraged" last year.
Approaching 40 and laid-off for the third time in six years, Wynter says she had a revelation.
"Oh my gosh" she mused. "This is not what I thought 40 was going to look like or what it was going to be like" And she says "I wondered if other women were feeling the same way."
She decided, instead of continuing to look for work, she would create her own job by launching her own Web site: WomenAtForty.com.
Wynter says she researched her topic by using Facebook and Twitter to reconnect with friends from high school who were also turning 40. "It was obvious many of them were also facing a turning point in their lives."
That realization, combined with then 40-year-old actress Jennifer Aniston's nude cover photo for GQ magazine, Halle Berry turning 40 and other 40-somethings in the spotlight, presented Wynter with two different views of what 40 was looking like.
"And, I wanted to explore that," she says. "In fact, I wanted to talk to women all over the world, to find out what their experience at 40 is like."
So, what has she learned?
"A lot of women do feel really fabulous about turning 40 and they're proud of it and they want to express it." But, Wynter adds, "I've also learned there are a lot of women who are less 'hoorah' about approaching 40, especially if their lives aren't quite what they thought it would be."
Wynter shares this example.
"A friend from high school e-mailed me privately and said she wants to contribute to the site but she's not feeling this fabulousness that everyone else is, so she was skeptical about it. That actually encouraged me to be more personal on the site myself, and talk about my own struggles with my career, my health, my weight," Wynter says.
She says now she's seeing a lot of stories that run the gamut.
So what is it about "40" that makes it such a magic number for women?
"In many ways it's that you're no younger young, but you're not quite old, so it's sort of the 'youth' of old age." Wynter believes it's a time where women pause and start to reflect that "if I want to make some changes and I want to do some things, this is the year that I have to do them."
Wynter says the Women at Forty Web site has developed a loyal national and international following that's growing. The site has been featured in the Chicago Sun Times. And Wynter was named one of the top 101 Women Bloggers to watch in 2010 by WE Magazine for Women.
Wynter says the Web site isn't her sole source of income right now, but she is building a base of major corporate sponsors and advertisers to eventually underwrite the next phases of the Women at Forty project.
"Women in their 40s represent a major untapped market," says Wynter. "It's a period in life when women start taking control and making the decisions and advertisers are recognizing that."
She says people from around the world have visited her her Web site.
"I've gotten visitors from China, India, Russia and all over Europe. I find they're seeing the same pressures as women in the U.S. to look a certain way or behave a certain way. I also find their expectations of themselves are similar to women in the U.S," she concludes.
Wynter says her Web site is just phase one of the Women at Forty project.
"If you're coming to the site, that means, of course you have Internet access," she says. "But, I'd like to reach women at 40 all over the world who aren't as privileged as those who come to my site."
Wynter is working on phase 2 of the Women at Forty project which, she explains, "is a photo-essay book, capturing the images of women in their 40th year and hearing their stories."
Ultimately, says Wynter, "I'd like to do a documentary."