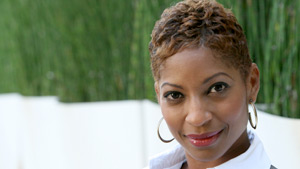 No good moments? Don't repeat the experience, Audrey Irvine says.
STORY HIGHLIGHTS
Date agrees to seafood restaurant when he can't eat shellfish

Audrey Irvine's date interviews her like she's applying for a job

It was six years ago and I'm still cracking up, Irvine says
Editor's note: Audrey Irvine is a senior assignment manager for CNN. Her experiences in the dating world inspire her "Relationship Rant" column. Check back every week for her take on dating and relationships
Atlanta, Georgia (CNN) -- Some of the more memorable moments in our dating life tend to be ones filled with a disappointment or mishap.
I trusted that a friend who felt I should meet her brother understood me. I spoke with him briefly before our date and he seemed fine. But what can you really tell from a 15-minute conversation?
We agreed to meet on a Friday night -- I'm not willing to give up my Saturday -- at the restaurant of my choice. I chose a lovely seafood restaurant that I had never been to. I insisted on an early dinner because I'm nervous about starting any new date too late in the evening. I'm sure I'll get accused of being a control freak, but there is nothing wrong with setting rules for dating.
I told him he could easily identify me at the bar -- short hair, drinking a glass of wine and checking my blackberry. At 6 p.m. on date night, I heard someone say my name.
I turned smiling the biggest smile -- then I heard the music in the restaurant hit a screeching note in my head. No offense to any man with long hair or dreadlocks but he seemed to have a receding hairline reminiscent of Stevie Wonder. It threw me for a bit. No instant chemistry here, not even a sizzle or spark, but I figured I would give it a chance.
After quick introductions, the hostess led us to our table. The restaurant had nice ambience and some rather low overhead light fixtures with which my head collided as I sat down, making enough noise to attract the attention of every table in the vicinity.
The hostess, laughing, asked if I was OK. I really felt like I had a concussion but said I was fine to get her to stop laughing and go away.
My date started interviewing me immediately. Where do you work? How long have you been there? What are your hobbies? Can you cook? Do you like to cook? Kids? Married? Divorced? Why still single? Ugh! It felt like my first interview out of college, except this time I took a sip of wine after each question. Thankfully, our waitress came over and asked if we wanted to order any appetizers, suggesting shrimp.
My date announced that he couldn't eat shrimp because he was allergic to shellfish. I asked why he would agree to this restaurant given his allergies. He said that he could eat fish but that's it. I felt bad that he could only eat one item on the menu but my selfish second thought was "more for me."
The shrimp came and we moved from interview to discussion points. I was asked everything from political party affiliation to religious beliefs. It became abundantly clear, we had nothing in common. By the time dinner arrived, there was one last question. This one sealed the deal. Outside of fish, my date proudly declared himself a strict vegetarian. He asked if I was too.
I could see the hope and anticipation in his eyes that THIS would be our one connection. I killed that hope with this statement: "My family is Caribbean. If it's got a head and a tail on it, then it's on the plate."
The date was painful. Every exchange met with a nice polite smirk. You could hear the fork scraping the plate with each bite. I thought we both knew this wasn't going well. With the check paid, and me almost knocking over the valet to get in my car, he leaned in and said "So, maybe we can go out again."
Instead of sparing his feelings, lying to myself and to him, I said: "Name three reasons why we should even consider sharing a meal again." I needed to know what we had in common that would make repeating this worthwhile for either of us. He had no answer.
That was six years ago and there are no regrets. Why encourage an interaction with someone who you didn't have any enjoyable moment with? Oddly enough, if we had another date, I'm pretty sure that he wouldn't have left as bad an impression, but I still laugh thinking of that first and last date.
Of course, the world is full of awkward dates. Myveryworstdate.com offers users the opportunity to recount their own horrific dating experiences.
My Very Worst Date contends that "airing our (and other peoples) courtship disasters provides comedy, comfort and cautionary tales to bear in mind the next time you say 'yes' to drinks with a mysterious stranger."
Well, here's some "comfort and comedy" for you. It was six years ago and I'm still cracking up.