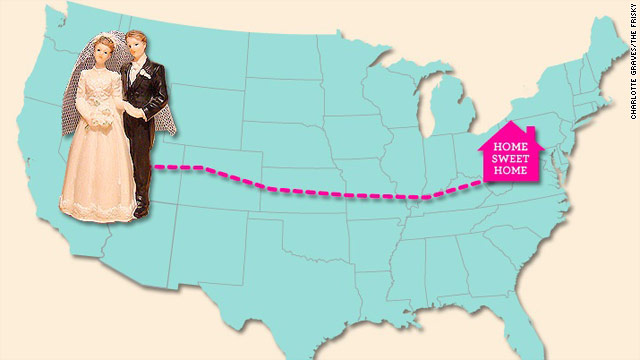 STORY HIGHLIGHTS
Couple eloped to get husband access to wife's good healthcare plan

Advice columnist tells them they don't have to tell family, friends if they don't want to

Columnist advises planning the wedding of their dreams anyway
(The Frisky) -- Dear Wendy: After dating for a year and a half, my boyfriend and I had a sorta "spur of the moment" elopement at the end of January.
We'd both recently graduated [from] college and I have a significantly better paying job that has good health benefits, so the decision to get married so quickly was about getting him covered by my insurance.
I had known for a while that I wanted to marry him, and we had discussed it very briefly earlier, so it was a given that we would eventually get married anyway.
The weird part is that he never officially proposed, and so now we have a sticky situation to deal with when it comes to telling friends and family. We haven't told any family yet, and the only people who know about it are my three college friends, who don't know any of our relatives or other friends.
We were planning on him buying me an "engagement" ring sometime soon and planning a wedding in the spring of 2011, and not telling anyone in the meantime. I would just like to know what you would do in this situation, since we obviously can't undo getting married.
The Frisky: Celebrity "Groomzillas"
We don't feel any different than we did before we got legally married, so it doesn't feel like we have much to hide, and we both feel that the true beginning of our marriage would be when we get to celebrate it in front of friends and family.
Neither of us is really religious (he's Buddhist, I'm atheist) and our families aren't the most religious or traditional to begin with. What's the best way to handle our situation?

-- Out of Order
Dear Out of Order:
It's no one's business but your own that you legally married in January so your boyfriend/husband could enjoy the good health coverage you're lucky enough to get at your job. Seriously, no one besides the people you've already told need to know.
Pick out an engagement ring together and make an announcement to your friends and family when you feel ready. If they want an engagement "story," simply tell them it was a mutual decision based on many months of discussion and you picked out the ring together.
Not every couple has to have some big story -- it doesn't make the relationship any less meaningful or the commitment any less serious if there wasn't some fancy proposal.
Plan a wedding just as you would if you weren't already legally married and consider the start of your "real" marriage the day you make it official in front on all your loved ones. You can always have your own private/secret celebration on the anniversary of your quickie marriage, too.
There's absolutely nothing wrong in the decision you made and there's no reason at all you should feel ashamed, nervous, or like you don't deserve to have the wedding of your dreams. And if, one day, you decide to tell your friends and family the truth, that's fine, too.
Not too long ago, my husband and I attended the wedding of one of his old college buddies. We'd kind of suspected the two of them had been secretly married for a little while (she's foreign and there were a few clues that they married to keep her in the country).
The Frisky: When is the ideal time to get married?
Our suspicions were confirmed at the wedding when another friend, after having a few too many to drink, let it slip that the happy couple had actually been married two years already. It didn't change anything in our eyes, and I'm sure the wedding was as special to them as it would have been if they weren't already "husband and wife."
A legal marriage may be a few signatures on a piece of paper, but a "spiritual" marriage is whatever you want it to be, sealed however you choose. If declaring your love and commitment to each other in front of friends and family is when your marriage becomes "real" to you, then so be it.
You might want to keep the booze away from your friends in-the-know at the reception, though. Just saying.
TM & © 2010 TMV, Inc. | All Rights Reserved
FOLLOW THIS TOPIC