Consult partner before doing these things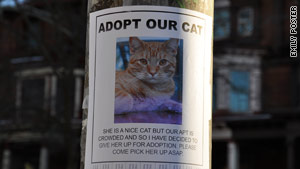 Bringing a new pet or child into family or buying a big ticket item without consulting partner can be trouble.
STORY HIGHLIGHTS
There are many things you should not do before consulting your partner
Buying a house, quitting your job or erasing everything on the DVR
Talk before adopting a pet, getting your tubes tied or moving to another city
(The Frisky) -- There are some things you should just never, ever do without first talking it over with your spouse.
Here are 20 things you should definitely discuss with your partner first!
•. Getting your tubes tied
•. Going off the pill
•. Seeing other people
•. Investing your joint savings in a combination fried chicken and sushi restaurant
.• Erasing everything off the DVR
•. Buying a house or new car, especially if it's a Hummer
•. Telling people you are engaged or pregnant
•. Quitting your job
•. Adopting a puppy/kitten/ferret
•. Signing up for a shared credit card or bank account
•. Throwing out all the boxes of frozen Girl Scout cookies
•. Moving the furniture around in the bedroom, especially if your significant other is blind
The Frisky: Mourning the death of my single-girl friendships
•. Erasing everything on your computer's desktop
•. Selling drugs out of your apartment
•. Getting their name tattooed on you
•. Hanging out with the ex you still pine over
The Frisky: Things never to wear on a first date!
•. Donating all your stuff to charity
•. Joining the Church of Scientology
•. Agreeing to go on vacation with your parents
•. Moving to a different city
TM & © 2010 TMV, Inc. | All Rights Reserved